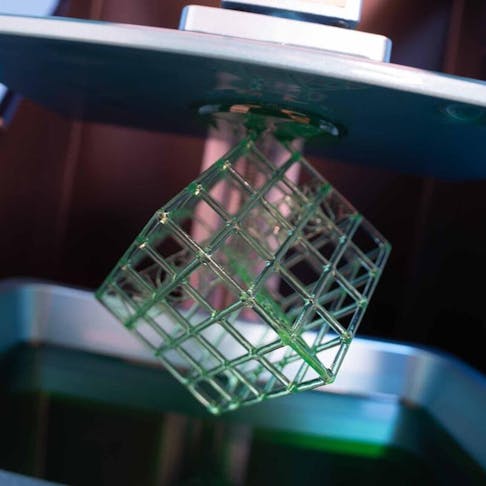 DLP vs. LCD: Differences and Comparison
Learn about the differences between these two 3D printing technologies.

By Team Xometry
July 15, 2022
 9 min read
DLP (Digital Light Processing) and LCD (Liquid Crystal Display) printers are resin-based (or vat-polymerization) 3D printing technologies. Both processes work thanks to a photosensitive resin that is stored in a tank and cured by a light source. This light source is used to solidify the resin. It creates a printed product layer-by-layer on a construction platform that slowly rises from the tank as the part forms. The main difference when comparing DLP vs. LCD is the type of light source. DLP uses a digital projector to cure the resin while LCD uses UV LEDs that shine through an LCD screen.  
These technologies also differ in terms of printing speed and accuracy. On average, DLP machines print faster because their lights are more intense. They also perform well in terms of small-scale accuracy. High-end LCD printers, on the other hand, are generally more accurate when printing larger models.
This article will further compare DLP vs. LCD 3D printers, including their unique features and differences.
DLP Definition and Comparison to LCD
DLP technology was first invented by Texas Instruments in 1987. It was one of the first 3D printing techniques to be invented. Compared to LCD, DLP is a mature technology and therefore more widely available. 
With DLP, a digital projector screen is used to flash an impression of each layer. Light is selectively directed from below the resin tank using a digital micromirror device (DMD). A DMD contains an array of microscopic swiveling mirrors. Each mirror represents a voxel (a three-dimensional pixel) in the 'image' that the machine projects. The light determines the position of the voxel that is cured within the given layer. Regardless of the image's size, the number of DMD pixels remains the same. The size of the model thus impacts printing precision. DLP works best for printing small-scale parts. 
Lenses within the DLP printer manipulate the size of the projected 'image.' Forcing a small DMD to cover a wider print area can result in distorted voxels near the construction space's edges. Distorted voxels are more common in cheaper DLP printers. 
To learn more, see our article on Digital Light Processing.
What Are the Advantages of DLP Compared to LCD? 
DLP has the following advantages over its LCD counterparts:
DLP is a mature technology, with very accurate high-end printers available.
DLP is more common than LCD.
DLP fits a wider range of use cases than LCD.
DLP has higher print speeds than LCD.
DLP requires less maintenance than LCD.
What Are the Disadvantages of DLP Compared to LCD? 
DLP has the following disadvantages compared to LCD:
Cheaper DLP 3D printers may suffer from distortion in certain use cases.
Because DLP employs lenses to scale the 'image,' distortion of voxels is common, especially at the edges of the build area. 
LCD Definition and Comparison to DLP
LCD 3D printing (also known as MSLA or Masked Stereolithography) is a relatively new technology, designed as an affordable alternative to DLP and stereolithography. It is similar to DLP in that an entire layer of resin can be cured at once. However, unlike DLP, LCD uses an array of ultraviolet LEDs as a light source. It also uses an LCD to selectively mask the UV light to ensure that only selected areas of the resin are cured in the layer. A higher LCD density means that the mask has more available pixels and can thus create sharper images and higher-resolution parts. 
It is important to distinguish between LCD printers with mono-LCD and color LCD screens. Mono-LCD screens last much longer and print much faster than their color counterparts. This is because monochrome LCD screens allow more light through and feature better thermal resistance. The overall result is a faster resin curing rate and a longer lifetime than traditional color screens. The mono-LCD screen was specifically designed to address some shortcomings of regular color LCDs and takes LCD 3D printing to a new level. 
LCD printers are geared towards mass manufacturing and the accurate printing of larger components. DLP, on the other hand, is more precise for small-scale details. LCD printers are also less expensive than DLP printers with comparable specs. 
What Are the Advantages of LCD Compared to DLP? 
LCDs have the following advantages over their DLP counterparts:
LCD tends to have better print quality than low-end DLP machines.
LCD is a better option for large components that don't have fine details.
What Are the Disadvantages of LCD Compared to DLP? 
LCD has the following disadvantages compared to DLP:
LCD printers have shorter lifespans than DLP ones. The LCD screens must be replaced more often than DLP DMDs. This increases the lifetime cost of LCD printers. 
LCD printing tends to be slower than DLP.
LCD results are less precise than DLP, especially when comparing high-end versions of both systems.
Attribute
DLP
LCD

Attribute

DLP

LCD

Attribute

Suitable for hobbyist use

DLP

LCD

Attribute

Higher accuracy (small models)

DLP

LCD

Attribute

Higher accuracy (large models)

DLP

LCD

Attribute

DLP

LCD

Attribute

Wide range of material options

DLP

LCD

Attribute

DLP

LCD

Attribute

DLP

LCD

Attribute

DLP

LCD
Table. DLP vs. LCD Comparison
Both DLP and LCD printers can print one full layer at a time, making them some of the fastest 3D printers available. An entry-level LCD printer costs $200 to $1,000. DLP printers start at $500 for entry-level printers and can go up to $100,000 for commercial use. 
DLP vs. LCD: Technology Comparison
DLP is an older, more established technology than LCD printing. Though there are a lot of similarities between the two, the main difference is the light source used to cure the printing resin. DLP uses a high-intensity projector as a light source and directs it with thousands of tiny mirrors. LCD printers replace that setup with an LCD screen to mask the UV light which comes from an array of LED lights. 
On the whole, LCD printers are constructed using cheaper components than DLP printers. However, LCD screens have shorter life spans than DLP mirror arrays. Plus, low-end screens tend to let light through in a less-than-uniform manner. This results in varying quality and precision from batch to batch and machine to machine.  
DLP vs. LCD: Material Comparison
DLP and LCD printers both employ liquid resin. DLP uses a high-power and higher-intensity light source that can operate on a wider range of resins. This gives DLP more options in terms of material quality. LCD printers, on the other hand, use low-intensity UV LEDs which require less viscous, fast-curing resins. This limits the types of material that can be used and impact the quality of the final product.
DLP vs. LCD: Product Applications Comparison
DLP is very accurate in narrow, small-scale prints. This makes it very useful for jewelry or dental implants, where precision is critical. LCD, on the other hand, is inexpensive and very accurate for the price point. This low price point makes it great for hobbyists. LCD is also ideal for when the price is more important than absolute precision. That can be valuable for industrial use, certain dental applications, and manufacturing.
DLP vs. LCD: Print Volume Comparison
DLP machines are available for hobbyists, professionals, and industrial applications that need large print volumes. LCD is a newer technology and has not caught on as much for industrial use. Therefore, large-volume LCD printers are not yet common, though this capability is gradually improving. 
DLP vs. LCD: Surface Finish Comparison
Less expensive versions of DLP and LCD systems can both have problems with surface finishes and print quality. DLP produces distortions on the edges of a print, especially in wide parts. LCD pieces can also come out imperfect due to inconsistencies in LEDs, especially with larger machines and larger prints. Both production methods must be followed by post-processing to finalize the parts' surfaces. Generally, DLP parts come out with better surface finishes and print quality, especially with higher-end printers. 
DLP vs. LCD: Cost Comparison
DLP and LCD are both available at affordable prices. An entry-level DLP printer can be purchased for as low as $500, while professional-grade types start at $2000. LCD printers, on the other hand, are available from $200 to $1,000.
What Are the Mutual Alternatives to DLP and LCD?
There are a few technologies that are alternatives to both DLP and LCD printers. As an example:
Stereolithography (SLA): SLA is a resin-based 3D printing technology known for its accuracy. It is similar to DLP and LCD in its use of photopolymer that is cured via UV light.
What Are the Similarities Between DLP and LCD?
DLP and LCD share several similarities. Both technologies:
Both DLP and LCD work by hardening a photosensitive resin via a light source.
Both DLP and LCD cure one full layer of resin at a time.
Both DLP and LCD are known for their build speed.
What Are the Other Comparisons for DLP Besides LCD?
A 3D printing technology that is similar to DLP includes:
DLP vs. FDM: FDM (Fusion Deposition Modeling) and DLP enable an on-demand manufacturing model for many products. They also have a similar pre-production workflow when preparing designs. For more information see our full article on FDM vs DLP 3D Printing.
What Are the Other Comparisons for LCD besides DLP?
A 3D printing technology that shares similarities with LCD includes:
LCD vs. SLS: SLS uses a laser to fuse powder into a 3D printed object. This is an established industrial technology that compares to LCD in terms of accuracy and printing speed.  
Summary
This article summarized the differences between DLP and LCD 3D printing technologies.
To learn more about DLP vs. LCD and to help select the perfect technology for your products, contact a Xometry representative.
Xometry offers a full range of 3D printing services for your project needs. Visit our Instant Quote Engine to get a free, no-obligation quote in minutes.
Disclaimer
The content appearing on this webpage is for informational purposes only. Xometry makes no representation or warranty of any kind, be it expressed or implied, as to the accuracy, completeness, or validity of the information. Any performance parameters, geometric tolerances, specific design features, quality and types of materials, or processes should not be inferred to represent what will be delivered by third-party suppliers or manufacturers through Xometry's network. Buyers seeking quotes for parts are responsible for defining the specific requirements for those parts. Please refer to our terms and conditions for more information.

Team Xometry
This article was written by various Xometry contributors. Xometry is a leading resource on manufacturing with CNC machining, sheet metal fabrication, 3D printing, injection molding, urethane casting, and more.