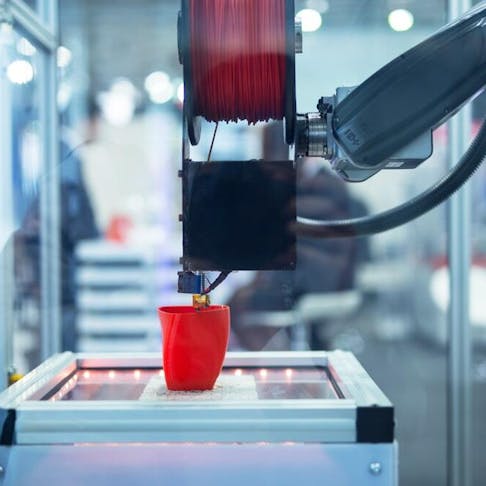 Fusion 360® vs. Onshape® - Software Comparison
Learn more about these 3D printing software options and how to use them.

By Team Xometry
November 11, 2022
 10 min read
Onshape® is a cloud-based 3D modeling package with a wide range of features for mechanical and product design. It does not require powerful computer hardware, since most of the processing takes place in the cloud. Onshape does not have natively built-in finite element analysis and rendering packages. These add-ins must be obtained using the Onshape add-in system, and come with additional costs. Onshape is subscription-based and is at least three times more expensive than Fusion 360®. However, Onshape may be worth the extra expense, because it has one of the best file management systems for easily managing collaborative work.
Fusion 360® is a cloud-based engineering tool with an excellent set of features that assist engineers throughout the entire lifecycle of product development. It adds to this robust collaborative function that allows teams to work on projects without having to be in the same location. Fusion 360 is easier to learn compared to Onshape, has a modern user interface, and has a large active user community. It also has multiple subscription models at different price points. 
This article will explore the differences between Fusion 360 and Onshape, and highlight their optimal use cases and minimum system requirements. Both packages will be compared based on a range of parameters such as user experience, customer support, application stability, user community, and price. 
What is Fusion 360?
Fusion 360 is a powerful, cloud-based engineering tool designed for collaborative product design. It was developed and is maintained, by Autodesk®. Fusion 360 has a wide range of features that include standard 3D modeling, and a very capable CAE (Computer Aided Engineering) module that includes features like: FEA (Finite Element Analysis), mold analysis, motion analysis, generative design, and many more. Fusion 360 also has an excellent CAM (Computer Aided Manufacturing) module that is continually being updated. In addition to all the mechanical engineering-related modules, Fusion 360 also has a PCB (Printed Circuit Board) design suite. Fusion 360 runs most of its processor-intensive functions like simulation and rendering in the cloud which ultimately results in significantly faster turnaround times when making use of this functionality. For more information, see our 3D Printing Article and guide on Software for 3D Printing.
What is Onshape?
Onshape® is a cloud-based 3D modeling platform that runs on a web browser. It has a sharp focus on version management and collaboration between team members who may be working on the same project from different countries. Onshape has rendering, CAM, and FEA (Finite element analysis) add-on modules that come at an additional cost. Its cloud-based nature means that lower-end computer hardware can be used to run it as much of the heavy computing is done in the cloud. Onshape can also be accessed via both iOS and Android-based apps. It is continuously adding new features that aim to improve the overall experience.
Fusion 360 vs. Onshape — Use Cases and Applications
Fusion 360 is primarily used for mechanical engineering and product design. It can help engineers along the entire lifecycle of a design, including: initial modeling, simulation using an FEA (Finite Element Analysis) solver, and manufacturing using its powerful CAM software. The CAM package includes CNC machining, 2D profiling, and 3D printing functions. Fusion 360 can also be used to create photorealistic renderings for marketing purposes. 
OnShape has an excellent built-in product data management system that allows for streamlined CAD modeling when used by remote teams. Access can be shared among different stakeholders, and version control is easily managed. This feature makes OnShape ideal for fast-paced product development teams of engineers at different locations. 
Onshape is primarily a CAD platform. It can be used to quickly produce single parts or multi-part assemblies. However, it does not have built-in CAE (computer-aided engineering), CAM (Computer Aided Manufacturing), or rendering functionality. These features must be added by making use of 3rd party add-ons. 
Fusion 360 vs. Onshape — System Requirements
Onshape is a cloud-based CAD package, and as such, runs primarily in the cloud.  A display card, however, is needed to display and manipulate the model. Table 1 below lists the system requirements of Fusion 360 and Onshape:
Table 1: System Requirements for Onshape and Fusion 360
Onshape
Fusion 360 2022

Onshape

Fusion 360 2022

Google Chrome®, Mozilla Firefox®, Safari®, Opera Mini®, Microsoft Edge®

Apple® or Microsoft®  Recommended

Onshape

Fusion 360 2022

Processors with Rosetta 2 (Apple)

64-Bit, 4-Core 1.7+ GHz (Microsoft)

Onshape

Fusion 360 2022

Onshape does not explicitly require RAM, but at least 8 GB is recommended.

Onshape

Fusion 360 2022

Onshape

Fusion 360 2022

Dedicated AMD or Nvidia graphics card that supports WebGL, with at least 1 GB VRAM.

Dedicated GPU with > 1 GB VRAM, integrated graphics with > 6 GB RAM

Onshape

Fusion 360 2022
What Operating Systems Do Fusion 360 and OnShape Support?
Fusion 360 is only supported on macOS® 11 & 12 and Microsoft Windows®. Fusion 360 no longer supports Microsoft Windows 7®. Onshape is cloud-based and therefore can run on both Microsoft Windows and macOS, provided that one of the recommended web browsers is used. These are Google Chrome®, Mozilla Firefox®, Safari® (macOS® Only), Opera Mini® and Microsoft Edge®.
What Are the Minimum Memory Requirements for Fusion 360 and Onshape?
Fusion 360 requires a minimum of 4 GB of RAM. However, using at least 8 GB for larger and more complex models will result in a far smoother user experience. Despite being cloud-based, Onshape will also work better with at least 8 GB of RAM, especially if multiple browser tabs are open at once while running Onshape. 
What File Formats Do Fusion 360 and Onshape Support?
Both Fusion 360 and Onshape can import a wide range of proprietary file formats. Onshape does not have a native file format, as files are stored in a "documents" folder structure in the cloud that stores not only CAD files but also other non-CAD documents. For more information, see our guide on Files for 3D Printing.
Table 2 lists the major file formats compatible with Fusion 360 and Onshape:
Table 2: CAD File Formats Supported by Fusion 360 and Onshape
Onshape
Fusion 360

Onshape

Fusion 360

Onshape

Fusion 360

X_B, X_T

SAT

STEP

IGES, IGS

SLDPRT

3DM

STL

OBJ

IAM, IPT

Catia V4 to V6

PRO ENGINEER

JT

NX

PAR, PSM

GLTF

3MF

X_B, X_T

SAB, SAT

STEP

IGES, IGS

SLDPRT

3DM

STL

OBJ

IAM, IPT

123DX

ASM

CATPART, CATPRODUCT

DWG, DXF

NEU

PRT

SKP
Fusion 360 vs. Onshape — User Experience
Fusion 360 has a modern and easy-to-understand user interface that neatly groups similar functions under tabs. However, the user interface can change between versions of the software, since it is still under active development. This can be confusing at times, as some control buttons might be in a different location after an update. 
Onshape offers a smooth user experience. However, the interface can be difficult to get used to when compared to more standard CAD packages like Solidworks®, and even Fusion 360, because all the features are on a single ribbon instead of being broken down into different categories. The icons are also all one color, which makes it difficult to differentiate them from each other. Despite being browser-based, Onshape is responsive, although this responsiveness depends on a stable internet connection.
Learning Curves for Fusion 360 and Onshape
The learning curve for Onshape is somewhat steeper than that of Fusion 360. However, both provide a range of video tutorials to help users get used to how the software works. Onshape's steep learning curve is due to its product data management system, which is powerful but also complex, in addition to the very nature of its user interface. All the standard CAD features are available on Onshape but the way they are laid out can be confusing for users used to CAD packages like Solidworks®, for example.
Is Fusion 360 Easier to Learn and Use Than Onshape?
Yes, Fusion 360 is easier to learn and use than Onshape. While both of these CAD packages are relatively easy to learn, Fusion 360 has a well-structured learning center that is easy to use and covers a wide range of topics. Onshape has a similar learning center, but ultimately, it is slightly more difficult to get used to. Its learning center also hides some of the higher-quality courses behind a paywall, which can be a bitter pill to swallow considering the price of the Onshape software. 
Fusion 360 vs. Onshape — Application Stability
Both Fusion 360 and Onshape are cloud-based. Any instabilities, bugs, or crashes will very rarely result in data losses as files are stored on servers and can be easily recovered on both programs. Both CAD packages are commercial products. As such, any stability issues can be reported on the relevant forums and are usually addressed in subsequent updates. Onshape does not require a high-bandwidth connection. A stable, uninterrupted connection is all that's required for a smooth user experience.
Fusion 360 vs. Onshape — Customer Support
Fusion 360 and Onshape are both commercial products. They both make formal customer support available. Both also have an assortment of different avenues for searching for assistance, from robust in-app help modules to official forums where users and experts can assist with queries.
Fusion 360 vs. Onshape — Community
Fusion 360 and Onshape both have vibrant communities in terms of official forums, social media, and multiple YouTube® channels (official and unofficial). However, Fusion 360 has a much larger online community due to its popularity and larger user base. 
Fusion 360 vs. Onshape — Price
The Fusion 360 pricing structure is based on a  subscription model. A monthly plan costs $70, a yearly plan costs $545, and a 3-year plan costs $1,555. However, the pricing is more complicated than it might first appear, as Fusion 360 makes use of a token system to access some of its more advanced CAE and CAM features. For example, in terms of FEA, some types of simulations will require more tokens to run than others, and therefore cost more money. Fusion 360 does have free versions, but these are relatively limited in features when compared to the paid versions. 
The Onshape pricing structure is also based on a subscription model. However, Onshape only offers annual subscriptions for its different license types. A standard license will cost $1,500 per year whereas a professional license will cost $2,500 per year. Onshape offers a free version but all designs created with the free version are made public.
Alternatives to Fusion 360 and Onshape
The cloud-based nature of Onshape and Fusion 360 means that they do not have many direct competitors. SketchUp® is cloud-based but is far less capable. The closest comparisons in terms of capabilities would be the desktop-based CAD packages like Solidworks® and Inventor®. 
Fusion 360 has far more features and functionality than Onshape, while also being significantly cheaper.
Summary
This article presented Fusion 360 and Onshape, explained what they are, and discussed when to use each software. To learn more about 3D printing software, contact a Xometry representative.
Xometry provides a wide range of manufacturing capabilities, including 3D printing and other value-added services for all of your prototyping and production needs. Visit our website to learn more or to request a free, no-obligation quote.
Copyright and Trademark Notices
Autodesk®, Fusion 360®, and Inventor® are trademarks of Autodesk, Inc., and/or its subsidiaries and/or affiliates, in the United States.
Windows® & Edge® are trademarks of the Microsoft corporation
macOS® & Safari® are trademarks of Apple Inc.
Onshape® is a trademark of Onshape Inc.
Google Chrome® & YouTube® are trademarks of Google LLC
Opera mini is a trademark of Opera Software ASA CORPORATION
SketchUp® is a trademark of Trimble INC.
SolidWorks® is a registered trademark of Dassault Systèmes SolidWorks Corp.
Disclaimer
The content appearing on this webpage is for informational purposes only. Xometry makes no representation or warranty of any kind, be it expressed or implied, as to the accuracy, completeness, or validity of the information. Any performance parameters, geometric tolerances, specific design features, quality and types of materials, or processes should not be inferred to represent what will be delivered by third-party suppliers or manufacturers through Xometry's network. Buyers seeking quotes for parts are responsible for defining the specific requirements for those parts. Please refer to our terms and conditions for more information.

Team Xometry
This article was written by various Xometry contributors. Xometry is a leading resource on manufacturing with CNC machining, sheet metal fabrication, 3D printing, injection molding, urethane casting, and more.