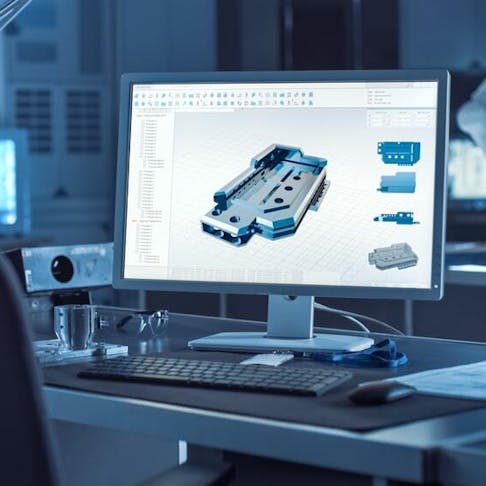 Inventor® vs. Fusion 360® - Software Comparison
Learn more about these 3D printing software and when to use each of them.

By Team Xometry
November 11, 2022
 9 min read
When comparing Inventor® vs Fusion 360®, it's important to consider the different functions of each software. Inventor is a computer-aided design (CAD) program used to create 3D models and digital prototypes, while Fusion 360 is a 3D modeling and computer-aided manufacturing (CAM) program used for product design, engineering, and collaboration. Though both can be used for 3D modeling, Inventor is better suited for creating models from scratch, while Fusion 360 is better for manipulating existing models.
In terms of digital prototyping, Inventor is more accurate and realistic. Fusion 360, meanwhile, is meant to be more flexible, intuitive, and easy to use. When it comes to collaboration, Inventor has better tools for managing versions and revisions. In terms of price, Inventor is also the more expensive of the two. This article will further compare Inventor vs. Fusion 360 and examine the characteristics and advantages of each one.
What is Inventor?
Inventor is a software program made by Autodesk® that is used for 3D mechanical design, documentation, and simulation. The company provides annual updates with new features and enhancements being added with each release. Inventor is used by engineers and designers to create and refine three-dimensional models of physical objects. These objects can then be used in simulations to test their performance, or they can be constructed using a 3D printer or other manufacturing methods. Inventor is frequently used in the automotive and aerospace industries, as well as in other areas where precision and accuracy are essential.
What is Fusion 360?
Another Autodesk® product, Fusion 360 is a powerful 3D CAD, CAM, and CAE tool that enables engineers and designers to quickly turn their ideas into products. It helps you get from concept to fabrication faster thanks to an intuitive user interface and integrated workflows. Fusion 360 enables you to design, simulate, and fabricate your products in a single program. The software combines parametric modeling with freeform 3D sculpting and solid modeling to give you the freedom to explore your ideas and create beautiful, complex designs. With its integrated simulation and analysis tools, Fusion 360 helps you optimize your designs for manufacturability and performance.
Inventor vs. Fusion 360 - Use Cases and Applications
Inventor is used by engineers and product designers to create prototypes, illustrations, simulations, and animations of their products. Fusion 360, on the other hand, can do the same things but in a more limited scope than the more advanced Inventor. The use cases include sculpting and parametric modeling, among other capabilities. Fusion 360 is used mostly in the architecture and engineering fields for creating three-dimensional models. It also works well for illustrations and animations of products.
Inventor vs. Fusion 360 - System Requirement
The system requirements for Inventor are as follows:
Operating System: Windows® 8.1 64-bit, Windows® 7 SP1 64-bit or Windows® 10 64-bit, macOS® 12 Monterey, macOS® 10.15.7, macOS® 11 Big Sur, or newer, Catalina 
CPU: Intel® or AMD processor with 64-bit support.
RAM: 8 GB, 16 GB, and 32 GB + RAM ( depending on the type of laptop)
Storage: 40 GB + for installation.
Graphics Card: DirectX 11 compliant, 4 GB GPU with 106 GB/S Bandwidth
Browser: Google Chrome™ or equivalent
Fusion 360, on the other hand, has the following system requirements: 
Operating System: 64-bit processor, Intel® Core i
CPU: 4+ core processor, 3 GHz minimum
RAM: 8 GB of RAM
Storage: 5 GB available space
Graphics Card: DirectX 11.0 compatible, 2GB video memory recommended
Browser: Latest version of Microsoft® Edge, Safari, Google Chrome, or Firefox
What is the Operating System of Inventor and Fusion 360?
Inventor is only compatible with the Windows® operating system while Fusion 360 is compatible with both Windows® and macOS®. This compatibility makes Fusion 360 a more versatile program for users who want to use it on either type of computer.
What Are the Minimum Memory Requirements for Inventor and Fusion 360?
To run Inventor or Fusion 360 smoothly, your computer will need at least 8 GB of RAM. If you have a computer with less than 8 GB of RAM, you may experience performance issues such as slow rendering times and lagging. For the best possible experience, 8 GB of RAM or more is recommended. It is also important to have a processor that is capable of handling the software (at least a 3rd generation Intel Core i5 processor or equivalent). 
What File Formats Do Inventor and Fusion 360 Support?
Both Inventor and Fusion 360 can import and export a wide range of file formats. This allows users to easily share data between different programs and platforms. Table 1 below shows the supported file formats for both software:
Table 1: Supporting File Formats of Inventor and Fusion 360
Inventor
Fusion 360

Inventor

3D Studio (.3ds)

COLLADA (.dae)

IGES (.igs, .iges)

Parasolid Binary (.x_t, .x_b)

STEP AP203

STEP AP214

Wavefront OBJ

VRML

Adobe Illustrator (.ai)

AutoCAD DWG

AutoCAD DXF

Gerber RS-274X

HPGL

PDF

TIFF

Fusion 360

3D PDF

3D XML

COLLADA

FBX

OBJ

AI

BMP

JPEG

PNG

TGA
Inventor vs. Fusion 360 - User Experience
Due to Inventor's complexity, its user experience is not as streamlined as that of Fusion 360. Inventor has enough features and options to make it overwhelming for users who are not familiar with similar software. By contrast, Fusion 360 is much more user-friendly and intuitive.
Learning Curve of Inventor and Fusion 360
The learning curve for both Inventor and Fusion 360 can be quite steep but is generally milder for the latter. With a little bit of patience and perseverance, it is possible to become proficient in both programs. In terms of which program is easier to learn, it depends on the individual. In general, Fusion 360 tends to be more user-friendly and has a more intuitive interface. Inventor, on the other hand, is more powerful and can be used to create more complex designs. Ultimately, every user's experience comes down to personal preference and their aims for the software.
Is Inventor Easier to Learn and Use Than Fusion 360?
No, Inventor is not generally easier to learn than Fusion 360. Inventor is a parametric modeling application, while Fusion 360 is a direct modeling application. Inventor is designed to model objects using constraints and parameters, while Fusion 360 allows users to directly manipulate geometry without having to set up constraints or parameters. Fusion 360 is faster and easier for some users to learn, while others may find Inventor's constraint-based modeling approach to be more intuitive.
Inventor vs. Fusion 360 - Application Stability
When it comes to lag, crashes, and latency, both Inventor and Fusion 360 have their fair share of issues. Lag is the delay between when you input a command and when it's executed by the software. Latency is the delay between when you input the command and when you see the results on the screen. Lag and latency can both be frustrating when working on complex designs. Crashes can also be a problem with any software, but they're especially costly in CAD applications. If your computer crashes while you're working on a design, you may lose all of your unsaved work. However, both applications are improving in these areas and as of now, there isn't a clear winner. In the end, your decision depends on your needs and which application is more stable for you.
Inventor vs. Fusion 360 - Customer Support 
Inventor and Fusion 360 are both Autodesk® products and users may contact customer support to resolve product-related issues. Customers can choose from phone support, email support, or web support from customer care personnel.
Inventor vs. Fusion 360 - Community
Fusion 360 and Inventor both offer community support, with the latter being more geared toward professionals. In addition to Autodesk® resources, there are numerous online forums for users who want to talk about issues or ideas. Blogs which post about software development topics like programming languages are also common and updated regularly.
Inventor vs. Fusion 360 - Price
When it comes to Inventor's cost, there are three pricing options or subscription plans available to regular users. Inventor LT is the most affordable plan and costs $50 per month. Inventor Professional comes next, costing $100 per month. The most expensive Inventor plan is Inventor Ultimate, which costs $250 per month. Fusion 360 has a single subscription plan, and it costs $60 per month. While the monthly Inventor LT is cheaper than Fusion 360, it doesn't have all of the features that are included in the Fusion 360 subscription. It's important to note that Inventor is only available as a monthly subscription, while you can also purchase Fusion 360 as a yearly subscription. If you choose to go with the annual subscription for Fusion 360, it will cost you $495 per year, making it significantly cheaper than the monthly version.
Other Alternatives to Inventor and Fusion 360
Other alternatives to Inventor and Fusion 360 are CATIA, and Solidworks®. Each piece of software has its advantages and disadvantages. It is important to choose the software that best matches your needs. CATIA, for example, is very powerful CAD software but can be difficult to learn. Solidworks® is a popular choice for many engineers and designers. 
Summary
This article presented Inventor and Fusion 360, explained what they are, and discussed each software is used for 3D printing. To learn more about 3D printing software, contact a Xometry representative.
Xometry provides a wide range of manufacturing capabilities, including 3D printing and other value-added services for all of your prototyping and production needs. Visit our website to learn more or to request a free, no-obligation quote.
Copyright and Trademark Notices
SolidWorks® is a registered trademark of Dassault Systèmes SolidWorks Corp. 
Autodesk®, Fusion 360®, and Inventor® are trademarks of Autodesk, Inc., and/or its subsidiaries and/or affiliates, in the United States.
Disclaimer
The content appearing on this webpage is for informational purposes only. Xometry makes no representation or warranty of any kind, be it expressed or implied, as to the accuracy, completeness, or validity of the information. Any performance parameters, geometric tolerances, specific design features, quality and types of materials, or processes should not be inferred to represent what will be delivered by third-party suppliers or manufacturers through Xometry's network. Buyers seeking quotes for parts are responsible for defining the specific requirements for those parts. Please refer to our terms and conditions for more information.

Team Xometry
This article was written by various Xometry contributors. Xometry is a leading resource on manufacturing with CNC machining, sheet metal fabrication, 3D printing, injection molding, urethane casting, and more.