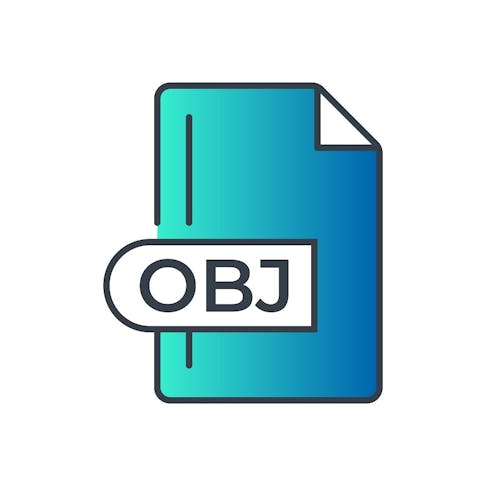 All About OBJ File Format for 3D Printing
Learn more about this ASCII/Text format and how it is used.

By Team Xometry
August 23, 2022
 8 min read
In 1995, Wavefront Inc. launched a tool called Data Visualizer, which used the OBJ file type as its native format. The OBJ format is among the most trusted in 3D graphics applications. It has become the most widely used interchange format between 3D software, game design, and architectural visualization packages. A more recent and very important development is that OBJ has become the primary file format for multicolored 3D printing, directly interpreted by slicer software. Because of the high degree of interoperability, OBJ files can be opened in a huge range of software tools, from Paint 3D to advanced CAD, from Photoshop to Blender. Although the most universal tool that allows users to view OBJ files is Microsoft Paint 3D, OBJ models can be saved out of the same large range of visual and design software tools.
This article will discuss what an OBJ file format is, its history, its importance, and the applications for which it can be used.
What Is an OBJ File?
The OBJ file format is ASCII/Text format that is well supported by tools for creating 3D objects/spaces/characters in 3D Studio MAX, Maya, Rhino, Blender, and other software tools. It is also very widely compatible with the more "product-oriented" tools like SolidWorks and FreeCAD. Most recently, it has become central to the 3D print sector for the creation of full-color prototypes on more advanced printers.
The OBJ file format provides the ability to define material types, allowing a very precise definition of materials in a 3D body. OBJ also encompasses "texture vertices," which is a tool that provides a texture coordinate system. This enables the wrapping of surface-property maps over an object. One great strength of the format is the use of shared vertex lists, which reduces the risks of edge disjoints making gaps in the mesh. This is a common problem in STL.
Who Created the OBJ File Format?
The OBJ file format was created by Wavefront Technologies in the 1980s. Silicon Graphics Inc. acquired Wavefront Technologies and Alias Research in the early '90s. This acquisition resulted in the launch of the Advanced Visualizer package and the creation of the Alias/Wavefront OBJ format.  After various changes of ownership in 2006, Wavefront was acquired by Autodesk, which remains the owner.
How To Convert an OBJ File
Converting an OBJ file depends on the software and the online tool used. This means that the OBJ file conversion varies from one tool to another. Because of the interoperability of OBJ files, many tools can open them. The OBJ file, once opened, can be converted into virtually any 3D format.
Check out our guide on How to Convert OBJ to STL Files.
How Do I Open an OBJ File?
Opening an OBJ file can be done under the following conditions:
If you have several tools installed that can open OBJ files (Photoshop, Paint 3D, Maya, any CAD software, etc.): Open OBJs by right-clicking the file in Explorer and "open with", to select the compatible software.
If you need one of the tools recommended for particular file conversions to open an OBJ file and convert it to another format: Locate and install the tool, then follow the instructions specific to the converter used.
One key factor to consider is that many of the package-specific proprietary formats are designed to restrict portability – often locking the translation facility. For example, USDZ is a locked format that will only work with iOS devices, reducing the flexibility considerably.
How Can I Make an OBJ File?
A typical export procedure for exporting an STL as an OBJ file looks like this, for FreeCAD:
Select the solid you want to export.
Click File>>Export and set the file type to OBJ
Name the file (or default to the existing name), including the .OBJ extension.
Click Save.
The creation of OBJ files is the result of save-as choices in the range of 3D design, visualization, and rendering packages, as a means to maintain interoperability between divergent platforms. As a result, when you save your work, you can transfer it into a specific software application like Rhino, SolidWorks, or GrabCAD, since the OBJ format is one of the options that will allow you to work on other packages or transfer data to a slicer. 
What Is the Importance of OBJ Files?
OBJ files offer designers, modelers, 3D printers, and 3D environment builders some powerful options that make it a popular and relied upon format. OBJ supports freeform curves, as a method for defining surfaces. This allows mathematically precise definitions of curvature to make higher quality surfaces than simple tessellation. Cardinal Splines and Bezier Curves reduce file sizes, define whole surfaces in mathematical terms, and reduce the overall quantity of data. Another key feature is that OBJ supports NURBS (Non-Uniform Rational B-Splines). This allows polygons to be defined from a surface that has been manually pulled and shaped by the designer. NURBS surfaces are processed automatically into mathematically precise data. Lastly, the OBJ format in 3D printing is attractive and offers a lower fault/gap count than STL. It has also become indispensable for color prints.
What Are the Types of OBJ Files?
The commonly used OBJ files are in ASCII format. The file contains command lines and # marked annotation lines and associated .MTL files that travel with the .OBJ file. These files can contain extensive materials, textures, and color data as well as complex mathematical descriptions of curved surfaces. But the contents follow a set of agreed format rules that are open source and almost entirely standardized.
OBJ files can also exist in binary format, often with the file type .MOD. The binary conversion of OBJ files is, while open source, not universally agreed upon. So OBJ binary files are often proprietary to applications and require some deep knowledge of format and operation to be used.
What Are the Best OBJ File Converters?
File converters that can handle OBJ are plentiful and usually free. Below are some of the best OBJ file converters:
AnyConv.com: AnyConv.com is a simple-to-use, quick, and powerful tool that can convert OBJ files into a limited range of the most commonly used formats—STL, DAE, FBX, GLTF, PLY, and more.
Blender: Blender is a powerful design platform for modeling, sculpting, and video design. It also integrates a wide range of file conversion tools and works well with OBJ files.
Autodesk Fusion 360: Autodesk Fusion 360 is a powerful CAD/CAM and simulation tool that, while more complex to navigate, offers excellent OBJ handling and conversion capabilities. It is a professional tool that offers a free, limited-function version for home use.
What Are the Best Applications for OBJ Files?
Selecting which tool to use when the data is saved as an OBJ file depends on the nature of the 3D and the tasks to perform. Some of the best applications are:
A character design tool such as Blender or ZBrush.
A product design package like FreeCAD.
A repair/analysis tool like MeshMixer.
A slicer like Cura, to make ready OBJ files for 3D printing. 
Is an OBJ File the Same as a CAD File?
Yes, an OBJ file is the same as a CAD file. CAD systems define OBJ files as a universal interchange format. This is because OBJ files contain all the information that a typical CAD system requires to build precise and usable models in its workspace. On that basis, OBJ is a CAD format, although its use is generally more focused on the "character and environment" part of the design spectrum in gaming, architecture, and video creation.
What Is the Difference Between an OBJ and an STL File?
Table 1 shows the differences between OBJ and STL formats:
For more information, see our guide on OBJ vs. STL.
Table 1. Comparison of OBJ vs. STL
Property
OBJ
STL

Property

OBJ

STL

Property

Vector normal (in/outside)

OBJ

STL

Property

OBJ

STL

❌ in common ASCII format, can be present in digital files

Property

OBJ

STL

Property

OBJ

STL

Property

OBJ

STL

Property

Freeform curves to define surfaces (Cardinal, Bezier)

OBJ

STL

Property

OBJ

STL

Property

Relative AND absolute indices supported

OBJ

STL
At its core, STL was created as a way of communicating shape information for 3D objects. It contains no information about color, texture, material properties, or other attributes. This makes it a very simple and robust format. OBJ, on the other hand, is a more complete and detailed definition of a 3D object. It allows detailed virtual rendering to make representations of objects colored, textured, and "real" looking. This requires a greater depth of properties to be integrated into the file structure, making the OBJ format considerably more capable and less fault-prone than STL.
Summary
This article provided a summary of the OBJ file format and discussed its origins, importance, applications, and how it differs from other file formats such as STL. To learn more about the OBJ file format and how it applies to your 3D printing project, contact a Xometry representative.
Xometry provides a wide range of manufacturing capabilities, including 3D printing and other value-added services for all of your prototyping and production needs. Visit our website to learn more or to request a free, no-obligation quote.
Disclaimer
The content appearing on this webpage is for informational purposes only. Xometry makes no representation or warranty of any kind, be it expressed or implied, as to the accuracy, completeness, or validity of the information. Any performance parameters, geometric tolerances, specific design features, quality and types of materials, or processes should not be inferred to represent what will be delivered by third-party suppliers or manufacturers through Xometry's network. Buyers seeking quotes for parts are responsible for defining the specific requirements for those parts. Please refer to our terms and conditions for more information.

Team Xometry
This article was written by various Xometry contributors. Xometry is a leading resource on manufacturing with CNC machining, sheet metal fabrication, 3D printing, injection molding, urethane casting, and more.