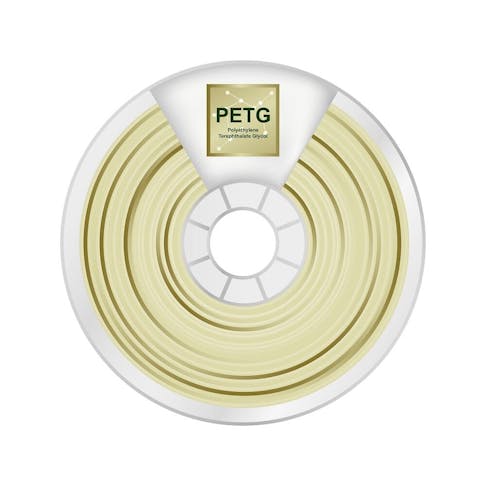 All About PETG 3D Printing Filament: Materials, Properties, Definition
Learn more about PETG 3D printint filament and the different ways it can be used in 3D printing.

By Team Xometry
September 19, 2022
 9 min read
PETG (Polyethylene Terephthalate Glycol) is highly sought after for its excellent mechanical strength and resistance to water intrusion and chemical attack. PETG combines some of the good qualities of two other well-known thermoplastic materials used for 3D printing: ABS (acrylonitrile butadiene styrene) and PLA (Polylactic Acid). ABS is known for its durability and PLA for its printability. 
PETG, short for polyethylene terephthalate glycol, is an adaptation of PET (Polyethylene Terephthalate). The ethylene glycol in PET is partially replaced with another molecular group, cyclohexanedimethanol (CHDM). The origin of PETG can be traced back to work done by two British scientists, James Dickson and John Whinfield, in the year 1941. PETG is a food-safe material. As a result, it is in demand as a packaging product in the food and beverage industry. PETG is also widely used for retail signage. PETG is cost-effective and less prone to warping compared to materials such as ABS. This article will discuss PETG's characteristics, composition, recommended printer settings, and comparisons with other 3D printing filaments. 
What Is PETG 3D Printing?
PETG 3D printing is the use of PETG (Polyethylene Terephthalate Glycol) (a thermoplastic material) as a build material for 3D printing, especially in FDM (Fused Deposition Modeling) printers. The "G" in PETG indicates that the glycol molecule in PET, a familiar material used in the production of plastic bottles, has been modified. PETG is one of the most popular 3D printing filaments thanks to its high impact strength, low haze, and good printability. For more information, see our guide to 3d printers.
Figure 1 below shows an example of PETG filaments:
Five PETG filaments illustrations.
Image Credit: Shutterstock.com/petrroudny43
What Is the Composition of PETG Filament?
The composition of PETG is derived from the composition of  polyethylene terephthalate (PET). They are similar in their chemical composition except for the fact that PETG has been enhanced by modifying its glycol content. PETG is formed by replacing ethylene glycol in PET with cyclohexanedimethanol (CHDM). This is what the "G" in PETG indicates. It is clearer, less brittle, and prints more easily compared to PET.
What Are the Properties of PETG Filament?
A PETG filament has certain properties that make it distinguishable from other filament materials, namely:
High chemical and impact resistance.
Good thermal stability.
It is a food-safe material.
Its extrusion temperature falls in the range of 220-260 °C.
It can be printed at a rate of about 40-60 mm/s.
The print bed must be heated to about 80 °C. Anything above this will lead to the warping of the print.
Comparison of PETG Filament Properties
Table 1 below highlights some common properties of PETG filament compared to other filament types:
Table 1: Comparison of PETG vs ABS vs TPU vs PLA
Property
PETG
ABS
TPU
PLA

Property

PETG

Non-toxic (proper ventilation is still required)

ABS

TPU

Non-toxic (proper ventilation is still required)

PLA

Non-toxic (proper ventilation is still required)

Property

PETG

ABS

TPU

PLA

Property

PETG

ABS

TPU

PLA

Property

Melting/Extruder temperature

PETG

ABS

TPU

PLA

Property

PETG

ABS

TPU

PLA

Yes (but will take quite some time – about 80 years)

Property

Strength/Impact resistance

PETG

Very good (but prone to scratches)

ABS

TPU

PLA

Property

PETG

ABS

TPU

PLA
What Are the Limitations of 3D Printing with PETG?
PETG has a number of advantages that makes it good for 3D printing, including its high impact resistance, odorless fumes, and good thermal stability. There are still some disadvantages associated with PETG compared to ABS, however. PETG cannot be easily stored because of its high hygroscopicity. Another limitation of PETG is that it is difficult, if not impossible, to paint. ABS, on the other hand, is far more forgiving in this area: in fact, post-processing of ABS is relatively easy.
Why Is PETG Used in 3D Printing?
PETG is a highly beneficial thermoplastic printing material because it is versatile and easy to print. Due to its versatility, it is used by many 3D printing companies and private individuals alike for their printed models or parts. PETG is appreciated by many for its: hygroscopic, ease of printability, and smooth surface finish.
How To Use PETG in 3D Printing
Just like PLA, PETG is known for its ease of printability. If PETG filament is printed according to the manufacturer's and printer's recommendations, the resulting prints should meet the customer's requirements. Here are some tips and tricks for 3D printing with PETG:
The temperature of the heated bed should be around 80-90 °C.
The melting or extrusion temperature should be anywhere from 220-260 °C. 
The hot end (the device responsible for melting the thermoplastic) does not have to be fully metallic. Hot ends with PTFE inner tubes can also be used.
Part quality can be improved by using layer fans. A layer fan is a small fan placed at the 3D printer head that cools the plastic once it is deposited.
To achieve good layer adhesion when printing with PETG, glass surfaces and adhesives such as hairspray should be used. If the PETG print is placed directly on glass, it is most likely going to stick too firmly to the glass surface – making it difficult to separate. Using adhesives ensures good adhesion while facilitating the easy separation of the print from the build surface.
What Are the Best Configuration Settings for PETG 3D Printing?
Getting the PETG print settings right is fundamental to achieving a high-quality print. The retraction speed, for instance, determines how fast the melted filament is extruded from the hot end and nozzle. Getting the filament out of the nozzle as quickly as possible without compromising on the quality of the filament is important. Listed below in Table 2 are the recommended printer settings for PETG:
Table 2. PETG Printer Settings
Printer Settings
Value

Printer Settings

Value

Printer Settings

Value

Printer Settings

Value

Printer Settings

Value

Printer Settings

Retraction distance (direct drive extruders)

Value

Printer Settings

Retraction distance (Bowden extruders)

Value

Printer Settings

Flow of filament or flow rate

Value

Printer Settings

Value

Printer Settings

Value

PEI (Polyetherimide) surface
What Is the Best PETG 3D Print Speed?
The best printing speed for PETG is between 40 and 60 mm/s. Anything faster than this may negatively impact the quality of the print. However, if the 3D printer is well-tuned and stable, the model may be printed faster without reducing the quality of the print very much. If the hot end efficiently melts the filament, it is okay to print at a higher speed. One factor to consider when printing is to ensure that the first layer of the print or model is printed at a lower speed. Printing slower will give enough time for the filament material to melt and helps in the adhesion to subsequent layers. 
What Is the Melting Temperature of PETG Filament?
The melting temperature for PETG is anywhere between 220-260 °C. Different brands of filaments may show slight differences in the temperature range. Consult the manufacturer's product specifications for the expected melting temperature of your PETG filament.
Is a Heated Printing Bed Required When Printing With PETG?
No, a heated printing bed is not necessary. The reason is that PETG does not experience as much warping as thermoplastic materials such as ABS. Using a printing bed, however, is not a bad idea since it reduces the chances of filament warping.
What Is a Good Wall Thickness for 3D Printing PETG?
Generally speaking, thermoplastic materials with moderately strong materials, such as PETG, can be printed at wall thicknesses that fall in the range of 0.8-1.6mm. Nonetheless, it is possible to print thicker walls using a nozzle with a larger diameter. Thicker walls, in the range of 2-3 mm, can create parts with higher strength.
What Is a Good Wall Density for 3D Printing PETG?
A suitable infill density for PETG is 20%. The infill density determines how much of the filament material will be consumed in the entire printing process. A 20% infill is sufficient for non-functional parts such as prototypes and display models. The infill density can be increased but this would have a considerable impact on the printing cost and time. Infill density values range from 0%-100%. 0% will produce a hollow model while 100% will produce a totally solid model.
Is PETG Hygroscopic?
Yes, PETG is hygroscopic. It has a strong affinity for moisture in the air. This property alone can have a negative impact on print quality. Exposing the filament to a humid environment will cause it to deteriorate faster. Storing PETG properly and using a filament dry box/ spool holder when printing helps avoid the filament from absorbing moisture.
What Is the Difference Between PETG and PLA in 3D Printing?
PETG is created from a thermoplastic material called PET. The G in PETG indicates that the glycol content in PET has been modified. PETG is 100% recyclable, though not biodegradable. PLA, on the other hand, is made from plant-based or natural materials such as corn. It is therefore both biodegradable (over time - about 80 years) AND recyclable. PETG is tougher and has better chemical and water resistance than PLA.
What Is the Difference Between PETG and PLA+ in 3D Printing?
PLA+ also called PLA Pro, Pro PLA (or PHA) is a superior version of PLA but the additives which were added to PLA to create PLA+ are unknown. Many manufacturers have refused to disclose information relating to this though some people speculate TPU - another thermoplastic filament - was used. Despite this improvement, PLA+ still comes behind PETG. PETG produces higher-strength parts than PLA+. However, PLA+ is biodegradable, making it a more eco-friendly product.
What Is the Difference Between PETG and PET in 3D Printing?
PET was created by combining two monomers. PETG still involves the same monomers though fundamentally it was created by modifying the glycol content of PET. PETG is better suited to higher temperatures and has better shock resistance than PET
Summary
This article presented PETG 3D printing filament, explained what it is, and discussed how it can be used for various 3D printed parts. To learn more about PETG 3D printing filament, contact a Xometry representative.
Xometry provides a wide range of manufacturing capabilities, including 3D printing and other value-added services for all of your prototyping and production needs. Visit our website to learn more or to request a free, no-obligation quote.
Disclaimer
The content appearing on this webpage is for informational purposes only. Xometry makes no representation or warranty of any kind, be it expressed or implied, as to the accuracy, completeness, or validity of the information. Any performance parameters, geometric tolerances, specific design features, quality and types of materials, or processes should not be inferred to represent what will be delivered by third-party suppliers or manufacturers through Xometry's network. Buyers seeking quotes for parts are responsible for defining the specific requirements for those parts. Please refer to our terms and conditions for more information.

Team Xometry
This article was written by various Xometry contributors. Xometry is a leading resource on manufacturing with CNC machining, sheet metal fabrication, 3D printing, injection molding, urethane casting, and more.