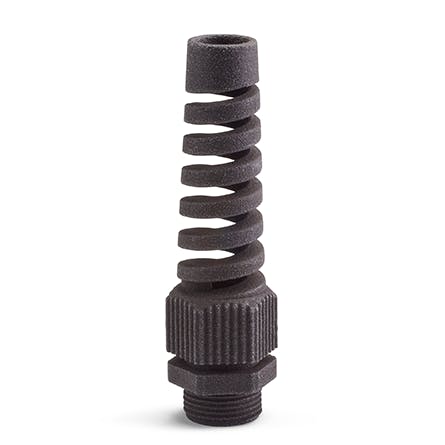 On-demand Webinar: A Deep Dive into SLS 3D Printing and High-Performance Materials
In this webinar, learn how selective laser sintering works and why it's advantageous over other additive manufacturing methods. Review the latest SLS materials and learn how to create high-quality parts in this process.

By Serena Ngoh
April 27, 2021
Learn about SLS 3D Printing from Additive Experts
For this webinar, Xometry manufacturing expert, Greg Paulsen, teamed up with Stratasys engineers, Lewis Simms, Head Additive Shop Engineer, and Kevin Sheehy, Manufacturing Engineer. These manufacturing experts dive deep into all things selective laser sintering (SLS), with topics including:
How selective laser sintering works and its benefits over other additive manufacturing methods
An overview of materials including the latest high-performance materials: Nylon 11 (100% sustainable), Nylon 12 AF (aluminum-filled), Nylon 12 HST (mineral-filled), and Nylon 12 CF (carbon-filled)
A walk-through of best design strategies to save time and money on your parts
Customer questions submitted for live Q&A
Watch this on-demand webinar to learn how to make high-quality selective laser sintered parts for prototypes, tooling, and production parts with advanced 3D printing materials. You can also learn more about Xometry's SLS 3D printing service or get the SLS design guide.
Speaker Biographies
Lewis Simms, Head Additive Shop Engineer at Stratasys
As a Solutions Manager, Lewis's mission is to help the manufacturing community leverage the best of the additive and conventional manufacturing services at Stratasys. He holds deep industry expertise in powder bed fusion technology and is passionate about production manufacturing with additive manufacturing.
Kevin Sheehy, Manufacturing Engineer at Stratasys
Kevin supports the Additive Polymer Department focusing on powder bed fusion through selective laser sintering (SLS), selective absorption fusion (SAF), and HP Multi Jet Fusion (HP MJF). Some of his projects include material development, manufacturing process control creation, and new product introduction. Kevin earned a B.S. and M.S.E. in Mechanical Engineering at The University of Texas at Austin.
Greg Paulsen, Applications Engineering at Xometry
Greg Paulsen leads the Applications Engineering Team at Xometry, working directly with customers on special case projects. He's an expert in all things manufacturing, from 3D printing to CNC machining, to injection molding and beyond. He spends a lot of time helping Xometry customers design for manufacturing and get the most out of their projects.

Serena Ngoh
I write about Xometry and all things manufacturing. You might also see me hosting webinars, designing infographics, producing videos, and working directly with customers to tell their manufacturing success stories.