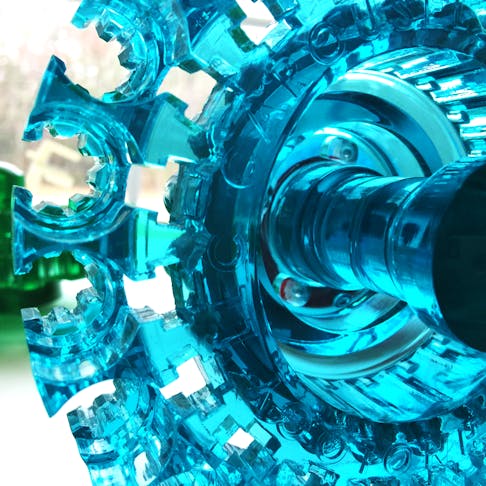 Product Update: New Cast Urethane Materials and Finishes Available for Instant Quoting
Xometry has added new urethane resins and finishes as options for quick and affordable low- to mid-volume production.

By Greg Paulsen
April 30, 2021
 3 min read
New Materials and Finishes for Urethane Casting at Xometry
We've expanded our available materials for urethane casting, one of our favorite low-volume manufacturing technologies. Urethane casting is used to make end-use, highly durable, parts with robust mechanical properties. It is considered a "soft-tooled" process, where a silicone mold is formed around a master pattern--usually 3D printed. The mold is used to create casted copies of the pattern out of polyurethanes that are customized to hit performance, color, and hardness requirements.
In this blog post, learn about and compare our new polyurethanes to find the best fit for your project. These urethane casting resins boast a range of performance, color, and hardness properties to fit any application. Because urethane casting is often a bridge production method before moving to injection molding, we describe our urethanes in terms of common molded materials.
Rigid and Rubber-like Polyurethanes
Xometry urethane casting service has materials in two main durometer classes, rigid (Shore D) and rubber-like (Shore A). Urethanes can be custom colored and finished to match your specifications.
Rigid Polyurethanes
Black, Natural, Color-Match options:
ABS-Like, FR: A tough, flame-retardant material with a robust Shore D 80 hardness
General Purpose: An impact-resistant urethane at Shore D 78 hardness. This is used for a wide variety of applications.
Glass-Filled Nylon-Like: A stiff, high-performance urethane at Shore D 85 hardness. This material meets USP Class VI standards.
Polypropylene-Like: A tough, abrasion-resistant, and somewhat flexible urethane with a slightly softer Shore D 65-75.
Polycarbonate-Like: A stiff, high-impact, high HDT material at Shore D 82-86 hardness with a wide variety of uses. 
Clear option:
Rigid Clear Polyurethane: A versatile, clear material at Shore D 80 hardness. Using a matte finish leaves a frosted look while using a high-gloss finish will give the highest clarity.
Rubber-like Polyurethanes
Rubber-Like Polyurethanes (Black, Natural, Color-Match): We have seven varieties, ranging from Shore A 30 to Shore A 90, with high elongation to break and high durability.
Clear Rubber-Like Polyurethanes (Colorless): We have four varieties, from Shore A 45 to Shore A 90, that have excellent clarity and high elongation to break.
Custom Polyurethane
As always, Xometry can custom source and match specific urethane properties. We can even quote overmolding and insert molding applications.
Finishes for Urethane Parts
Additionally, Xometry now has the following finishes available for cast parts:
Matte/Frosted
Semi-Gloss
High-Gloss
Custom
You can get an instant online quote on any of these materials and finishes through Xometry Instant Quoting Engine℠ (View instructions below). Tooling is included in the part pricing. You can also learn more about Xometry's urethane casting service.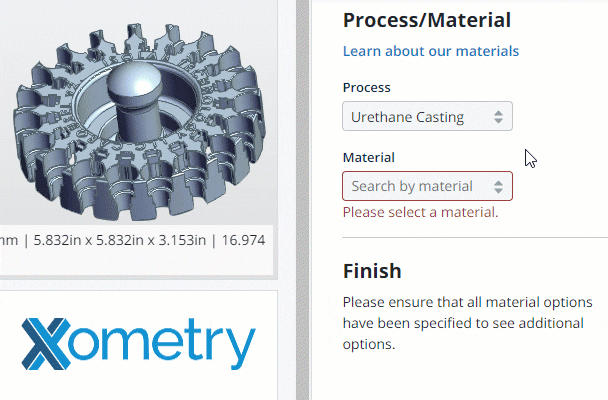 Get an Instant Urethane Cast Quote
You can get instant online pricing on all Xometry materials. These can be further customized by adding finishes, tolerances, certifications, and inspection requirements. Simply upload your 3D model to the Xometry Instant Quoting Engine℠, click "Modify Part" and under the process drop-down menu, choose "Urethane Casting." Then, select your material, add features and any notes, and head to checkout.
More Urethane Casting Resources

Greg Paulsen
They call me the Director of Application Engineering at Xometry. This means I not only get to produce great design-for-manufacturing content, but also consult on a variety of custom manufacturing projects using CNC machining, additive manufacturing, sheet metal, urethane casting, and injection molding. If you have a question, I'm your guy.