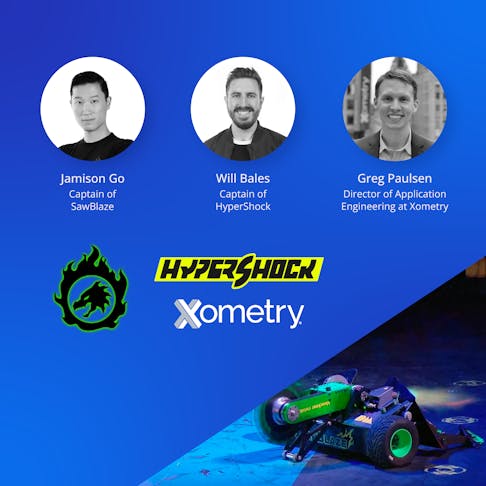 Register for the Post Battle(Bot) Recap With HyperShock and Sawblaze!
Meet Will Bales, Captain of Hypershock, and Jamison Go, Captain of Sawblaze, and learn all about their battle strategy!

By Team Xometry
January 9, 2023
 1 min read
Join us as Xometry's Director of Application Engineering, Greg Paulsen, sits down with two robot-fighting legends as they give us a play-by-play of Thursday night's match.

Dive into the strategy that Jamison Go, Captain of SawBlaze, and Will Bales, Captain of Hypershock, experienced in Episode 2 of BattleBots. Xometry, Go, and Bales will discuss match tactics and how they used Xometry parts to build their robots. Stay tuned for a live Q&A at the end of this webinar! 
Register for the Digital Event. Friday, January 13th at 4:00 PM ET
*Xometry is not a sponsor of or affiliated with Battlebots, Discovery Networks or Whalerock Industries.

Team Xometry
This article was written by various Xometry contributors. Xometry is a leading resource on manufacturing with CNC machining, sheet metal fabrication, 3D printing, injection molding, urethane casting, and more.