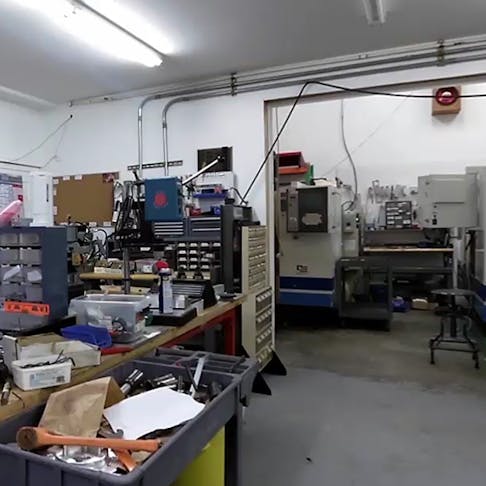 Case Study: A Long-Time Machinist Builds a Flexible Business with Xometry
Washington state-based Brian Wadey developed his machining business using expertise from a 30-year manufacturing career and assistance from Xometry.

By Team Xometry
November 18, 2020
 3 min read
Brian Wadey, founder of Prototype Design Labs in Bonney Lake, WA, is no stranger to the manufacturing industry. 
"I started in the university setting just out of trade school, working alongside instrument makers and professors in the pursuit of the next invention to help in the medical industry," he recalls. 
Wadey later ventured into aerospace, programming CNC machines to create flight-ready components, which gave him an understanding of why part-manufacturing can be challenging. Not able to get enough of R&D, Wadey went back to the university setting and later joined an innovative biotech company working on flow systems.
With an expansive background in machining and prototyping, the only logical next step was to open his own machine shop.
The Opportunity
Wadey was working on a machining project for an aerospace company and needed to farm out the production of a particular part. Struggling to find an adequate supplier, he turned to Xometry. 
"The part was great, the price was great, and the process was smooth," he explains. "I thought to myself, this whole process is too easy.
Realizing the potential of on-demand manufacturing and looking for a way to get more work for his shop, Wadey signed up to be a Xometry supplier.
The Xometry Solution
Despite already running a successful prototyping business, finding customers who need his services was always top-of-mind for Wadey. However, the steady stream of work from Xometry made it a non-issue and helped him justify reinvesting in his company with new machinery, such as a CMM, to take on more complex and better-paying projects.
The most important part of Xometry is the people -- sales, engineering, accounting, inspection, and case management. Everyone is so positive and always willing to lend a hand. You become part of the family.
Brian Wadey,
Owner, Protoype Design Labs
Another place Xometry makes a difference for Wadey is in cash flow management. "Cash flow is everything to a new company," Wadey says. "With the Advance Card, Xometry advances you 30% toward materials when you accept a job. And with Fast Pay, if you do a job on Monday, you can bill and be paid by Thursday. That's incredibly valuable for a small shop during times of financial uncertainty."
Those tangible benefits are important, but Wadey says it's the Xometry team that is the real value-add. "Everyone is so positive and always willing to lend a hand. You become part of the family."
"Xometry has bridged the gap of what has been missing in the manufacturing sector. Whether you're an engineer working on a new design needing a part in, say, a few days, or a small shop looking for a chance to build a business, it's only a keystroke away. It's an absolute win-win' for everyone."

Team Xometry
This article was written by various Xometry contributors. Xometry is a leading resource on manufacturing with CNC machining, sheet metal fabrication, 3D printing, injection molding, urethane casting, and more.