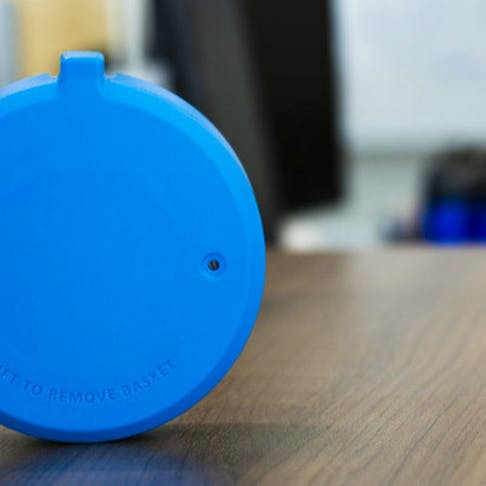 Case Study: Thermaco Uses Xometry Injection Molding to Scale Global Product Line
With the help of Xometry's injection molding services, North Carolina-based company Thermaco brings higher value to a product line and drives their bottom line.
Thermaco is a North Carolina-based technology company that specializes in extracting oil and grease from wastewater. The company lives and breathes innovation, constantly optimizing machines to remove grease and solid waste primarily from commercial kitchen water. The removal of pipe-clogging grease allows wastewater to continue through water treatment systems unhindered. When Thermaco needed to scale up production of a newly redesigned product, they entrusted Xometry with four short run productions and received them months sooner than previous suppliers at a competitive price.
Thermaco: A Green Technology Company
Thermaco is a global supplier of grease traps and food waste interceptors, with an emphasis on helping commercial kitchens remove grease from their water. Their machines function by separating solids from wastewater, which then allows grease to be skimmed off the surface without the interference of food particles. 
Thermaco's grease traps allow restaurants and commercial kitchens to keep pipe-clogging grease out of water systems, which, unchecked, would cause overflows and spills. The use of grease traps also allows businesses to comply with local, state, and federal clean water regulations. Grease spills must be reported to the EPA and relevant authorities, and can result in fines as high as $1,000 to $25,000 per day of the infraction. If the infraction happens frequently enough, a business can risk closure.
Thermaco's Design Challenge
Two years ago, one of Thermaco's major product lines, the Big Dipper, needed an entirely new design configuration. The majority of the product line consists of the Big Dipper IS, or Internal Strainer. This model was redesigned and sent to production quickly since it features a simple design: an internal strainer catches food and is emptied manually on a daily basis.
A machine from the Big Dipper-IS product line
A subset of Big Dipper machines is the Big Dipper AST, or Automatic Solids Transfer. This machine separates solids from wastewater without the need for manual intervention. The redesign incorporates an electric-powered pump instead of a water-powered pump, which will allow the model to hit more environmental conservation benchmarks and increase sales.
A Manufacturing Solution with Xometry: Faster and Cheaper Production
After a two-year design and prototyping process for the Big Dipper AST, Thermaco was ready to choose a reliable manufacturer. After comparing multiple suppliers, they chose Xometry for winning in 7 out of 8 decision categories. With Xometry, Thermaco could receive a short-run production a month sooner than local suppliers and at a 20% decreased cost.  Additionally, the availability of 3D printing processes, like selective laser sintering (SLS) and fused deposition modeling (FDM), enabled Thermaco to manufacture and test prototypes before moving to injection molding.
The first component Xometry manufactured for Thermaco was a cover for the strainer. This piece, situated at the top of the machine at eye level, was optimized for aesthetic appeal. Thermaco chose blue ABS with a mold-textured matte finish for a clean cosmetic look.
A strainer cover that Thermaco designed and Xometry injection molded for the Big Dipper AST product line.
The other three components in the product redesign were functional parts, manufactured in durable glass-filled polypropylene to withstand degradation. Two pieces work in tandem to support the shaft that runs from the motor on the top to the bottom of the machine.
Support parts to the vertical shaft in Thermaco's Big Dipper AST machines that were injection molded with Xometry
The final piece that was injection molded with Xometry is the pump impeller, which is the heart of the newly configured electric pump. This piece is instrumental in pushing the solid waste from the input chamber to the ejection point.
An injection molded pump impeller in Thermaco's Big Dipper AST machines that were injection molded with Xometry.
The Results of A Manufacturing Partnership
The parts created with Xometry will allow Thermaco to scale up production of a low-volume product. The new design will increase the value of the product, diversify the company's product offerings, and boost overall sales.
Thermaco Engineer, Bruce Kyles, predicts the new Big Dipper AST product will perform well since it will provide increased flexibility to large corporations whose workers do not have time to empty the machine's strainer daily. And importantly, these machines will help major companies stay compliant with federal and state clean water laws. 
We ordered tools from a larger tooling supplier [at the same time as Xometry] and the company doesn't have the parts to us yet. [The other partner] measures their lead time in months, not days.
Bruce Kyles,
Thermaco
Working with Xometry helped Thermaco source high-quality parts with a low-production run. This tool lifespan matches the product's current rate of sales and allows the company to scale up production with increased demand. "Low volume molds are perfect for us. We expect that [scaling up this model] will open doors for us and allow our numbers to grow."
Additionally, Thermaco received the Xometry production parts in less than half the time it takes to receive parts from other suppliers.
On average, large production runs can take up to six months, Kyles reports. With a turnkey injection molding service, Xometry allows design and production to take place on a compressed timeline, thereby enabling agile product development. 
I have been impressed with how forthcoming and responsive Xometry has been in all of our communications. And from a business standpoint, your prices have won you a lot of friends here at Thermaco.
Bruce Kyles,
Thermaco
In addition to speed and competitive pricing, Kyles was pleased with the technical competence of Xometry staff, describing pre-production mold drawings and reports as very detailed and helpful. Kyles was able to preview the mold designs before Xometry moved to tooling and final production, eliminating any potential confusion in the manufacturing process.