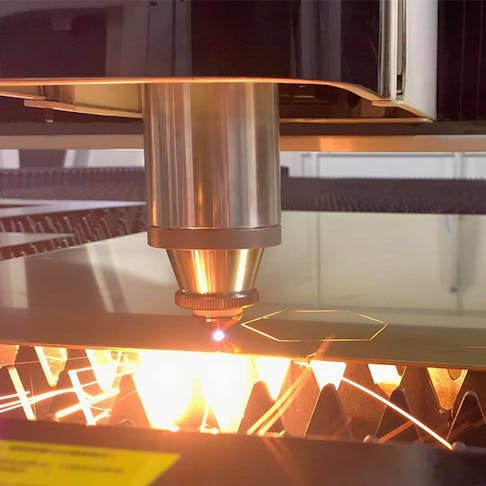 How One Family Machine Shop Used Customer Insights and Reinvestment to Grow
Uncovering opportunities for new service lines and investing heavily in the business helped a family-owned machine shop to expand beyond their niche and grow their revenue.

By William Krueger
November 30, 2020
 5 min read
Two Tactics Produce Serious Growth for Prestige Screen Printing
Sometimes, what you're looking for is right under your nose. That's the case at Prestige Screen Printing, Inc. where two major levers for growth were found inside the company's Derwood, Md., manufacturing facility. As they closed in on the maximum market share of their niche market, which they've been serving since opening their doors 48 years ago, they have focused on adding value to existing customers and investing heavily in technology and training.
"For the first 35 years, we were an industrial print company, doing equipment labeling and high-end application for rugged environments," explains Naseem Khan, the second-generation to run the company, a Xometry manufacturing Partner. Think of those stenciled nameplates you see on tanks, missiles, and satellites. "We had experienced explosive growth that was tapering off -- that niche can only get so big," he laughs. "The growth rate on the print side was steadying." 
Looking for new avenues of growth, the Khan's re-committed to a core value of investing in innovation and instruction, and capitalized on an opportunity to add value to their customers' supply chain. Six years after beginning the pivot, the company has gone from 2 employees to 12 and revenues are up 1000%. 
Here's how they did it.
Add Value to the Supply Chain
Khan had noticed that the parts they were getting for printing were flowing through 2 or 3 vendors before they arrived at his shop, adding time and cost to the process. In other instances, "a part was couriered over, so they were paying expedite fee because up the supply chain somebody's running behind -- and it's a domino effect," he explains. "They're cutting 3 POs and paying 3 invoices for one job. So we approached the existing customer base with a value proposition for turnkey services at a fair price, which produced much less administrative load and reduced cycle times."
The team looked at the products they were labeling for their top 10 customers (mostly electronics, defense and aerospace) to identify items they might be able to make in-house. They came up with a list of candidates and the equipment they'd need to make them. 
"We're getting all these metal parts from customers who want us to silkscreen information on the panels -- why not provide these as a turn-key solution?" Khan recalls. Evolving from a supply chain mentality to a value-chain mindset presented the shop with a viable pivot point.
Originally, they were eyeing a 500-watt laser with camera registration that could cut metal. "It would have been fine for that application...but a 3,000-watt laser could grow that side of the business," he notes.
Already using Xometry to capture new business and fill production gaps, Khan began using the platform to get more work for his new machines and keep his employees working while establishing the shop's chops in the new product areas.
"When we first got the laser and the CNC mills, we were on the portal every day," he recalls. "We'd evaluate jobs to figure out our approach even if we weren't going to take it. Using the portal tools and the network, we were able to build that side of the business up fast, which bridged the gap between getting our core customers up to speed on what we can do."
Today, manufacturing is the company's fastest-growing segment. "All avenues are growing," Khan asserts, "but the manufacturing side is booming and the growth clip is higher."
Invest in Innovation
That one initial investment put the printing company on the road to becoming a full-fledged machine shop. Prestige has spent about $3 million in the last 5 years on capital equipment, carefully evaluating the best tools to meet current and future customer needs. The shop now has lasers, including a 10,000-watt machine -- one of only 3 or 4 on the entire East Coast -- a laser engraver, a press brake to build sheet-metal and a 6-axis bending machine.
"Our bending machine integrates with our SolidWorks and uses data that we've compiled to make each subsequent job more precise," Khan explains. "Say you bend a part and it's not quite there, you enter that data and upload it to the computer and it adjusts that flat pattern a little bit so it's even more precise." 
As they got more requests for CNC parts, they added a 3-axis milling machine, then a 5-axis machine with a robot that can cycle through 6 jobs simultaneously. That came in handy on a long run for a complicated part. The advanced equipment functions autonomously so it could run for 2 months with an operator swapping out parts every six hours. A staggered shift system enabled the Prestige team to complete 3 cycle swaps every day.
We're always on a quest to keep the revenue increasing and push the growth rate higher and higher. We set lofty targets and do our research to keep growing the business.
Naseem Khan,
VP of Prestige Screen Printing
The investment in innovation includes recruiting highly skilled employees, subsidizing training and certification, and focusing on retaining top talent. 
"We brought on key personnel with experience in these industries who were highly decorated in their fields," Khan says. "We have staff who were eager to learn and expand on their skill sets [and] we're sending a few employees to adult education classes. We have a great team here. That's a big part of the mix." 
When you build a growth strategy on demonstrated customer needs and inefficiencies (even ones they don't realize they have) and invest in your technology and your people, you build a solid foundation for success.
"We're always on a quest to keep the revenue increasing and push the growth rate higher and higher," Khan concluded. "We set lofty targets and do our research to keep growing the business."

William Krueger
As a digital marketing specialist, William works with all forms of media from photography and video to content writing and graphic design to tell the story of American manufacturing. He holds a B.A. in Communication from Wittenberg University.