Resources
Case Studies
Case Study: YouTuber Builds Powerful One-of-a-Kind PC Chassis With Xometry's Manufacturing Services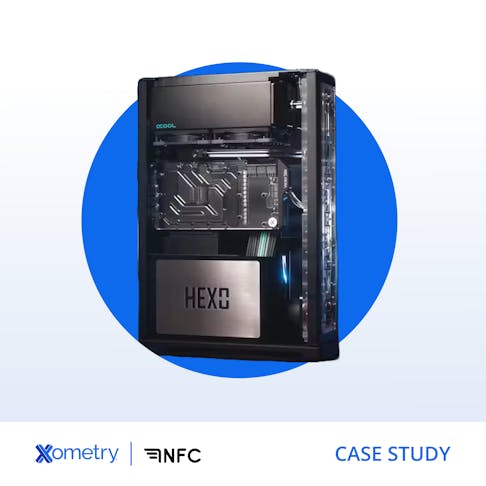 Case Study: YouTuber Builds Powerful One-of-a-Kind PC Chassis With Xometry's Manufacturing Services
Discover how Josh Sniffen, the YouTuber behind the popular PC-building channel Not From Concentrate, leaned on Xometry for a wide range of manufacturing options, personalized DFM feedback, and order management support for his latest creation: the HEXO ATX.
By Nathan Miller
September 20, 2023
 7 min read
Industry:
Manufacturing Services:
Project Brief:
Xometry Solution:

Industry:

Manufacturing Services:

Project Brief:

Josh Sniffen, a YouTuber bringing innovative design to electronic products, wanted to source high-end parts for his last creation: the HEXO ATX. This custom PC chassis was built with two core principles: making it with the most powerful retail consumer hardware available and finding a way to cool it with only two fans.

Xometry Solution:

Xometry provided parts from various manufacturing processes, personalized DFM feedback, and project management support to help Sniffen build his stunning, one-of-a-kind PC.
Design Should Not Be About Following Behind but Forging Ahead
Josh Sniffen, the YouTuber behind the PC-enthusiast channel Not From Concentrate, is a big believer in the power of unrestricted design — that through excellent design, electronic products have the capacity to touch and inspire us. He has dedicated himself to bringing innovations to PCs through their computer chassis and system design. 
"I usually try to experiment by adding a feature that is unique or under-represented in the industry — that's where I get my passion," Sniffen said.
"With the S3 MINI, I wanted to realize my passion for my childhood idea of the 'PC Console.' I had always imagined making a gaming PC tiny so you could bring it to a friend's house to game," recounted the designer and artist. "I'm really happy the idea has permeated the industry. It's crazy to think that in 2007, the concept was ridiculed at various PC shows I took it to, but now the "Console Case" is a common PC layout. The S3, S4M-C, S4M, and S4T are now in the living rooms of thousands of people from 77 countries around the world."
For his latest PC creation, dubbed HEXO ATX, Sniffen wanted to find a way to do more with less. He aimed to use the most powerful retail consumer hardware available for his PC chassis while cooling it with only two fans. Any owner of a high-end PC will tell you that high-performance machines can produce a lot of heat. In order for this build to succeed, Sniffen would need to optimize his build layout by folding the components inward for active cooling in a true "chimney" style. Cold air would cool the power supply, pump, chipset, RAM, and mosfets before entering the low restriction heat exchanger, which would use liquid to cool the CPU and GPU. 
Sniffen would also need to source parts from multiple manufacturing processes for the computer case. Some of these manufacturing options were chosen because they were the only viable options, while others grew from his desire to learn something new. While he has historically done a lot of CNC machining in-house, Sniffen wanted to try to use SLS 3D printing to produce plastic parts that would complement this project.
When asked why he chose to work with Xometry, Sniffed replied, "I needed access to a lot of machine work and different technologies, and Xometry has all the capabilities I need. It's a one-stop shop when you normally have to go to three or four places."
Not Just Parts: Xometry Is a Comprehensive Manufacturing Service
After the YouTuber used the Xometry Instant Quoting Engine® to get an instant quote for parts used in the HEXO ATX, Greg Paulsen, Xometry's director of applications engineering, worked with him to ensure the manufacturing processes he chose and his part designs were well-optimized for his build layout. 
In addition to the personalized design for manufacturability feedback for the sheet metal chassis and machined cosmetic components, Paulsen provided Sniffen with a greater understanding of how to incorporate 3D printing into his project. "Greg answered many of my questions about nylon 11 and 12 because I was really interested in learning about that,"  Sniffen said.
After placing his order, Sniffen unfortunately encountered issues with his parts and notified Xometry. The Xometry team stood behind its quality and manufacturing standards and jumped into action.
He recounted Xometry's proactive approach to the situation: "I liked the customer support, especially because I had problems. And Xometry was there, responding quickly with a team of people to ensure they understood the problem and offered a rapid solution to fix it."
With Xometry, customers aren't just buying parts. They're taking advantage of a comprehensive manufacturing service backed by a full team of dedicated, experienced engineering professionals who can resolve any issues arising from miscommunication, misunderstanding, and other factors. 
From prototyping to high-volume production, Xometry's team of technical experts is ready to help you build your big idea. At Xometry, we work alongside you to ensure your part designs are well-optimized for their intended use, saving you time and money when budgets and timelines are tight.
In addition to our technical expertise, our operations team manages your orders so you can take full advantage of our global supplier network without having to manage it yourself. As we did for Sniffen, we will troubleshoot an issue for you if any challenges arise. Learn more about Xometry's team of friendly experts who can help you with your next custom part order.
"I would trust Xometry for a critical project that I need to deliver to a client. I have my own products that I have manufactured, and getting prototypes from people overseas, or even here in the United States, is a big pain because few shops specialize in the many processes my designs require. With Xometry, you're not just getting a part; you're getting a service that ensures your parts arrive the way you expect them to. If there's a problem, they'll handle it, so I can spend my time designing and not making phone calls"
Josh Sniffen,
Designer and YouTuber behind the Not From Concentrate YouTube channel
The HEXO ATX - How the Big Idea Was Built
Sniffen procured parts using Xometry's CNC machining service, selective laser sintering (SLS) 3D printed service, sheet cutting, and sheet metal fabrication service.
Sniffen ordered multiple CNC-machined parts that were critical to the chassis. Although he wanted to experiment with 3D printing, he couldn't deny that the CNC machining process was an ideal fit for the precise components he needed.
For example, the first part, the D5 Pump retainer, held the powerful pump to the reservoir. It had multiple surfaces that could have been 3D printed, but he wanted something very stiff to hold the pump to avoid flexing and the possibility of leaking in the future. 
Next, Sniffen ordered the reservoir distributor block, which was machined out of two slabs of ½" cell cast acrylic. By choosing acrylic, he could use the piece as a window into the computer case, allowing the user to take a peek at the intricate details inside.
The density of the system required a base that could support its 40lb weight over a small surface area. So, the YouTuber determined that the best, most affordable option was to have it machined out of aluminum and anodized black.
Given the materials' strength and affordability, the side panels were made of aluminum sheet metal, an obvious manufacturing and material choice for this application. After being finished via powder coating, these side panels were given a clean, beautiful look. If you want to apply a powder coat finish to your own project, you can get a preview of your finished project here.
With the final part, the radiator plenum, SLS 3D printing was the perfect choice because of its complex shape. "The radiator needed to be offset from the chassis ventilation cutouts so the glass tubing could be installed. Additionally, I wanted all screw heads to be hidden. However the primary function of the plenum was to smooth the exiting air from the radiator fins before moving through the cutouts to reduce noise and pressure. I needed to do a lot with two fans, so every bit counted." Sniffen said, "Plus, it also allowed me to test out the nylon 12."
If you want to learn more about Josh's experience building the HEXO ATX, subscribe to the Not From Concentrate YouTube channel to see the video when it launches.
Passing Along Valuable Design Knowledge
In addition to designing and showcasing custom PCs, Sniffen finds joy in teaching design best practices to his audience and clientele. He shows them how they can apply creative thinking to their PC projects.

One of the tools Sniffen recommends to his audience is Xometry's CAD add-in for Autodesk Fusion 360, an especially useful tool for first-time builders and designers. "I have experience with machining, working with my own machines. I usually grasp the concept of what's possible and what's not, and what's going to be expensive, and what's not, but my hobby is teaching other people," Sniffen said, acknowledging that oftentimes beginners are still learning the basics. "They'll email me a part design that absolutely cannot be machined." 
"That's why I really like the Fusion 360 plug-in because you can look at the DFM feedback in real-time," he said. "It will give you warnings and tell you what's not possible or not. It'll give you a quote to show you the price change made by adjusting your part. That's been really helpful to me. I'm really excited to share it with my audience, too."
Want to learn more about how to apply design best practices to manufacturing processes like CNC machining? 
Our latest webinar, Trimming Costs, Keeping Quality: Smart Design Tips for CNC Machining, explores the elements that play a pivotal role in cost-effective CNC projects, such as material selection, feature complexity, and design guidelines. If you're a designer or engineer seeking to improve design efficiency and leverage the full potential of CNC machining, this webinar recording was made for you.
Nathan Miller
Hi, I'm Nathan, a Marketing Content Writer at Xometry; I help tell the stories of our customers and how Xometry helps them build their big ideas.