Resources
Case Studies
"Shark Tank" Winning Food Tech Company Pivots and Scales with Xometry's Prototyping and Injection Molding Services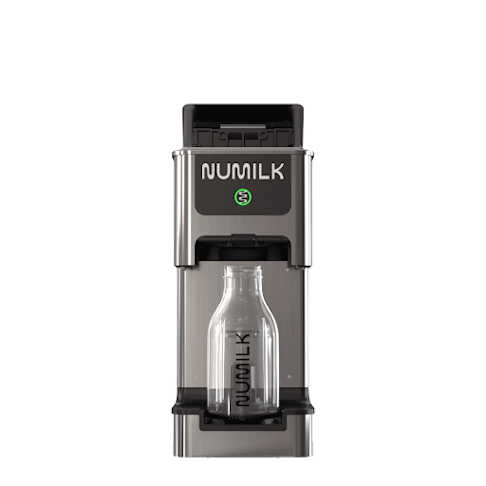 "Shark Tank" Winning Food Tech Company Pivots and Scales with Xometry's Prototyping and Injection Molding Services
Numilk dramatically shifted its product design to deliver an elevated plant-based milk experience by utilizing a variety of manufacturing processes from Xometry.
By Nathan Miller
December 13, 2022
 9 min read
At a Glance
Industries
Manufacturing Services Utilized
Project Brief
Solution

Industries

Manufacturing Services Utilized

Project Brief

Numilk needed to reimagine and adapt their  product design from a large vending-machine style design to a smaller machine that could be placed in someone's home. And they  needed to do it quickly on a lean start-up budget.

Solution

Xometry supported Numilk through the product development process by quickly sourcing prototype parts, gradually scaling their injection molding production, and providing personalized DFM and sourcing support to help them iterate on their product line over time.
The Power of the Pivot
It can be challenging to start a new business. A new company's product offering can be stellar and still fall prey to one of the many factors that can cause new ventures to launch unsuccessfully. 
One of the biggest traps a business can fall into is the start-up founders becoming too married to their original product idea. That original idea might have captured the founder's imagination and the imagination of their initial investors. It might have even sold better than they originally expected. 
But sometimes, even if the initial idea is strong, you need to take advice from Ross Geller and "Pivot!"
To see a perfect example of this pivot principle in action, let's go back to March 2021. Numilk founders Ari Tolwin and Joe Savino were about to appear on ABC's Shark Tank to pitch their food-tech start-up that was set to revolutionize the plant-based milk industry. 
Tolwin and Savino came to the Sharks when their business plan was going through a big transition.  Their original idea was to create large machines within grocery stores like Whole Foods that would process and deliver high-quality, fresh plant-based milk to their customers with the press of a button. The product already had some success at that point, but it quickly became apparent that they were focusing their efforts on a market that would only produce a fraction of the revenue they could potentially obtain.
Tolwin and Savino pitched their business to the Sharks, demonstrating the strength of their product and the market potential they could seize if they had the funding to scale down their machine to fit on the countertops of coffee shops and homes.  One of the Sharks, Mark Cuban, decided to bite, and the duo was able to secure a $2 million investment for their growing company.
In addition to the investment Tolwin and Savino's business received national exposure. Despite this resounding success, they had to solve a problem quickly; they didn't actually have a working machine in hand. The model they showed the Sharks was only a high-quality 3D printed representation of the potential countertop product.
To execute a successful pivot, the Numilk engineering team needed to develop a significantly smaller version of their product, and they needed to do it quickly to capitalize on the momentum from their TV debut.
The Numilk engineering team began converting to a new, smaller countertop design called Numilk Pro. They started by ordering multiple CNC-machined and 3D-printed prototype parts from Xometry. While these manufacturing processes served their purpose for a time, the engineering team at Numilk understood they would eventually need to transition to a higher volume manufacturing process for critical parts.
Injection molding is the most cost-efficient way to produce plastic parts at scale. Injection molded parts can also be found in products throughout your home and office, from the microwavable and dishwasher-safe polypropylene in your mug to the durable and stiff ABS on your laptop keys. 
If you are the proud owner of a Numilk Pro , then you have Xometry-made injection molded parts sitting on your countertop! In fact, the food-safe Tritan emulsifier bottle within the Numilk Pro is one of the main innovations that separate Numilk from its competitors in the plant-based milk industry.
In fact, there are a lot of differences between Numilk and traditional plant-based milk. Let's start with the difference you'll notice right away: the fresh taste. To understand why you need to know some basic food science. 
Plant-based milk is primarily made of two immiscible ingredients: oily ground-up plant nuts and water. Naturally, as the old saying goes, oil and water don't mix well and will separate over time. Traditional plant-based milk that you find in cartons at your local grocery store is made at the factory with 80% water and plant-based oily ingredients, requiring additives such as emulsifiers, gums, binders, and preservatives to keep them from separating and spoiling during distribution.  
By contrast, Numilk machines allow users to make fresh plant-based milk in a minute with a convenient button press from Numilk pouches.  So there is no need to include additives like those found in traditional pre-made plant-based milk.
In addition, traditional plant-based milk distribution is energy inefficient and produces a lot of waste. Traditional plant-based milk cartons must be refrigerated at the factory, during transit, and at the store. Traditional plant-based milk is 80% water and requires constant refrigeration. After being purchased and used, these one-time-use cartons are thrown away and end up in landfills. 

Numilk customers reduce their carbon footprint by using raw ingredient pouches and reusable Numilk emulsifier bottles, removing the need to refrigerate excess water and throw away one-use cartons. Coffee shops that switch to Numilk keep an average of 3,000 cartons per year out of landfills, while families can save an estimated average of 160 cartons from landfills every year when they switch.
Numilk makes it easy to enjoy its product, by giving their customers the satisfaction of doing their part to build a greener economy while they enjoy fresh almond milk or oat milk latte. 
With so much customer demand to capitalize on, the Numilk engineering team needed to get through the product development process and rapidly scale up to production.   
 "Our startup had a small engineering team, and each member had to perform numerous tasks fast, without making critical mistakes, to bring our first countertop product to the market quickly. Thankfully, we overcame the challenge by quickly iterating designs, to test and improve our product. Xometry's various fabrication options enabled us to move more efficiently through the design iteration cycle." said William Suh, Engineering Director at Numilk

"The Xometry Instant Quoting Engine® also has been really helpful. We have used a variety of Xometry capabilities, from 3D printing to injection molding and CNC machining, and sheet metal fabrication. Because we planned our product development process with Xometry, we knew what short-term, and long-term fabrication options were available to us. That helped our engineers design and iterate the parts and assemblies for the product, allowing us to send it to market while the next upgrades were being implemented. When we needed the next upgrade, Xometry turned around orders with reasonable pricing by using their manufacturing partners in the US and overseas." 
By working with Xometry from the early stages of the product development cycle, Numilk was able to shorten its time to market dramatically.
"We designed, assembled, tested, and shipped our Pro3s to the market in just 6 months, and the Pro4s in 6 months as well.  Although these initial versions still had some room for improvement, we were able to get to market quickly, allowing us to take the position we now have, further developing the Pro5s and beyond, and taking full advantage of favorable market demand from existing and future customers." 
 "If not for Xometry, we would have had to invest a lot of time in finding and screening several manufacturing partners. Xometry's network of pre-screened suppliers helped us meet multiple demands for different parts. In our case, it was especially helpful to work with a supplier that could fabricate food-grade injection molded parts with intricate design features.  Best of all, any issue that came up was diligently handled by our account manager, Nicole Zaluski. I  could easily call her to help resolve issues that I would normally have had to resolve myself.  We are grateful to have good partnerships with multiple design firms and manufacturing services like Xometry.  We know that these kinds of partnerships can help startups like us bring innovation to the market." said William Suh.
From Prototype to Production With Xometry
No matter where you are in your product development process, from prototyping to mass production, Xometry can help you get the parts and feedback you need to succeed. We offer cost-competitive pricing across all manufacturing capabilities, including 3D printing, which allows companies to order multiple prototypes in parallel in preparation for their molding order.  We can value-add material substitutions for rapid prototyping and verification using more than a dozen manufacturing processes. Our team helps you move through the prototyping phases more easily and quickly by providing DFM, consultation, and budgetary pricing. And when you are ready to ramp up production, you can rest easy knowing the flexibility of our production capacity can provide the production volume you need, no matter the size of your order. 
While you can bring us your project at any stage, we always encourage our customers to contact Xometry in the early stages of ideation and prototyping. When you partner with us early, we can help you plan for success by providing relevant design for manufacturability feedback. Scaling up your injection molding order is an iterative process; when you go from pilot and mass production, our injection molding team is on hand to simplify your experience and guide you through any design hurdles that may come your way.  Whether you are looking to make thousands of production parts or you're just getting started in the ideation phase, we are excited to start molding for you.
As Numilk begins to increase its production volume, the company is also working to make the Numilk experience even more environmentally friendly. Its next step may include a bigger bottle for high-volume coffee shops or 100% industrial compostable pouches.  In addition, Numilk will introduce a few new versions of the machine to the market in 2023 with more flavors and ingredient mixes to expand the offerings of their high-quality plant-based milk.  
If you want to learn more about how Xometry can help you scale, consider watching our Webinar: Path to Production 一 Injection Molding Strategies. In it, engineers from Xometry discuss the injection molding process, the best practices for injection molding, and answer questions about it in a Q&A session. And if you are ready to start your first injection molding order, head over to the Xometry Instant Quoting Engine® now to get pricing, lead times, and DFM feedback. 
Nathan Miller
Hi, I'm Nathan, a Marketing Content Writer at Xometry; I help tell the stories of our customers and how Xometry helps them build their big ideas.