Resources
Case Studies
PT&R Becomes the Second Manufacturing Partner to Reach $1 Million in Xometry Revenue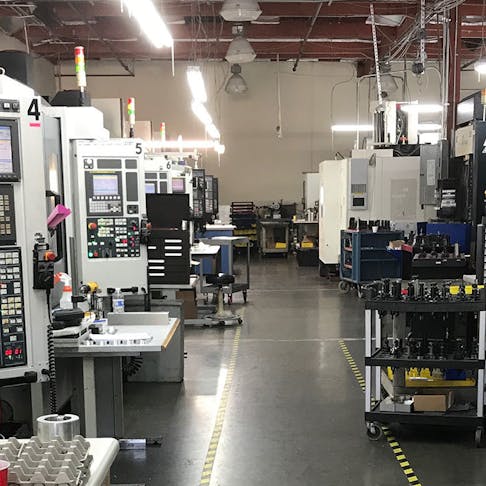 PT&R Becomes the Second Manufacturing Partner to Reach $1 Million in Xometry Revenue
The California-based manufacturer is also the first Partner to have reached this milestone in under one year with Xometry.

By Team Xometry
September 23, 2020
 2 min read
PT&R Manufacturing in San Jose, CA, began as the brainchild of Hang Pham and Hung Nguyen, two entrepreneurs who brought years of experience with them from Vietnam. The shop quickly grew into a manufacturing powerhouse, which the co-founders credit to their highly skilled team and a hard work ethic. They also discovered Xometry early on in their business lifetime.
We love being able to see the pricing and lead times to quickly know whether a job will be a good fit for our shop or not. It cuts out a lot of the back and forth in taking work, which takes up a lot of time.
Chau Nguyen,
General Manager
The shop began taking work through Xometry, searching for bigger jobs whenever possible, and now constantly checks for jobs that match their capabilities and timeline. They initially worked primarily in the semiconductor industry, but with Xometry have expanded into multiple new industries including aerospace. Xometry has grown to become 20-30% of their business at any given time. "Xometry added a lot of work for us early on in our business, which was a big help for us. We experienced rapid growth since we began taking work."
PT&R had also been in the process of acquiring an ISO certification, which gave them further work with Xometry and other customers. With this growth, the shop acquired several new machines and many experienced machinists and programmers. The shop is now 10,000 sq ft large with approximately 15 employees.
Xometry provides us with a steady stream of jobs that ensure our machines are always running at capacity. We are able to take work from a wide variety of industries, which allows us to diversify our skill-set and remain competitive.
Chau Nguyen,
General Manager
Advice to Other Shops
For other new machine shops hoping to achieve similar levels of growth, the PT&R team recommends:
Keeping customers happy by going above and beyond with the quality of every part
Promoting a strong culture of teamwork, motivating employees to work hard, and supporting them through ongoing training
They especially emphasize using the resources available to you to drive this culture. They credit their success with Xometry to their commitment to delivering outstanding quality with each job they take on.
Xometry does a very good job of handling the vendor relationship. We've always had a good experience troubleshooting jobs. The customer service is wonderful.
Chau Nguyen,
General Manager
What does PT&R have planned for the future? The shop is currently looking to expand their capacity by moving into a larger space and hiring more skilled employees. They are also interested in acquiring an AS9100 aerospace certification, so they can take more aerospace work through the Xometry platform. PT&R is excited to continue to grow their business through high quality performance and further expansion with Xometry.

Team Xometry
This article was written by various Xometry contributors. Xometry is a leading resource on manufacturing with CNC machining, sheet metal fabrication, 3D printing, injection molding, urethane casting, and more.