Resources
Case Studies
Case Study: Rob Furniss Used Xometry to Efficiently Prototype Parts for his Engine's Superchargers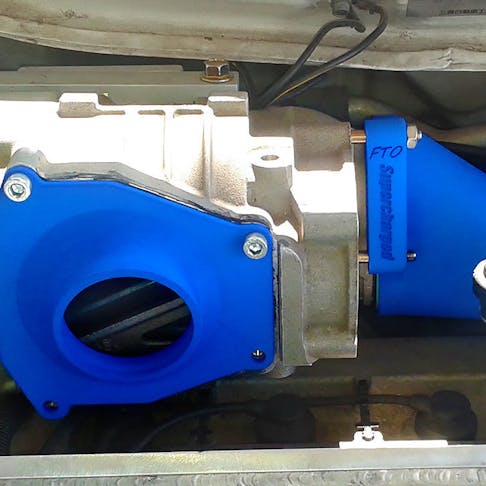 Case Study: Rob Furniss Used Xometry to Efficiently Prototype Parts for his Engine's Superchargers
Our innovative customer Rob Furniss used 3D Printing to automate the creation of his fully functional prototype that helps improve his car engine's performance.

By Team Xometry
October 8, 2020
 3 min read
We're always impressed by our customers - Rob Furniss is no exception. While Furniss was living in the UK working in software development several years ago, he was brainstorming how he could take his love for automobiles and engineering to the next level.
Those passions collided when he thought of fitting a supercharger on his car - a small part for the engine of his Mitsubishi FTO to enhance its performance and speed.
As there were no existing kits to fit a supercharger on his car at that time, Furniss took the initiative to make his own. He slowly prototyped his design, getting parts made at various local shops. His initial prototype of the supercharger kit consisted of pieces that he welded together and then used to fix a supercharger on his engine.
It was such a time-consuming and expensive process to have the aluminum brackets and custom intakes made. Doing this the old way was not easily repeatable.
Rob Furniss,
FTO Supercharged
After his first creation, Furniss knew his next goal was to create a part that would be reproducible, and ordered quickly rather than going through the process of sourcing custom parts from scratch every time.
He set out to become familiar with designing in digital software, and then created his first CAD design with AutoCAD. Once he was ready to order, he discovered Xometry and a perfect relationship formed.
Working with Xometry
Furniss simply uploaded his CAD file and got an instant quote. He checked with several of our project engineers who analyzed his CAD file and shared their expert opinions on manufacturability. After walking through material considerations with Furniss, he chose Selective Laser Sintering (SLS) as the best manufacturing process for his needs. His prototype was quickly 3D printed and shipped! He was drawn to Xometry's fast lead times, "with Xometry, I can place an order within a short space of time which is so efficient!"
The Results
Furniss' first prototypes resulted in durable, heat-resistant parts made from Nylon-12 that have held up for over a year on the Mitsubishi FTO's engine. He was impressed with the prototype's resolution, "It looks amazing, the parts look really good. Even after a year, the parts have not cracked or warped in the slightest."
Furniss' bright blue SLS Nylon parts!
Furniss was able to skip prototyping iterations by working with our engineering team, including our Director of Applications Engineering Greg Paulsen, to get the right design specifications without any trial and error period. "The service I've had from Xometry has been integral in making decisions around the manufacturability of my parts...It's been great having feedback from Greg."
Xometry is like a mini factory for me, which is great. I can make it in any shape I want...it gives me lots of options.
Rob Furniss,
FTO Supercharged
Next Steps
What's next for these superchargers? Furniss is currently testing more variations by ordering parts through Xometry. He's planning to sell them to interested car enthusiasts to build up his own business. The most recent tests of his kits achieved a sub 6 second acceleration from 0-62mph / 0-100kph and improved times per 1/4 mile in distance! They have tangibly increased his engine's horsepower and Torque. Furniss has also seen a peak boost of 9psi with his car pulling extremely well.
We're so proud to support Furniss' efforts and are impressed by his supercharger invention!
Check out Rob Furniss' website to learn more about his latest supercharger kits!

Team Xometry
This article was written by various Xometry contributors. Xometry is a leading resource on manufacturing with CNC machining, sheet metal fabrication, 3D printing, injection molding, urethane casting, and more.