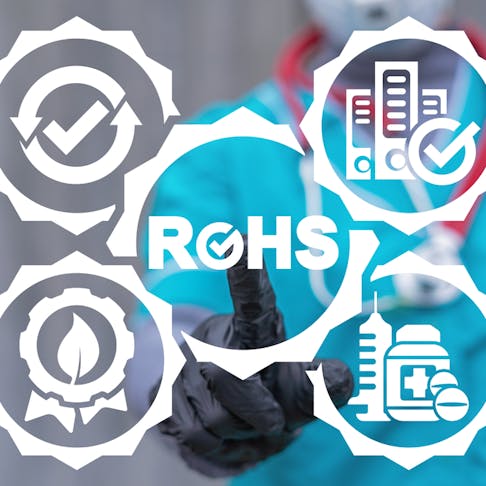 RoHS Certification: Standard Definition, Audit Requirements

By Team Xometry
May 31, 2023
 9 min read
The RoHS (Restriction of Hazardous Substances) certification aims to limit the use of hazardous materials in electrical and electronic products. With the help of this certification, consumers can be sure that goods sold in the European Union (EU) adhere to the necessary limits for dangerous substances like lead, mercury, and cadmium. All electrical and electronic products sold in the EU, including those that are imported, must have RoHS certification. 
Manufacturers must go through a rigorous audit process that evaluates their manufacturing process and confirms compliance with the necessary standards to receive RoHS certification. Testing of both raw materials and finished goods, proper labeling, and documentation upkeep are all part of this compliance. Independent certification organizations recognized by the EU conduct the auditing process. This article will examine the audit requirements, accreditation procedure, and related certifications that are relevant to the businesses, industries, and/or processes/systems that RoHS relates to, as well as the RoHS certification process itself.
What Is RoHS Certification?
An official RoHS certification is proof that a product complies with the Restriction of Hazardous Substances directive. The directive forbids (exceeding certain limits in) the use of lead, mercury, and cadmium as well as other potentially harmful materials in electronic and electrical equipment. Products that comply with the requirements are given the RoHS compliance mark, signifying that they are secure for use and do not endanger the environment or human health. Manufacturers and distributors who want to sell their goods in the European Union or other nations with comparable laws must obtain the certification.
What Industries and Companies Are RoHS Relevant For?
RoHS (Restriction of Hazardous Substances) is important for a variety of businesses and industries that make or sell electrical and electronic equipment. This includes businesses that produce industrial machinery, medical devices, and other kinds of electronic products, as well as producers of consumer electronics like smartphones and computers. Due to the directive's legal requirement in these nations, compliance with the directive is especially essential for businesses that sell their products in the European Union. 
However, numerous other nations have adopted comparable laws, so RoHS compliance is now more important than ever for businesses that operate internationally. Apple, Samsung, Dell, HP, and Siemens are a few examples of businesses that must abide by the RoHS regulations. RoHS compliance, however, is important for businesses of all sizes, from tiny startups to multinational corporations, across a range of industries.
Types of RoHS Certifications
The RoHS (Restriction of Hazardous Substances) directive has undergone several changes, including RoHS 2 and RoHS 3, which broadened its application:
RoHS 1: A law known as the RoHS 1 directive was released in 2002 to limit the use of six hazardous materials in electrical and electronic equipment (EEE) which are lead, mercury, cadmium, hexavalent chromium, polybrominated biphenyls (PBBs), and polybrominated diphenyl ethers (PBDEs). According to the directive, all applicable products sold on the EU market after July 1, 2006, must adhere to the RoHS standards. This was done to safeguard against the negative effects of these substances on human health and the environment.
RoHS 2: In July 2011, RoHS 2 replaced RoHS 1. RoHS 2 added new requirements for EEE importers and manufacturers as well as expanded the range of products covered by the RoHS-1 regulations. The categories of products covered were expanded to include medical devices and monitoring and control equipment, and compliance dates were established for each category. For aerospace and defense equipment, LSFI, non-road mobile machinery, and active implantable medical devices, RoHS 2 offered exemptions. Manufacturers or importers of RoHS products are required to carry out a conformity assessment and apply CE markings to all products that comply.
RoHS 3: RoHS 2 (Restriction of Hazardous Substances) was updated in 2015 to add the following four substances: Benzyl butyl phthalate (BBP) < 0.1%, Bis(2-Ethylhexyl) phthalate (DEHP) < 0.1, Diisobutyl phthalate (DIBP) < 0.1%, and Dibutyl phthalate (DPB) < 0.1%.
As of July 22, 2019, RoHS 3 was in effect. The new regulation also includes "Category 11" products like e-cigarettes, vape pens, and two-wheeled electric vehicles. RoHS 3 non-compliance can result in significant fines and legal repercussions. For example, Germany imposes fines of up to €30,000 per non-compliant product and up to two years in prison. Despite having left the EU, the UK operates an equivalent regulatory system and imposes substantial fines for any non-compliant product.
What Are the RoHS Audit Criteria?
The RoHS audit criteria are standards for measuring adherence to the RoHS requirements. Verifying that products don't contain restricted substances above the allowed limit and that the manufacturer has the required paperwork to prove compliance are among the audit criteria. To make sure that the product complies with RoHS requirements, the auditor may also assess the product's design, labeling, and packaging. To guarantee ongoing compliance, the auditor may also confirm that the manufacturer has put in place a strong quality management system. The goal of the RoHS audit criteria is to make sure that manufacturers produce safer and more environmentally friendly products following the directive.
The RoHS Audit and Accreditation Process
There are several steps in the RoHS audit and accreditation process. An audit is the first step in determining whether a manufacturer complies with the RoHS requirements. Any non-conformities and necessary corrective actions will be listed in the auditor's report. The manufacturer can apply for RoHS accreditation once the necessary corrective actions have been taken. Certification organizations assess the manufacturer's adherence to the RoHS directive and issue a certificate of compliance. Regular surveillance audits are part of the accreditation process to ensure ongoing compliance. By assuring consumers that a manufacturer's products adhere to the RoHS directive, accreditation can boost a product's marketability and consumer confidence.
What Are the Benefits of RoHS Certification?
The RoHS (Restriction of Hazardous Substances) certification is a valuable accreditation for companies that manufacture or sell electrical and electronic equipment (EEE) products. The following are some benefits of RoHS certification:
Businesses perceive accredited certification as providing value for money. It ensures that their products are compliant with RoHS regulations and that their production processes are sustainable.
The quality of EEE products is guaranteed by RoHS certification, which can increase consumer confidence and satisfaction.
The certification mandates that producers restrict or limit the use of hazardous materials in their goods, thereby promoting environmental and public health protection.
RoHS certification can provide a competitive edge for businesses, as it demonstrates their commitment to quality, sustainability, and social responsibility.
When Are RoHS Certifications Required?
RoHS (Restriction of Hazardous Substances) certifications are required for products that are sold in the European Union (EU) and that fall under the categories covered by the RoHS requirement. The directive restricts the use of hazardous substances in electrical and electronic equipment (EEE) including: cadmium, lead, mercury, polybrominated biphenyls (PBBs), and polybrominated diphenyl ethers (PBDEs). Therefore, products that are classified as EEE and that are intended to be sold or used within the EU must comply with the RoHS directive and obtain an RoHS certification to prove compliance. Non-compliance with RoHS regulations can lead to financial penalties, legal consequences, and reputational damage.
What Accrediting Body Issues RoHS Certifications?
The United Kingdom Accreditation Service (UKAS) and the International Accreditation Forum (IAF) are two examples of national or international accreditation bodies that accredit third-party certification bodies that issue RoHS certifications. These certification organizations evaluate a product's compliance with the Restriction of Hazardous Substances (RoHS) directive, which forbids the use of specific hazardous substances in electrical and electronic equipment. TÜV Rheinland, SGS, Bureau Veritas, and UL (Underwriters Laboratories), among others, are a few examples of RoHS certification organizations.
Similar Certifications and Accreditations to RoHS
There are several certifications and accreditations similar to RoHS (Restriction of Hazardous Substances) that aim to regulate the use of hazardous materials in various industries. These include:
REACH (Registration, Evaluation, Authorization and Restriction of Chemicals)
WEEE (Waste Electrical and Electronic Equipment Directive).
ELV (End-of-Life Vehicles Directive).
EPEAT (Electronic Product Environmental Assessment Tool).
TCO Certified (sustainability certification for IT products).
Energy Star Certification (for energy-efficient products).
Each of these certifications aims to encourage environmentally responsible and sustainable business practices across various industries.
Other Certifications Related to the Industries/Companies and/or Processes/Systems That Use Hazardous Materials
There are some other certifications and accreditations, in addition to the RoHS (Restriction of Hazardous Substances) certification, that are pertinent to businesses, processes, and industries involved in the use of hazardous materials and environmental responsibility. The Waste Electrical and Electronic Equipment (WEEE) directive, which governs the disposal and recycling of electrical and electronic equipment, is one such certification. Another certification that aims to guarantee the safe use of chemicals in goods and procedures is the Registration, Evaluation, Authorization and Restriction of Chemicals (REACH) regulation.
The ISO 14001 certification offers a framework for establishing, putting into practice, and maintaining an environmental management system for businesses that place a high priority on environmental management. To ensure food safety, businesses involved in food production or handling may also apply for certification under the Hazard Analysis and Critical Control Points (HACCP) system. Overall, there are a lot of certifications and accreditations available for businesses that want to show their dedication to quality control, safety, and environmental responsibility. Companies should carefully consider which certifications are most pertinent to their industry and operations because each one has different requirements and advantages.
Summary
This article presented the RoHS certification, explained it, and discussed its various audit requirements. To learn more about certifications, contact a Xometry representative.
Xometry provides a wide range of manufacturing capabilities and other value-added services for all of your prototyping and production needs. Visit our website to learn more or to request a free, no-obligation quote.
Disclaimer
The content appearing on this webpage is for informational purposes only. Xometry makes no representation or warranty of any kind, be it expressed or implied, as to the accuracy, completeness, or validity of the information. Any performance parameters, geometric tolerances, specific design features, quality and types of materials, or processes should not be inferred to represent what will be delivered by third-party suppliers or manufacturers through Xometry's network. Buyers seeking quotes for parts are responsible for defining the specific requirements for those parts. Please refer to our terms and conditions for more information.

Team Xometry
This article was written by various Xometry contributors. Xometry is a leading resource on manufacturing with CNC machining, sheet metal fabrication, 3D printing, injection molding, urethane casting, and more.