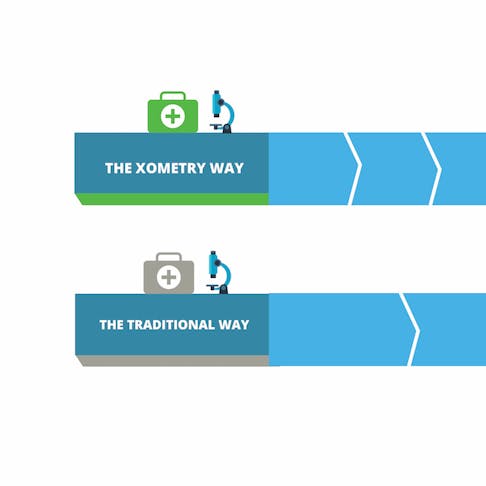 Infographic: Medical Device Development and Time to Market
On-demand manufacturing companies like Xometry understand exactly what it takes to make a medical device a reality. See our estimated timeline and phases to get from rapid prototypes to FDA submission to scaled-up production.

By Serena Ngoh
October 9, 2020
 5 min read
When a good idea for a medical device reveals itself, the world suddenly looks different. The world is a better place because your idea, your product, might just make it so. The opportunities for your innovative product seem limitless and the road ahead glitters with success. Nothing—and no one—can stop you.
Eventually, the adrenaline high of discovery dies down and many product development specialists and researchers are faced with the hard truth: the road to a successful medical device is not easy, between waiting for prototypes to come in, validating and testing builds, and documenting every detail for FDA filing.
Fortunately, on-demand manufacturing companies like Xometry understand exactly what it takes to make a medical device a reality, moving from rapid prototypes and engineering builds to FDA submission and scaled-up production. Below, you'll find the steps for efficient medical device manufacturing by using an on-demand manufacturing platform. Xometry offers competitive pricing, flexible capacity, and fast quoting and production times, and quality measures over traditional manufacturing methods.
Steps in the Medical Device Manufacturing Cycle
Steps in the Medical Device Manufacturing Cycle
For medical device designers looking to streamline their product development and compress their timeline, here's the breakdown of the process.
Phase 1: Quoting and Rapid Prototyping
The first step in building a medical device is getting a proof of concept. Most designers who follow the "high variation, high frequency" method, quickly iterate with wide-ranging features and materials to hone in on the proper design direction. To get parts affordably and quickly produced, you'll likely want to build parts using 3D printing. 3D printing does not require any upfront tooling costs, so parts can be produced immediately with only a CAD file. Some engineers will even produce multiple part configurations at once for rapid evaluation of different design options. With Xometry, quoting and ordering online takes just minutes. After ordering prototypes, parts typically ship within 3 days, which means early prototyping and validation can take between 1-3 weeks.
With traditional manufacturers, the quoting and rapid prototyping phase would normally take 4-6 weeks.
Phase 2: Continued Prototyping and Validation Testing
After initial prototypes to ensure proof of concept and basic fits and features, you can choose more high-resolution processes with high-performance materials like urethane casting, Carbon DLS, and CNC machining. Although these processes are more expensive and build times are slower, fewer iterations are necessary to finetune the details and functionality of your prototype. In this phase, you may want to conduct a Preliminary Design Review (PDR) with stakeholders to verify that the design meets requirements representative of the final product. This phase will likely take 1-3 weeks.
With traditional manufacturers, this continued prototyping and testing phase would normally take 4-6 weeks.
Phase 3: Engineering Build 1
Once the functional requirements are verified with prototypes, it's time for an engineering build. This stage of the product development process typically involves manufacturing in a process and material that can achieve as close to an end-product as possible. This is the penultimate build before releasing the design to the engineering floor, and will typically require a Critical Design Review (CDR), or a final review of the product build with project stakeholders. The manufacturing behind this stage, together with market validation and final design feedback, will likely take 2-3 weeks.
With traditional manufacturers, an engineering build phase would normally take 4-6 weeks.
Phase 4: Engineering Build 2
This is the final manufacturing phase which may involve pre-mold fit checks prior to making the mold tooling. This stage may also involve a low-volume injection molding production as your product awaits validation by the FDA. Low-volume bridge production with Xometry typically takes 2-3 weeks and serves to meet low-volume production needs.
Phase 5: Steel Tooling to Launch
Once the 510K FDA submission goes through, the way is clear to begin scaling up production with steel tooling. The product is ready to launch once the initial injection molded samples via steel tooling are cleared. If a low volume mold was produced, it could be used to bridge production parts while the higher throughput steel tool is being made.
Production Time with a Digital Versus Traditional Manufacturer
Production Time with a Digital Versus Traditional Manufacturer
Working with modern manufacturing platforms like Xometry will take around 6-8 weeks, or 30 business days, including successive prototypes to the first production run. Xometry's near unlimited parallel manufacturing capacity and fast lead times allows any project to get started immediately after ordering.
With traditional manufacturers, this process would take between 3 to 6 months with back and forth quoting, longer lead times due to capacity limitations, price negotiations, and securing rigorous certifications and inspections required for medical devices.
Xometry's ability to compress product development timelines is the result of five major factors:
Cost-competitive pricing across all manufacturing capabilities to allow companies to order multiple prototypes in parallel
Value-add material substitutions for rapid prototyping and verification using over 11 different manufacturing processes
Flexibility production capacity to meet any prototyping and production volumes no matter how big or small
Fast quoting and production times
Thorough quality measures in place like traceability documentation and inspections
By compressing their product development timelines, companies can develop multiple products in parallel.
Efficient Medical Device Manufacturer
Xometry has years of experience working with medical device companies from start to finish, preparing them for FDA submission with high-quality prototypes, bridge tooling, and production parts. We have experience helping dental, medical robotics, and pharmaceutical companies get to market as quickly as possible.

Serena Ngoh
I write about Xometry and all things manufacturing. You might also see me hosting webinars, designing infographics, producing videos, and working directly with customers to tell their manufacturing success stories.