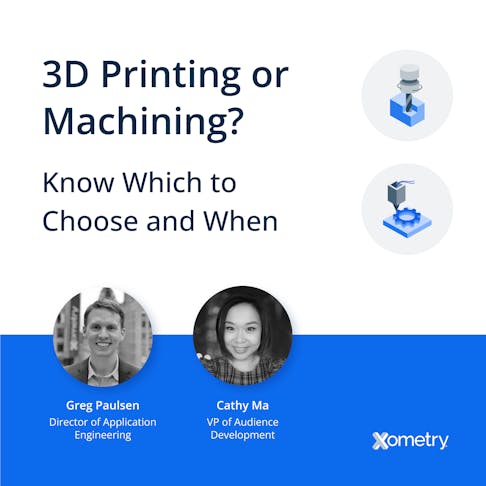 On-Demand Webinar: 3D Printing or Machining? Know Which to Choose and When
Choosing the right manufacturing process can significantly reduce your total costs and production timelines. Learn how to choose the best method for your parts with experts Greg Paulsen and Cathy Ma in this webinar recording.

By Brittany Henneberry
March 8, 2023
Resources mentioned during the webinar:
About the presenter: Greg Paulsen leads the Applications Engineering Team at Xometry, working directly with customers on special case projects. He's an expert in all things manufacturing, from 3D printing to CNC machining to injection molding and beyond.
*limit 1 use per webinar registrant

Brittany Henneberry
Brittany Henneberry is an Audience Development Lead at Thomas, a Xometry company. She is a proud recipient of Xometry's 2021 Founders Award. Her work has been referenced by Scientific American and Quartz, as well as in several academic papers. In addition to her articles on Thomas and Xometry, she has written an eBook on public procurement available both on Thomasnet.com and Amazon. Ms. Henneberry is an alumna of the University of Michigan with Honors degrees in English and French.