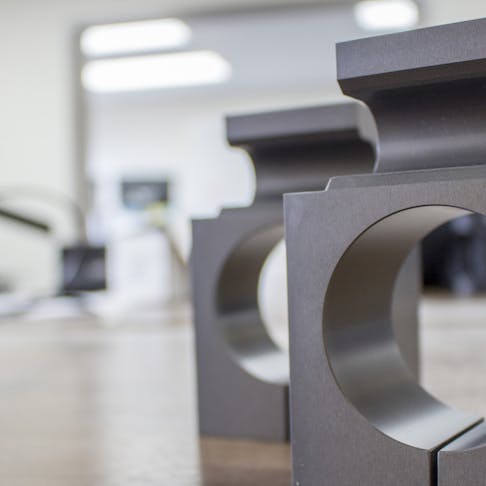 Ways to Save Money on CNC Prototypes
CNC prototypes give you high-function, tight tolerance components that are ready to go out-of-the-box. These tips will help you shave costs off your next project.

By Greg Paulsen
October 9, 2020
 4 min read
Sometimes parts need to be machined (instead of using other methods), even if it's a one-off prototype. This could be because of certain material requirements (e.g. PTFE, titanium, G-10 composite), tight tolerances, cosmetic finishes, or other needed attributes best made through CNC machining and turning services.
CNC machining can be costly, but luckily, manufacturing platforms like Xometry can take on high-mix, low-volume work CNC jobs through a cost-effective network of machine job shops. Manufacturing networks offer the best value for prototype CNC manufacturing, delivering both low costs and short lead times.
But beyond a high-quality manufacturer, what else can you do to save on your milled prototypes? Follow these four tips on prototyping, design, and supply chain best practices.
Ask Yourself: Is it a Requirement or a Desirement?
The number one cost driver for most prototype projects is scope creep. This is where the "nice-to-have" features are bundled in the same group as the "need-to-have" requirements. When structuring your prototype quote, a helpful phrase to ask yourself, your customer, or your engineers is: Is this a requirement or desirement? Yes, "desirement" is a made up word, but it drives home the point that the goal of prototyping is to bring you to the next development step. Everything else, even if it will ultimately be part of the final product specification, is superfluous for your immediate success. Here are some common questions to ask yourself:
Can I use the default tolerances on this part? Xometry's manufacturing standards provide a generally acceptable manufacturing minimum for each process it offers. For CNC machining, this is +/- 0.005" for distance measurements. That's about two sheets of paper's thickness in total range. Specifying tighter tolerances on your Xometry quote will increase the part price slightly. The tighter the tolerance is, and the more tight tolerance areas there are, the more expensive your part will be. The nature of this pricing is a stack up, which will inflate the part price. Make sure to look at what is absolutely necessary for your prototype's tolerances and only specify those to save costs.
Do I need these cosmetics? Although features like laser engraving, silkscreen, and other part identification can be relatively low-cost in volume, their setup fees will have a significant impact on price and lead time at low quantities. If your CNC machined prototype is for function only, then you can probably opt out of the identification requirement. This consideration also applies to non-standard surface finishes, such as reduced surface roughness or post-process finishing services (discussed more below).
Does this prototype need to be in the final material? Aluminum 6061 is the most commoditized metal for CNC machining and turning. This means that pricing will be lower for aluminum parts and the lead times are typically faster. Prototyping in aluminum 6061 can save costs and time compared to many other engineered alloys, like 7000-series aluminum or titanium. If your part is already destined for 6061 aluminum, then you are all set. You can use the Xometry Instant Quoting Engine℠ to easily see the pricing differences by toggling options for materials and alloys.
Simplify if Possible
Many high-volume metal manufacturing methods such as die-casting can be prototyped using CNC machining. If possible, a die-cast design should have all drafts removed to dramatically reduce costs and machine time when CNC machining. This is because die casting design practices are similar to injection molding, requiring draft angles. A 3-degree draft across a series of features requires a milling process called surfacing, where a small mill moves in small increments to make a sloped feature. This can often more than double the price due to overhead time. By suppressing drafts, or minimizing the need to surface in general, you will get the same performance without added costs.
Take Advantage of Xometry's Speed and Tools
The best part about Xometry's online instant quoting site is its ease and transparency when pricing. You can choose from expedited, standard, or economy options for machined and turned parts. Pricing and lead times on quote automatically update based on applied quantities, features, tolerances, and finishing options. With Xometry, you have dedicated staff available to assist you in your choices and even help you get the most out of your budget.
Learn more about Xometry's CNC machining service and check out Xometry's CNC design guide for the best tips on making your prototype project a success. Xometry's manufacturing on demand services can scale from one to tens of thousands of parts without changing or managing suppliers. Get your instant online price by uploading your 3D CAD file.

Greg Paulsen
They call me the Director of Application Engineering at Xometry. This means I not only get to produce great design-for-manufacturing content, but also consult on a variety of custom manufacturing projects using CNC machining, additive manufacturing, sheet metal, urethane casting, and injection molding. If you have a question, I'm your guy.