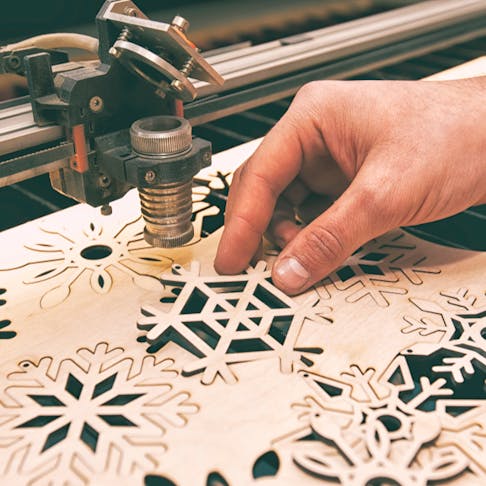 7 Steps on How To Create DXF Files for Laser Cutting

By Team Xometry
August 8, 2023
 8 min read
The DXF (Drawing Exchange Format or Drawing Interchange Format) file format is one of the two most common formats used in laser cutting. DXF uses vectors, which can be read by laser-cutting machines and turned into cutting instructions. There are many applications that can be used to create DXF files, as DXF is an open-source file type. Many applications are free including Inkscape®. This article will discuss the seven steps required to make a DXF file for laser cutting using Inkscape.
1. Select an Image for DXF File
The first step is to find the image you want to laser cut. This can be in any format. However, it works best with pictures that have a strong outline. For this example, we shall use a mortarboard in Figure 1 below:
This is a problem when DXF laser cutting for two reasons. The first is that the Inkscape software will see this as two pieces of geometry and will cut out two parts, which is not what is required. Secondly, even if that was required, cutting lines too close together can cause the material to warp, so these lines need to be edited out as shown in the next image. This needs to be done before loading the image into Inkscape. Otherwise, the software will still register two parts even if it's drawn on in the software. Figure 3 below illustrates the edited image:
Then, find the image you want to upload in your folder, select, and click "Open" as shown in Figure 5:
Leave the settings as standard and click "Ok" as illustrated in Figure 6:
The image should now be in Inkscape (Figure 7 below):
Using the "Path" drop-down menu, select the "Trace Bitmap" option as shown in Figure 8:
This will pop up in the Bitmap menu. The Bitmap traces the silhouette to make a line for the laser cutter as seen in Figure 9: 
Make sure the image is selected for the bitmap to work. Press "Apply" to use the Bitmap function. After using the Bitmap function, the silhouette will appear on top of the image as shown in Figure 10:
Delete the Original Photo
Make sure to move the silhouette off of the image and delete the image before continuing. Once the original image is deleted the silhouette will be left as illustrated in Figure 11:
To create a hanging hole, use the circle tool on the left toolbar. To create a perfect circle, hold Ctrl + Alt while drawing the hole. Alternatively, to create a base, draw the additional geometry as shown in Figure 13:
5. Making Page Orientation Changes To Enclose Base Design
Once you have used the Bitmap function to trace all of the geometries, you may find that they don't all fit on the page. To solve this, select all of the pictures and use the "Document Properties" function under the "File" drop-down menu. Then, select "Resize to content" to fit the page exactly to the geometry shown in Figure 14. This will save scrap. 
Resize Document To Fit Geometry
Click "Ok" in the Dialog Box
7. Importing the DXF File, Choosing the Speed, and Choosing the Power Settings
After importing the new DXF file into the laser cutting software, select the speed and power settings. Load the material to be cut into the laser cutter. Then, using your laser cutting manual, select the prescribed speed and power for the material type and thickness to be cut. Make sure the laser is also the right distance from the cutter. Finally, run the laser cutter and then put your cut-out material into use. 
What Is DXF?
DXF stands for Drawing Interchange Format. It is a type of vector file that can be used by different CAD software, allowing a file to be created in one software and then opened in another. DXF is a well-established file format that was created by John Walker and his team in 1982 as part of the first version of AutoCAD®. DXF files are saved in a vector format which means 2D paths can be created, from which a laser cutter can follow. DXF files are similar to DWG files, however, DXF is open-sourced and so is compatible with more software. 
What Are the Materials Used for Laser Cutting a DXF Design?
A laser cutter is not restricted in the material it can cut depending on whether or not it uses a DXF file. The material that can be cut will depend on the type and power of the laser cutter machine. Generally, laser cutters can cut a large variety of materials including: wood, paper, plastic, metals, and foam. 
What Type of Laser Cutter Can Cut DXF Design?
All laser cutters can use a DXF design. One of the most common forms of laser cutting machine is the CO2 laser cutter. This type of laser cutter, as with all laser cutters, can use a DXF file for cutting and engraving.
What Is the Machine Used for DXF Designs?
Machines that use DXF files are referred to as Computer Numerical Controlled (CNC) machines. They use the vector paths created in the DXF file to generate a series of cutting instructions. These cutting instructions enable a material to be cut to resemble the picture in the DXF file. 
What Is the Software Used in DXF Designing for Laser Cutting?
DXF files use an open-source file type, which means anyone can develop software to convert pictures to DXF files. There are many versions of software for making DXF files and they all have pros and cons. Listed below are some examples:
Inkscape: Inkscape is free and easy to use. It is available on different operating systems including Windows, IOS, and Linux®. 
Fusion 360®: Fusion 360® is another program used to create DXF files. It offers a free option and paid versions that cost around $70 a month. Fusion 360® has frequent updates which can be confusing when trying to remember which button is used for which function. However, one major benefit of this software is that it is cloud-based allowing others to work on the project with you in real-time. 
Adobe® Illustrator®: Adobe® Illustrator® can also be used to create DXF files. It is cheaper software than Fusion 360® at $20.99 a month and has an iPad application, allowing it to be used on an iPad. The cons of this software, however, are that it requires some training to use and it takes up a lot of memory on your device. 
Can I Cut DXF Design Using a CO2 Laser Cutting Machine?
Yes, a CO2 laser cutting machine can use a DXF file to transform vectors into a set of cutting instructions. This allows the user to transform a picture (jpeg or other format) into a design that can be cut using a CO2 laser. 
Can I Cut DXF Design Using a Fiber Laser Cutting Machine?
Yes, a DXF file can be used by a fiber laser cutting machine to cut out desired geometry. The DXF file contains vectors that any laser cutter can read. These vectors are created by tracing a picture of any format including jpeg. 
Summary
This article presented the steps on how to create a DXF file, explained them, and laid them out with visuals. To learn more about DXF files, contact a Xometry representative.
Xometry provides a wide range of manufacturing capabilities, including sheet cutting and other value-added services for all of your prototyping and production needs. Visit our website to learn more or to request a free, no-obligation quote.
Copyright and Trademark Notices
AutoCAD® and Fusion 360® are registered trademarks of Autodesk, Inc., and/or its subsidiaries and/or affiliates, in the United States.
Inkscape® is a registered trademark of Software Freedom Conservancy, Inc.
Linux® is a registered trademark owned by Linus Torvalds.
Adobe® Illustrator® is a registered trademark of Adobe in the United States and/or other countries.
Disclaimer
The content appearing on this webpage is for informational purposes only. Xometry makes no representation or warranty of any kind, be it expressed or implied, as to the accuracy, completeness, or validity of the information. Any performance parameters, geometric tolerances, specific design features, quality and types of materials, or processes should not be inferred to represent what will be delivered by third-party suppliers or manufacturers through Xometry's network. Buyers seeking quotes for parts are responsible for defining the specific requirements for those parts. Please refer to our terms and conditions for more information.

Team Xometry
This article was written by various Xometry contributors. Xometry is a leading resource on manufacturing with CNC machining, sheet metal fabrication, 3D printing, injection molding, urethane casting, and more.