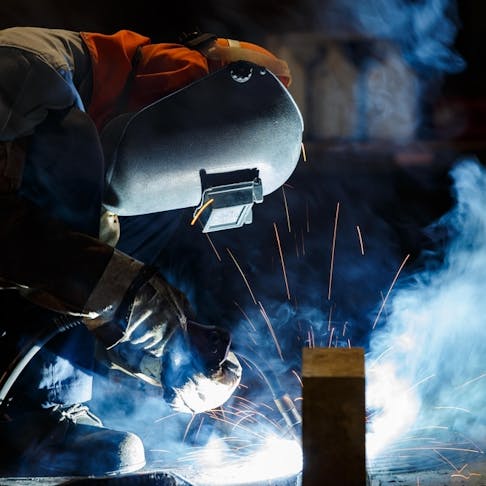 Flux-Cored Arc Welding (FCAW): Definition, Purpose, and How It Works

By Team Xometry
July 13, 2023
 16 min read
Flux-cored arc welding (FCAW) is a versatile and highly efficient welding process that plays an important role in manufacturing, construction, and various industrial applications. FCAW utilizes a continuously fed tubular electrode wire with a flux core. This flux core serves a dual purpose: it generates a shielding gas to protect the weld from atmospheric contamination and acts as a source of flux, which provides additional deoxidizers and alloying elements to enhance the quality and strength of the weld. This process can be performed with or without external shielding gas, depending on the specific type of FCAW used.
This article will discuss Flux-cored arc welding (FCAW), its definition, purpose, how it works, and primary applications. 
What Is Flux-Cored Arc Welding (FCAW)?
Flux-cored arc welding is a joining process that uses a continuously fed electrode wire with a flux core to create an electric arc and fuse together two metal pieces. It is a variation of the more commonly known gas metal arc welding (GMAW) or MIG/MAG (metal inert gas/metal active gas) welding.
In FCAW, the electrode wire consists of a metal sheath surrounding a core containing materials that protect the weld as it is formed. The flux core serves multiple purposes. It contains a number of powdered compounds, including: chemicals that create shielding gasses to protect the molten weld pool from atmospheric contamination; compounds that stabilize the electric arc; and alloying elements to adjust the filler metal composition to enhance the weld's mechanical properties.
FCAW is known for its high welding speed, deep penetration capabilities, and excellent weld quality. Also, FCAW has the ability to weld dirty, rusted metal, and can be performed in windy, outdoor environments, remote from the convenience of bottles of shielding gas and perfectly clean parts. It is widely used in industries such as construction, and shipbuilding, specifically for pipelines, structural fabrication, and repair work. FCAW offers flexibility, allowing it to be used on a wide range of materials, including mild steel, stainless steel, low alloy steels, and some non-ferrous metals.
What Is the Other Term for Flux-Cored Arc Welding (FCAW)?
FCAW is sometimes also referred to as "dual shield welding." These terms are used interchangeably to describe the welding process that utilizes a flux-cored electrode wire to create an arc and join metal pieces.
Is Flux-Cored Arc Welding the Same as MIG Welding?
No. Flux-cored arc welding and MIG (metal inert gas) welding are similar processes but have some key differences. While both use a continuously fed metal wire that serves both as welding electrode and filler metal, MIG (metal inert gas) welding relies only on externally supplied shielding gas to protect the weld, while FCAW relies on cover gas and slag generated by the core at the center of the electrode wire to safeguard against weld pool contamination.
MIG welding is costlier than FCAW and less compatible with various welding positions. FCAW is commonly favored over MIG due to its ability to generate stronger welds while demanding less skill for effective usage. Conversely, MIG yields more consistent outcomes but operates at slower deposition rates, making it well-suited for high-production settings. Also, solid wire (MIG) is less likely to get tangled or kinked than FCAW wire.
What Is the Main Purpose of Flux-Cored Arc Welding (FCAW)?
Flux-cored arc welding is used to join two or more pieces of metal by creating a strong and durable weld. It provides a shielded welding technique that is more efficient than stick welding but can avoid the complication of external shielding gas, such as is required by MIG. FCAW also shines at heavy-duty repair/construction in outdoor environments and does not require clean surfaces for the weld to be durable. 
How Does Flux-Cored Arc Welding (FCAW) Work?
FCAW works by using a continuously fed electrode wire with a flux core to create and maintain an electric arc between the wire and the workpiece. The process requires a power source to provide the necessary electrical current and voltage. The electrode wire, consisting of a metal sheath surrounding a flux core, is selected based on factors such as the base metal being joined and the desired weld properties.
An FCAW arc is struck the same way a TIG or MIG arc is struck — you have to tap the material with the electrode and then back it off to the right distance and angle of attack to maintain the arc, generating intense heat. As the electrode wire melts, the flux core also melts, releasing compounds that serve various purposes. These compounds react with the heat from the arc, producing a shielding gas that envelops the weld pool. This shielding gas protects the molten weld pool from atmospheric gasses, preventing contamination.
The molten metal from the electrode wire transfers across the arc and fuses with the base metal, creating the weld. A layer of slag may form on top of the weld bead as the flux core melts depending on the type of FCAW used. The slag acts as a protective layer, shielding the weld from atmospheric contaminants. After the weld cools down, the slag can be removed by chipping or brushing.
What Are the Two Types of FCAW Processes?
The two main types of flux-cored arc welding are listed and described below:
1. Self-Shielded Flux-Cored Arc Welding (FCAW-S)
In FCAW-S, the flux core contains sufficient materials to generate a shielding gas when it reacts with the arc heat. As a result, no external shielding gas is required. FCAW-S is often used in outdoor or windy conditions where the generated shielding gas helps protect the weld from atmospheric contamination.
2. Gas-Shielded Flux-Cored Arc Welding (FCAW-G)
This process utilizes an external shielding gas, typically a mixture of carbon dioxide (CO2) and argon (Ar), to protect the molten weld pool from atmospheric gasses. FCAW-G generally produces cleaner welds with reduced spatter compared to FCAW-S. It is commonly used in indoor welding applications.
How Do You Use a Flux-Cored Arc Welding (FCAW) Machine?
Using a flux-cored arc welding (FCAW) machine involves several steps to ensure proper setup and operation. First, prioritize safety by wearing appropriate protective gear and ensuring proper ventilation in the work area. Familiarize yourself with the machine's controls, including the power switch, voltage, current, wire-feed speed adjustments, and other relevant settings. Follow the manufacturer's instructions to connect the power supply and ground the machine.
Next, select the correct electrode wire based on the type of FCAW process you are using (FCAW-S vs. FCAW-G), the metals you are joining, and the specific requirements of your project. Securely position and clamp the workpieces to prevent movement during welding.
Insert the electrode wire through the welding torch or gun, making sure it is properly aligned. Check the contact tip for good condition and secure tightening. Set the welding parameters on the machine, adjusting the voltage and wire-feed speed based on the material thickness and type. Consult appropriate welding procedure specifications or guidelines for recommended parameters.
If you are using gas-shielded FCAW, connect the appropriate shielding gas supply and set the flow rate according to the manufacturer's recommendations. Ensure that the gas nozzle is properly positioned.
Before beginning the actual welding, perform a test weld on a scrap piece of similar material to validate settings and evaluate weld quality. Make necessary adjustments to parameters if required.
To start welding, position the torch or gun at the starting point of the weld joint. Activate the FCAW machine, establish the arc, and move the torch or gun steadily along the joint, following the desired welding technique and travel speed. Maintain consistent arc length and torch angle throughout the process.
Monitor the weld bead during welding, ensuring proper penetration and appearance. Adjust welding parameters as necessary to maintain the desired weld quality.
Once the weld is completed, release the trigger or switch to terminate the arc. Perform any post-weld actions required, such as removing slag (if applicable) and cleaning the weld area.
Do You Push or Pull With FCAW?
When using flux-cored welding, it is recommended to use a pull (or drag) technique. This involves directing the tip of the welding gun toward the completed weld and dragging it away from the weld pool, down the line of the joint yet to be completed. When pushing the wire, there is a risk of the flux becoming trapped within the molten metal.
What Metals Can Be Welded With FCAW?
Flux-cored arc welding is a versatile welding process that can be used with mainly iron-based alloys such as: mild steel, alloy steels, stainless steel, and cast iron, as well as some nickel-based alloys. It is primarily used with ferrous metals. Some of the metals that can be welded using FCAW are listed below:
1. Stainless Steel
FCAW is frequently used for welding stainless steel material due to its ability to provide good penetration and weld quality. Stainless steel FCAW wires are available with a number of alloy compositions and flux types, allowing for the welding of different stainless steel types, including austenitic, ferritic, and duplex stainless steels.
2. Cast Iron
FCAW can also be utilized for welding cast iron, which is a brittle material that requires special attention. Specific FCAW wires designed for cast iron welding are available. These wires often contain nickel or nickel-based alloys to provide a good match in terms of mechanical properties and thermal expansion.
3. Carbon Steel
FCAW is widely used for welding carbon steel, including low-carbon (mild) steel and high-carbon steel. It is suitable for a range of applications, including structural fabrication, pipelines, shipbuilding, and general metal fabrication. FCAW wires with different compositions and flux types are available to match the specific requirements of a given carbon steel welding application.
Can FCAW Be Used To Weld Aluminum?
No, FCAW is not typically used to weld aluminum. FCAW wires are typically designed for use with a flux core that generates its own shielding gas, making them incompatible with aluminum welding. FCAW-G usually uses CO2 or CO2/Argon.
There is no AWS (American Welding Society) specification for flux-cored wire for aluminum welding, reflecting the dearth of aluminum-specific flux-cored electrodes on the market. Aluminum requires a different type of shielding gas, typically pure argon or a helium-argon mix, to protect the weld pool from atmospheric contamination. For more information, see our guide on the Characteristics of Aluminum.
What Are the Industries That Use Flux-Cored Arc Welding (FCAW)?
FCAW is widely used across many industries that require efficient, high-quality welding processes. Some of the industries that commonly utilize FCAW include:
Construction and Infrastructure: Used for welding structural steel, bridges, buildings, and other infrastructure projects.
Shipbuilding and Marine: Used for welding hulls, decks, bulkheads, and other structural components of ships and offshore platforms.
Oil and Gas: Used for welding pipelines, storage tanks, pressure vessels, and other critical equipment.
Heavy Equipment Manufacturing: Used in fabricating and joining thick-section components commonly found in heavy equipment.
Automotive and Transportation: Used for welding frames, chassis, exhaust systems, and other components.
Energy and Power Generation: Used for welding power plant components, including boilers, turbines, and pipelines.
Fabrication and Manufacturing: Finds applications in general metal fabrication, including the manufacturing of metal structures, frames, and fabricated parts. 
Can Flux-Cored Arc Welding Produce Strong Welds?
Yes, FCAW can produce strong welds when performed correctly and under appropriate conditions. The strength of an FCAW weld depends on such factors as: welding technique, welding parameters, base metal properties, filler metal selection, and joint design. FCAW offers the advantage of deep penetration and high deposition rates, which can contribute to the strength of the weld. The process can effectively join thick sections of material and produce welds with good fusion and mechanical properties.
What Are the Advantages of Flux-Cored Arc Welding (FCAW)?
Flux-cored arc welding offers several benefits that make it a popular welding process in various industries. Here are some of the key advantages of FCAW:
Allows for high deposition rates. It can deposit more weld metal per unit of time than any other welding process other than submerged arc welding (SAW). 
Known for its deep penetration capabilities, especially in thicker materials. The deep penetration and strong arc characteristics of FCAW contribute to the formation of sound welds with good strength and integrity.
Can handle a wide range of metal thicknesses, from relatively thin gauge to thick plates. However, it is important to note that the deeper penetration/higher heat input of FCAW will limit how thin you can go.
Can be used with less stringent pre-weld preparation compared to other processes such as TIG (tungsten inert gas) welding. While proper cleaning and joint preparation are still important, FCAW is generally more forgiving in terms of surface contaminants and joint fit-up requirements.
Is generally a cost-effective welding process due to its high deposition rates, increased productivity, and availability of affordable electrode wires. 
What Are the Disadvantages of Flux-Cored Arc Welding (FCAW)?
FCAW offers many benefits, but it also has certain limitations and disadvantages. Here are some of its disadvantages:
Can be more prone to certain weld defects, such as slag inclusions and porosity, compared to other welding processes. The flux used in FCAW can sometimes result in trapped slag or gas pockets if not properly controlled or removed, leading to decreased weld quality.
Can be sensitive to environmental conditions, particularly wind and air drafts. The shielding gas generated by the flux core can be easily disrupted by air movement, affecting the stability and quality of the arc.
While FCAW is suitable for welding thicker materials, it may not be as well-suited for welding thin-gauge materials. The high heat input and deep penetration characteristics of FCAW can lead to burn-through or distortion on thin materials if not properly controlled.
Generates a significant amount of smoke, fumes, and spatter during the welding process. Adequate ventilation and personal protective equipment (PPE) are necessary to minimize exposure to harmful welding fumes and burns from spatter.
While FCAW can be cost-effective overall, the consumables for FCAW, including electrode wires, can be more expensive than those for some other welding processes. Additionally, some FCAW wires may require specialized handling and storage to maintain their effectiveness.
Is Flux-Cored Arc Welding Worth It?
It depends. FCAW is certainly worth considering for many welding applications, as it offers several advantages and benefits. However, whether it is worth it or not depends on various factors specific to your welding needs and circumstances. Some factors to consider when evaluating the value of FCAW for your application are: the type of material, its thickness, the volume of materials to be welded, the location where the welding will be conducted, and if you have skilled welders who are experienced with FCAW.
Is Flux-Cored Arc Welding for Beginners?
No, FCAW is not for beginners, but it is an easy process to learn compared to other welding processes such as TIG. FCAW offers simplicity in its operation, with a continuous wire feed and no frequent electrode changes. It is forgiving of imperfect joint fit-up, tolerating some variation, thus making it more beginner-friendly. However, beginners should be aware of challenges such as the need for proper equipment setup, the potential for weld defects, sensitivity to environmental conditions, and the importance of safety precautions. Seeking proper training, guidance, and practice under the supervision of experienced welders or instructors is recommended to develop fundamental skills and ensure successful and safe welding outcomes.
Is Flux-Cored Arc Welding Safe?
Yes, flux-cored arc welding can be performed safely when proper safety precautions are observed. While there are inherent risks associated with any welding process, following safety guidelines and practices can mitigate these hazards. Welders should prioritize wearing the appropriate personal protective equipment (PPE), including welding helmets, gloves, flame-resistant clothing, and safety boots. This apparel shields the welder from sparks, UV radiation, and hot metal. Adequate ventilation is crucial to prevent the buildup of welding fumes and gasses. 
What Is the Difference Between FCAW and Arc Welding?
The term "arc welding" is a broader category that encompasses various welding processes, including flux-cored arc welding (FCAW). So, the main difference between FCAW and arc welding lies in their specific techniques and characteristics. Here are the key distinctions:
Flux-Cored Arc Welding: FCAW is a specific type of arc welding process that uses a continuously fed tubular electrode wire with a flux core. The flux core provides a shielding gas and a slag barrier that protects the weld from atmospheric contamination. FCAW can be performed with or without external shielding gas, depending on the specific type of FCAW (gas-shielded or self-shielded). FCAW is known for its high deposition rates and deep penetration, making it suitable for welding thicker materials. It offers versatility, allowing for welding in various positions.
Arc Welding: Arc welding refers to a broader group of welding processes that use an electric arc to join metals. It includes several techniques, such as shielded metal arc welding (SMAW), gas metal arc welding (GMAW/MIG), gas tungsten arc welding (GTAW/TIG), and submerged arc welding (SAW), among others. These processes differ in terms of electrode types, shielding gasses (if used), and welding technique. Arc welding processes, including FCAW, share the common principle of using an electric arc to generate the heat required for welding.
Summary
This article presented flux-cored arc welding, explained what it is, and discussed its purpose and various applications. To learn more about flux-cored arc welding, contact a Xometry representative.
Xometry provides a wide range of manufacturing capabilities, including sheet cutting and other value-added services for all of your prototyping and production needs. Visit our website to learn more or to request a free, no-obligation quote.
Disclaimer
The content appearing on this webpage is for informational purposes only. Xometry makes no representation or warranty of any kind, be it expressed or implied, as to the accuracy, completeness, or validity of the information. Any performance parameters, geometric tolerances, specific design features, quality and types of materials, or processes should not be inferred to represent what will be delivered by third-party suppliers or manufacturers through Xometry's network. Buyers seeking quotes for parts are responsible for defining the specific requirements for those parts. Please refer to our terms and conditions for more information.

Team Xometry
This article was written by various Xometry contributors. Xometry is a leading resource on manufacturing with CNC machining, sheet metal fabrication, 3D printing, injection molding, urethane casting, and more.