Xometry now offers binder jetting, a high-speed metal 3D printing process, through an exclusive partnership with ExOne (NASDAQ: XONE). Customers can quote this process through the Digital RFQ Marketplace. Once in the marketplace, simply visit the ExOne supplier page to send your request directly to this Xometry Manufacturing Partner. Read on to learn more about this technology and how it can benefit your project development cycle.
---
How Does Binder Jetting Work?
Binder jetting is a cost-effective way to 3D print metal prototypes and production parts. With binder jetting, an inkjet printhead selectively deposits a binding agent onto a layer of powdered metal. This process is repeated, layer-by-layer, until the object is complete.
The build box then goes through curing in order to fully solidify the binding agent. Parts are removed and all unbound powder is removed from the parts.
The bound parts, or "green parts" are then sintered in a furnace. To increase density for some metals, bronze is added to infiltrate and fill the pores in the powdered metal body to create a metal matrix composite with a final density of around 95%.
Benefits of Binder Jetting
| | |
| --- | --- |
| Complex Geometries and Precision | Like many 3D printing processes, binder jetting is capable of handling complex geometries, fine powders, and a wide variety of material types with precision. Binder jet parts boast a typical dimensional accuracy of +/- 2.5% on the first print run. Because binder jetting does not require support structures, there is additional design freedom and reduced post-processing, which can translate to more affordable and more quickly produced parts. |
| Extreme Durability | As a metal 3D printing process, binder jet is capable of producing extremely durable parts that are great for industries like automotive, oil and gas, consumer goods, and more. |
| Low Cost | Binder jetting produces very affordable metal parts due to the ability to print multiple parts in one build (since parts do not need support structures, they can be stacked vertically within a large build box volume). Other 3D printing processes may be limited to one or a few parts on a single horizontal plane. |
| Substitute for Serialized Production Processes | As a result of its low cost and ability to print mid- to high-volume runs quickly, binder jet metal 3D printing is a great substitute for serialized production processes like metal injection molding (MIM), die casting, and investment casting. |
| Wide Array of Materials | ExOne offers over 20 materials, including 316L and 17-4PH stainless steels, Inconel 718 and M2 Tool Steel, allowing for experimentation across a variety of durable metals and metal composites. |
Optimizing Designs for Manufacturability
See our binder jetting design guide, which contains tips on tolerancing, post-processing, and how to design various features such as holes, font sizes, pockets and cavities, knife edges, fillets, ribs, self-supporting structures, and more.
Prototyping in binder jetting for the first time can sometimes produce parts with unexpected results because of known shrinkage or potential warping during the furnace stage. This guide offers important instructions to help mitigate these outcomes.
Get Started With Your Binder Jetting RFQ
Upload your files now to get a quote from Xometry's exclusive binder jetting partner ExOne.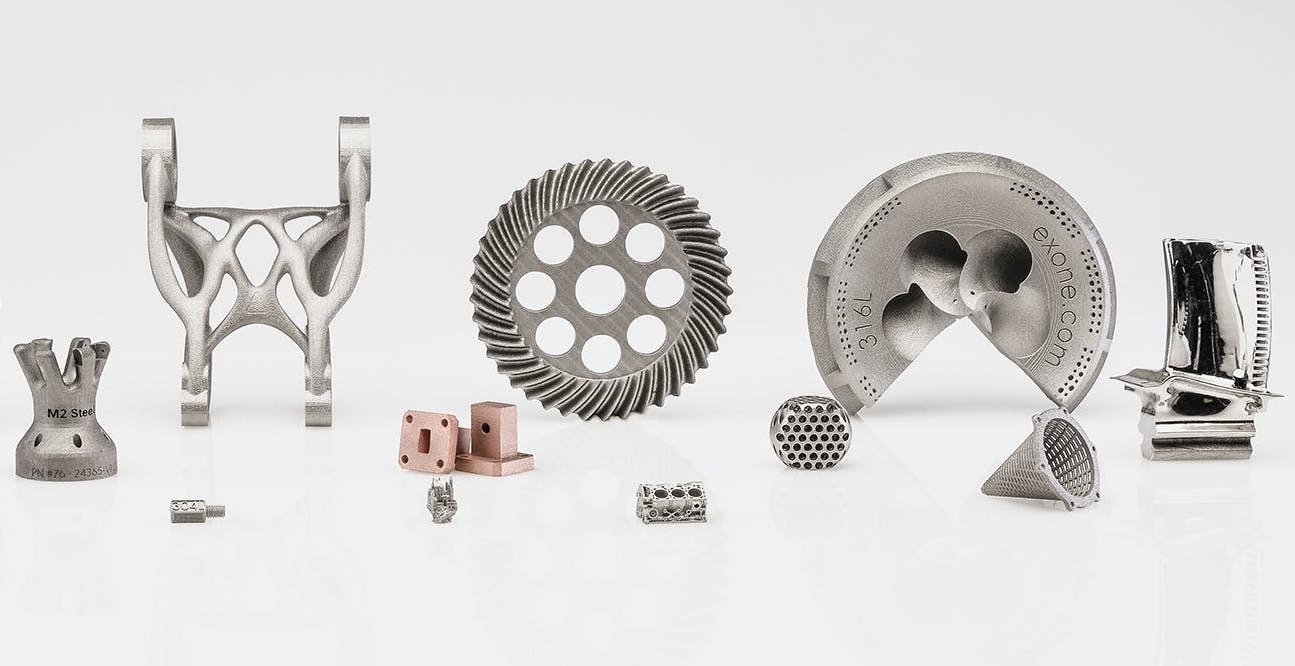 ---
About ExOne
ExOne is the pioneer and global leader in binder jet 3D printing technology. Since 1995, ExOne has been on a mission to deliver powerful 3D printers that solve the toughest problems and enable world-changing innovations. Its 3D printing systems quickly transform powder materials — including metals, ceramics, composites, and sand — into precision parts, metal casting molds and cores, and innovative tooling solutions. Industrial customers use binder jet technology to save time and money, reduce waste, improve their manufacturing flexibility, and deliver designs and products that were once impossible. As home to the world's leading team of binder jetting experts, ExOne also provides specialized 3D printing services, including on-demand production of mission-critical parts, as well as engineering and design consulting. Learn more about ExOne at www.exone.com or on Twitter at @ExOneCo.