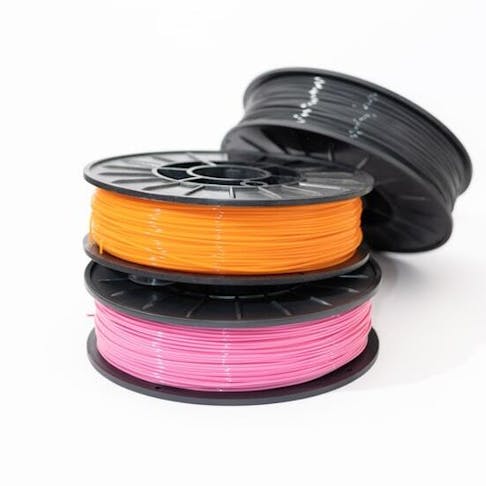 All About PLA 3D Printing Filament: Composition, Properties, Differences
Learn more about this important material and how it is used in 3D printing.

By Team Xometry
August 30, 2022
 7 min read
Polylactic acid (PLA) is one of the oldest plastics. It was first made in 1938 only commercialized much later. It surfaced as a biodegradable alternative to PET in the 1980s. The basic PLA filament is simply a long-chain polymer of lactic acid mixed with nucleating agents and plasticizers, extruded as a fiber. This basic material can be enhanced with a wide range of additives such as carbon fiber, wood fibers, metal particles, colors, graphene flakes, copolymer additions, and melt viscosity modifiers. Simpler filaments are referred to as PLA, whereas more complex, additive-rich products are known as PLA+.
This article will further discuss PLA as a 3D printing filament and will review its composition, properties, and differences.
What Is PLA in 3D Printing?
PLA is a widely employed filament material utilized in FDM printing. It offers advantages in both cosmetic quality and ease of use. PLA is easy to print with and very forgiving of machine settings. For more information, see our guide on Everything You Need to Know About 3D Printing.
What Is the Composition of PLA Filament?
PLA filament is a polymer resulting from the fermentation of plant sources such as sugar cane, taro, and cornstarch. It falls into two broad categories:
PLA: Close to the pure polymer but may contain limited amounts of additives to modify various properties, including intramolecular flexibility, melt viscosity, and color or visual properties.
PLA+: Likely to contain significant quantities of a wide range of additives. These include carbon fiber for model stability, stiffness, and increased UTS (ultimate tensile strength); wood fiber for cosmetic effect; graphene for stiffness and increased UTS; and metal particles for cosmetic effect.
Table 1. PLA Filament Properties
Property
Value
Notes

Property

Ultimate tensile strength

Value

Notes

High, but deceptive as the fracture resilience is poor

Property

Value

Notes

Increases greatly with carbon fiber additive

Property

Value

Notes

Low compared with all other polymers

Property

Value

Notes

Material wears and abrades badly

Property

Value

Notes

High relative to most polymers

Property

Value

Notes

Low, making it easy to use on all machines

Property

Value

Notes

Low for typical polymers, ideal for all machines

Property

Stability, water tolerance, UV effect, chemical resistance, fatigue resistance

Value

Notes

PLA has many performance failings that limit its applicability

Property

Value

Notes

Suited to all user skills

Property

Value

Notes

Best cosmetics among the common filament types
What Are the Limitations of 3D Printing With PLA?
PLA is the ideal material for cosmetic models that have a limited or short product life. These are parts that will not experience high stress and ones whose dimensional precision can be accepted as moderate. PLA is very ill-suited to engineering test pieces, part assembly, or components that must act as bearings or tolerate abrasion during motion. PLA is also unsuited to outdoor use, wet applications, any chemical exposures, and conditions that would reveal its poor durability. While PLA is often presented as the "green" alternative, it is not well suited to environmental disposal. It needs to be sorted separately and is biodegradable under commercial composting conditions.
Why Is PLA Used in 3D Printing?
PLA is used in 3D printing because it offers some significant advantages over other common FDM filaments. It is these properties that drive its selection for a significant proportion of all small FDM prints. These desirable properties include PLA's intra-layer bonding and wide temperature tolerance. Intra-layer bonding is the ability of newly extruded plastic to couple well with recently cooled plastic. Good intra-layer bonding significantly enhances the blending of strands and layers to each other, resulting in smoother surfaces. This bonding is hard to disrupt by altering machine settings, making the material very forgiving to print. Good tolerance to a broad range of extruder temperatures allows PLA to be used on the widest variety of machines. Tolerance of a relatively cold table and build environment makes the material very usable, even in unskilled hands.
How Is PLA Used in 3D Printing?
PLA is used as a material in 3D printing, specifically in fused deposition modeling (FDM). The molten filament is extruded to form fused layers, which build up to form 3D objects. PLA makes good cosmetic results possible, even with limited tuning/skill in the operation of the machine.
What Is the Best PLA Print Speed?
The best PLA print speed is typically 40–60 mm/s. But, the material can give good results at speeds of up to 100 mm/s when machine parameters are suitable. Print speed is heavily dependent on the machine characteristics and the desired cosmetic quality of the outcome.
What is the PLA Filament Melting Temperature?
The PLA filament melting temperature is between 170 to 200 °C. For best results in melting PLA filament, table 2 below summarizes the recommended printer settings:
Table 2. PLA Printer Settings
Printer Settings
Value

Printer Settings

Value

Printer Settings

Value

Printer Settings

Value

Printer Settings

Value

Printer Settings

Value

Printer Settings

Value

Printer Settings

Value

Between  2-5 mm for Bowden setup
1-2 mm for direct drive printer

Printer Settings

Value

Printer Settings

Value

0.2 mm for standard speed and quality

Printer Settings

Value

Printer Settings

Value

Best with glass, aluminum, and BuildTak
When melting PLA filament, adjust your machine from a low temperature in small increments while taking care not to mistake other issues such as over- or underfeeding of filament for nozzle temperature issues. Once the setup is right, it will need at most only small adjustments for general use thereafter.
Is a Heated Printing Bed Required When Printing With PLA?
No, a heated printing bed is not required when printing with PLA. A heated bed offers only one real advantage, that being that the relative contraction cooling of the model material breaks the bond to the table, making removal of the finished part easier. However, since PLA couples only weakly to the table material (glass, anodized aluminum, etc), this is a modest advantage that does not preclude the use of PLA on the simplest, cold bed machines.
What Is a Good Wall Thickness for 3D Printing PLA?
A good wall thickness for 3D printing of PLA is in the 1.2–2.2 mm range for high-strength results. For purely cosmetic shells, a thickness of 0.8 mm will often suffice. Because the ideal wall thickness is defined in terms of the wall's function within a model structure, some skill is required in selecting this property. 
What Is the Difference Between PLA and ABS in 3D Printing?
The difference between PLA and ABS in 3D printing is in the part's cosmetics and strength. ABS offers poorer cosmetics, poorer intra-layer fusion, lower UTS, and requires higher and more controlled nozzle temperatures than PLA. ABS also makes it harder to optimize print settings and requires more skill to use. However, the strength issue is more than compensated by the greater elasticity of ABS. ABS is much more resilient and shock/fracture-resistant. It is a good choice for structural strength components. The higher durability also makes ABS a great choice for moving parts that are exposed to bearing/rubbing surfaces. For more information, see our guide on PLA vs. ABS 3D Printing.
What Is the Difference Between PLA and PLA+ in 3D Printing?
The difference between PLA and PLA+ is in the material properties. While both share most properties in common, the nature of the additional additives in PLA+ modifies a limited range of properties that may suit particular applications. For example, the addition of metal flakes or wood fibers can render a particular cosmetic result. For more information, see our guide on PLA vs. PLA+ 3D Printing.
What Is the Difference Between PETG and PLA in 3D printing?
The difference between PETG and PLA in 3D printing is in the properties. PETG offers some significant advantages over PLA in terms of strength, durability, water/chemical/UV tolerance, and transparency. These improvements come at a price, though. PETG is much more sensitive to print conditions. Its nozzle temperature requires more heat, which can be hard for the lowest-cost equipment to deliver. In addition, PETG will not deliver a high-quality surface finish and overall cosmetics. For more information, see our guide on PETG vs. PLA 3D Printing.
Summary
This article summarized the properties and composition of PLA 3D printing filament and contrasted it with other commonly used 3D printing materials. To learn more about PLA and if it is the right material for your application, contact a Xometry representative.
Xometry provides a wide range of manufacturing capabilities, including 3D printing and other value-added services for all of your prototyping and production needs. Visit our website to learn more or to request a free, no-obligation quote.
Disclaimer
The content appearing on this webpage is for informational purposes only. Xometry makes no representation or warranty of any kind, be it expressed or implied, as to the accuracy, completeness, or validity of the information. Any performance parameters, geometric tolerances, specific design features, quality and types of materials, or processes should not be inferred to represent what will be delivered by third-party suppliers or manufacturers through Xometry's network. Buyers seeking quotes for parts are responsible for defining the specific requirements for those parts. Please refer to our terms and conditions for more information.

Team Xometry
This article was written by various Xometry contributors. Xometry is a leading resource on manufacturing with CNC machining, sheet metal fabrication, 3D printing, injection molding, urethane casting, and more.