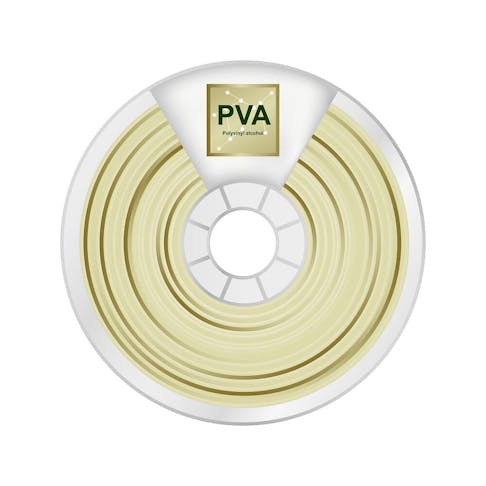 All About PVA 3D Printing Filament: Materials, Properties, Definition
Learn about PVA 3D printing filament and how it can used for 3D printed parts.

By Team Xometry
September 19, 2022
 8 min read
In the 3D print sector, PVA 3D filament (polyvinyl alcohol) is a critically important family of materials. Its water solubility is very valuable because it allows support scaffolds to be printed on dual/multi extruder machines and later removed with ease. PVA offers several useful characteristics that make it almost perfect as a support material. These include: high water solubility, high stickiness in the melted state, and a print temperature range of 180-210°C. 
PVA was first produced by Fritz Klatte and patented in Germany in 1912. Initial commercialization occurred in Japan in the late 1930s, with the Kuraray company producing low-cost Vinylon and Kuralon fibers. These came in various levels of insolubility and each fit a different application. Some of the PVA fibers were made to: modify concrete, reinforce rubber, or enable fiberglass to better resist shock and shrinkage. 
PVA's basic form is powder. The 3D print filament is formed by melting and extruding that basic material. This filament is very uniform in its properties and is sold in packaging that prevents exposure to atmospheric moisture. Such exposure would degrade the material and make the filament rolls congeal into a softened mass. This article will further discuss PVA 3D printing filament and examine its composition, properties, and recommended 3D printer settings.
What is PVA 3D Printing?
Within the realm of 3D printing, PVA is solely used to construct support scaffolds. It serves to support structures that would otherwise be impossible or ungainly to print. Once the printing is finished, the supports can be washed away. PVA supports are extruded by a second extruder but are otherwise built up in exactly the same way as the part's primary material. For more information, see our guide on everything you need to know about 3D printing.
What is the Composition of PVA Filament?
The typical PVA 3D printing filament available on Amazon is either pure PVA (polyvinyl alcohol) from a single source or a blend of several PVA materials. These PVA materials are meant to achieve the right balance of adhesion, strength, water solubility, and melt-flow characteristics. PVA is a synthetic polymer derived from the hydrolysis of polyvinyl acetate with the nominal formula [CH2CH(OH)]n.  
Filament for 3D printing is supplied in various diameters, but it is chemically pure PVA without any additives and co-polymers other than coloring agents. Some variation in molecular weight is normal between manufacturers – it varies based on the n value in the chemical formula. This variation in molecular weight affects melt temperature and density, so Esun PVA filament may not have exactly the same characteristics as Flashforge PVA filament, for example.
What Are the Properties of PVA Filament?
Some of the desirable properties of PVA filament are:
White in appearance (unless colored by addition).
Translucent.
Resistant to organic solvents and oils.
Highly water-soluble, depending on the degree of hydrolysis in its manufacture and its molecular weight.
Highly rated for tensile strength, compared with many polymers used in 3D printing.
More flexible and wear-resistant than many other polymers.
Comparison of PVA Filament Properties
A comparison of the PVA filament properties to HIPS (high impact polystyrene) and ABS (acrylonitrile butadiene styrene) is shown in Table 1 below:
Table 1: Comparison of PVA vs HIPS vs ABS
Property
PVA
HIPS
ABS

Property

PVA

HIPS

ABS

Property

PVA

HIPS

ABS

Property

PVA

HIPS

ABS

Property

Maximum Service Temperature

PVA

HIPS

ABS

Property

PVA

HIPS

ABS

Property

PVA

HIPS

ABS

Property

Relative Price (this group)

PVA

HIPS

ABS

Property

PVA

HIPS

ABS

Property

PVA

HIPS

ABS

Property

PVA

HIPS

ABS

Property

PVA

Highly soluble in warm water

HIPS

Highly soluble in D-Limonene

ABS
What Are the Limitations of 3D Printing with PVA?
PVA is a moderately good print material during the actual printing process. It is more durable, stronger, and more temperature resistant than PLA (Polylactic Acid). However, models made of PVA have a short usable life. Under normal conditions, they will absorb moisture, swell, and soften much sooner and to a greater degree than PLA prints. But under dry conditions, PVA can be a useful build material. For a support material, PVA is unfortunately quite expensive. It is also compatible only with certain model materials that have similar melting temperatures. 
Why is PVA Used in 3D Printing?
The soluble nature of PVA makes it an ideal choice for the scaffolding that supports overhanging features. An additional benefit is that PVA adheres very well to build materials, allowing precise and slump-free printing.
How to Use PVA in 3D Printing
To get good results in prints using PVA filament, here are useful things to remember:
Store the PVA in dry conditions. If it has absorbed moisture, heat it between 45-55 °C and keep it at that temperature for at least an hour before printing.
Use an ooze shield or wipe wall during printing. The use of an ooze shield ensures good extruder priming and prevents runs and threads from adhering to the build and potentially interfering with the subsequent layers.
Use 30% density in the support features and 70-100% density at the model interface layers as starting values.
Setting the upper separation distance to zero layers makes for more accurate prints and better surface quality.
To dissolve PVA filament, immerse the whole part in warm water and wash remnants away once fully softened.
Table 2. PVA 3D Printer Settings
Printer Settings
Value

Printer Settings

Value

215–225 ˚C - varies with manufacturer

Printer Settings

Value

45-60 ˚C, validate and adjust in your printer

Printer Settings

Value

Printer Settings

Value

50%, assess your own print and adjust

Printer Settings

Value

Printer Settings

Value

Printer Settings

Value

25-30 mm/s for a 0.4 mm nozzle

Printer Settings

Value

50% of nozzle diameter, adjust as required

Printer Settings

Value

Glass, with a layer of glue stick (Magigoo)

Printer Settings

Value

Off unless required for build material
What is the Best PVA 3D Print Speed?
The best PVA print speed is 30 mm/s. PVA is a little fragile while it is hot, so it should be printed slower than most other materials. 
What is the Melting Temperature of PVA Filament?
The melting temperature of a typical PVA filament is around 200 °C. This melting temperature varies with molecular weight and level of hydrolysis in the manufacture. 
Is a Heated Printing Bed Required When Printing with PVA?
Yes, a heated bed can be beneficial to PVA printing, particularly on larger prints. It will reduce the risk of thermal distortion and raft decoupling from the build table as the printed material cools.
What is a Good Wall Thickness for 3D Printing PVA?
Minimum wall thickness depends on the extruder diameter. A single-layer wall will not be stable over any significant height or length, so the wall must be at least 2 layers thick for basic stability. With a 0.4 mm nozzle, that means 0.8 mm walls at minimum, though 3 layers (1.2 mm) will be considerably more stable. 
What is a Good Wall Density for 3D Printing PVA?
A general guide is to start at around 50% infill density when 3D printing PVA. It's rare to use infill densities of lower than 20% as this will add little strength to the part. Consider 75% to be the maximum – more material than that adds cost but does little for strength. 
Is PVA Recyclable?
PVA is often listed as recyclable. It is capable of re-melting and re-use, although it would be unusual to ever see quantities that justify such a process for PVA alone. If it is present in mixed thermoplastic polymer waste, it will not have adverse effects on the resultant material, despite its water solubility. It is miscible with other polymers and will likely only be present in small proportions.
Is PVA Hygroscopic?
Yes, PVA is highly hygroscopic. This property causes storage difficulties but allows printer filaments to dissolve in water. As more water is added, the material forms a hydrogel that has many industrial and commercial applications.
What is the Difference Between PVA and PLA in 3D Printing?
PLA (polylactic acid) is a polymer derived from plant material that is widely used for low-stress 3D printing applications. It is relatively weak, brittle, and does not resist wear, but prints well at low temperatures, providing moderate dimensional accuracy and good surface qualities in FDM/FFF models. PLA is used to create end-use parts while PVA functions almost exclusively as support scaffolding material that can be washed away at the completion of printing.
What is the Difference Between PVA and HIPS in 3D Printing?
HIPS (high-impact polystyrene) is a moderately-high-strength, wear-resistant polymer that is used to print break-off support scaffolds. It is relatively strong and resilient but bonds poorly to other polymers. This characteristic makes HIPS supports easy to separate from the model. It can be hard to print and needs temperatures up to 50°C higher than those typical for PVA filament. PVA, by contrast, has moderate strength and is water soluble. 
What is the Difference Between PVA and PETG in 3D Printing?
PETG is a popular and relatively easy-to-print build material that is strong, resilient, wear-resistant, and inexpensive. It is available in a wide range of colors and accepts many different additives and modifiers. Its print temperature is 230-250°C and it is considered relatively easy to print with. PVA can be used as a support material for PETG.
Summary
This article presented PVA 3D printing filament, explained what it is, and discussed how to use it for a variety of 3D printed parts. To learn more about PVA 3D printing filament, contact a Xometry representative.
Xometry provides a wide range of manufacturing capabilities, including 3D printing and other value-added services for all of your prototyping and production needs. Visit our website to learn more or to request a free, no-obligation quote.
Disclaimer
The content appearing on this webpage is for informational purposes only. Xometry makes no representation or warranty of any kind, be it expressed or implied, as to the accuracy, completeness, or validity of the information. Any performance parameters, geometric tolerances, specific design features, quality and types of materials, or processes should not be inferred to represent what will be delivered by third-party suppliers or manufacturers through Xometry's network. Buyers seeking quotes for parts are responsible for defining the specific requirements for those parts. Please refer to our terms and conditions for more information.

Team Xometry
This article was written by various Xometry contributors. Xometry is a leading resource on manufacturing with CNC machining, sheet metal fabrication, 3D printing, injection molding, urethane casting, and more.