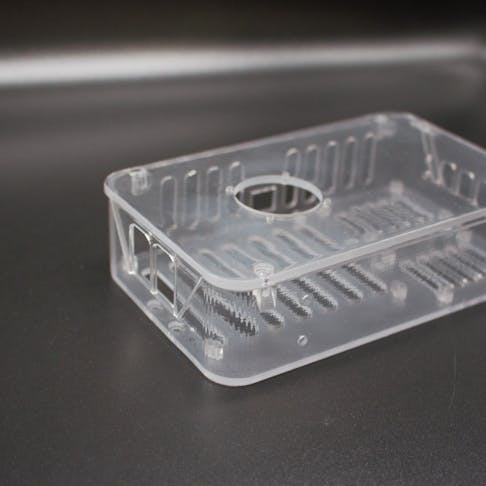 Stereolithography (SLA) Quick Clear Now Instantly Quotes for Faster 3D Printed Transparent Parts
Xometry recently added Stereolithography (SLA) Quick Clear to its suite of instantly quotable finishes. Now get clear parts faster for applications ranging from display models to light pipes and more.

By Serena Ngoh
October 9, 2020
 2 min read
You can create a variety of custom parts with Xometry's manufacturing capabilities including clear, translucent (or near transparent) parts. Clear parts are highly valuable in nearly every industry as display models, light pipes, component housing, and anything an engineer or designer needs to be clear.
To create clear parts, parts must undergo finishing as a secondary manufacturing operation known as post-processing. Of the various ways you can create clear parts, one way is to 3D print your parts using Stereolithography (SLA) in clear resin and then add a custom clear quote finish called Quick Clear. The clear coat evens out the surface of the part, which allows light to pass through with little distortion.
Xometry has recently added Stereolithography (SLA) Quick Clear to our suite of instantly quotable finishes.
You can choose SLA Quick Clear as a finish for ClearVue and see how this specification factors into your quote price, instantly.
Watch our unboxing video of SLA Quick Clear parts below. You can also watch our X-Tiles Clear Parts video to understand the difference between clear parts printed in various processes or visit our SLA capabilities page to learn more about the process.
In the past, customers could order clear parts by adding a "Custom" finish option and specifying Quick Clear as the finish in the notes section. Now, to get a quote on clear (translucent) parts within seconds, simply choose the following:
Process: SLA
Material: Accura ClearVue
Finish: Quick Clear
Stereolithography parts have a lead time of only a few days. Try creating clear parts via SLA Quick Clear by getting an instant quote now.

Serena Ngoh
I write about Xometry and all things manufacturing. You might also see me hosting webinars, designing infographics, producing videos, and working directly with customers to tell their manufacturing success stories.