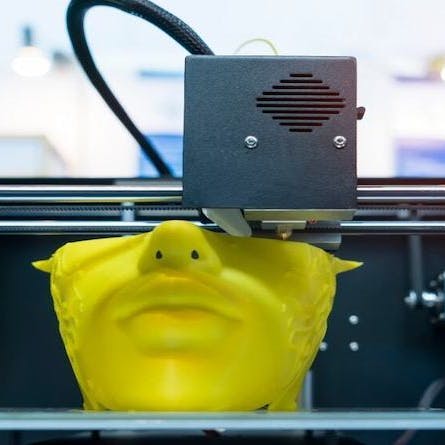 TPE vs. TPU: Differences and Comparison
Learn about the advantages, disadvantages, and properties of these 3D printing materials.

By Team Xometry
August 15, 2022
 9 min read
TPE (Thermoplastic Elastomer) is a rubber that has both thermoplastic and elastomer properties. TPU (Thermoplastic Polyurethane), on the other hand, is a form of TPE. TPU and TPE are flexible filaments used as 3D printing materials for designs that require stretch or bend qualities. They also give a "soft-to-the-touch" quality to printed products.
In general, TPEs tend to be softer and more flexible compared to TPUs. Because TPU is still flexible but more rigid, it is also an easier material with which to print. However, TPE is more commonplace because it has been on the market for a longer time. TPE is also generally less expensive compared to TPU. TPU performs well in heavier, tougher, and more durable prototypes, whereas TPE filament is more geared for lighter, softer, and more flexible models.
In this article, we are going to look at TPE vs. TPU in terms of their differences, their applications, and the properties that make them unique in the additive manufacturing industry.
TPE Definition and Comparison to TPU
TPE is known for its robustness and flexibility. It is available as filament for FDM printers and as a powder for SLS machines. Though TPE is still fairly new to the additive manufacturing industry, it has been around as a material for industrial use since the 1950s. EOS was the first company to launch TPE as a material for SLS printing back in 2013. TPE goes by the name PrimePart ST (PEBA 2301). This introduction was followed by the launch of CRP Technology's TPE material, called Windform® RL.
As a polymer material, TPE combines the characteristics of thermoplastic and thermoset vulcanized rubber. Variants of TPE include a range of flexible materials, such as Thermoplastic Polyurethane (TPU), Thermoplastic Polyamide (TPA), and Thermoplastic Copolyester (TPC). TPE printed models and prototypes have been used in industries such as automotive and medical. TPE has been used in the manufacturing of sports shoes and can also be found in electronics—for example, the plastic casing around some headphone cables or any other application where rubber-like qualities are required.
What Are the Advantages of TPE Compared to TPU?
TPE has the following advantages when compared to TPU:
TPE has been on the market for longer and is, therefore, more common.
TPE is softer and more flexible compared to TPU.
TPE can be used as a flexible stabilizer. It is not only used to print an entire model but can be used to print an intermediate layer. 
TPE is generally cheaper compared to TPU.
Some TPEs can be more readily recycled than TPUs.
What Are the Disadvantages of TPE Compared to TPU?
TPE has the following disadvantages compared to TPU:
TPE is not beginner-friendly. Printer settings have to be very precise in order to achieve the desired results. 
After printing, you have to rework almost every model printed with TPE.
TPE is more temperature sensitive compared to other elastomers, such as TPU. 
For more information, see our guide on What is TPE.
TPU Definition and Comparison to TPE
TPU and TPE form part of the same family. BF Goodrich (now known as Lubrizol Advanced Materials) invented TPU in 1959; it is not a recently discovered material. However, its application in 3D printing is still relatively new. Due to its unique properties, TPU has been gaining interest in the additive manufacturing industry. Its printed products have been applied to various industries. 
TPU can be used as printing material in two types of 3D printers—Fused Deposition Modeling (FDM) printers and Selective Laser Sintering (SLS) printers. With FDM printers, the material in filament form is used to print the desired models. With SLS, a powder form is used. In the long run, printing with an FDM printer will be more cost-effective. 
TPU comes in a wide range of opaque colors as well as transparent. Its surface finish can range from smooth to rough (to provide grip). One of the unique features of TPU is that its hardness can be customized. This ability to control hardness can result in materials ranging from soft (rubbery) to hard (rigid plastic). 
The application of TPU is very versatile. Industries that use TPU printed products include aerospace, automotive, footwear, sports, and medical. TPU is also used as a casing for wires in the electrical industry and as protective cases for electronic devices, such as mobile phones or tablets. 
What Are the Advantages of TPU Compared to TPE?
When comparing TPE vs. TPU, TPU has the following advantages over TPE:
TPU is more abrasion resistant than TPE. This property makes TPU last longer in working parts. 
TPU retains its elastic properties in colder temperatures.
TPU naturally has a higher resistance to chemicals, such as oils, greases, and a variety of solvents.
TPU has a smooth finish, while TPE has a rubbery texture.
TPU is less prone to shrinking compared to TPE.
What Are the Disadvantages of TPU Compared to TPE?
TPU has the following disadvantages when compared to TPE:
TPU can be difficult to post-process due to its abrasion and chemical resistance.
TPU is hygroscopic in nature. This means it absorbs moisture from air humidity.
Table 1. TPE vs. TPU Comparison
Attribute
TPE
TPU

Attribute

TPE

TPU

Attribute

TPE

TPU

Attribute

TPE

TPU

Attribute

TPE

TPU

Attribute

TPE

TPU

Attribute

TPE

TPU

Attribute

TPE

TPU

Attribute

TPE

TPU

Attribute

TPE

TPU

Attribute

TPE

TPU

Attribute

Recommended printing speed

TPE

TPU

Attribute

TPE

TPU
Though TPE and TPU do differ, they also have some overlapping qualities. Both TPE and TPU are waterproof, UV resistant, and have good heat and impact resistance. 
TPE vs. TPU: Applications Comparison
TPE is ideal for applications where flexible models are required. These are often lighter and softer products such as sports gear grips (e.g., hockey stick handles), toys, mouthpieces in the medical industry, waterproof seals, airbag covers, and bumpers.   
TPU, on the other hand, offers a combination of scratch and abrasion resistance. This material is used in producing console parts, instrument panels, athletic shoes, and seals & gaskets. 
TPE vs. TPU: Part Accuracy Comparison
Because TPE is more prone to shrinkage compared to TPU, it is also more difficult to print dimensionally accurate models with TPE. TPU is more rigid and easier with which to print and generally yields more accurate print results. 
TPE vs. TPU: Speed Comparison
The speed setting for both print materials depends on the desired properties, for example, the flexibility of the end product. Appropriate print settings will depend on the type of TPE and TPU used, the manufacturer and model of the printer, and the set layer thickness. The required printing speed of TPE and TPU are in a similar range, 5–50 mm/s. In rare cases, both TPE and TPU can print at higher speeds. However, for accurate results, it is recommended to use printing speeds below 35 mm/s.
TPE vs. TPU: Surface Comparison
TPU tends to have a smoother surface finish compared to TPE, which usually has a rubber-like finish. 
TPE vs. TPU: Heat Resistance Comparison
Both TPE and TPU filaments offer good heat resistance. 
TPE vs. TPU: Biodegradability Comparison
Both TPU and TPE biodegrade in 3–5 years and are therefore considered eco-friendly 3D printing materials.
TPE vs. TPU: Toxicity Comparison
Although TPU is non-toxic in nature, it releases harmful fumes when exposed to fire or other chemicals. When burnt, TPU gives off a distinct odor that can cause headaches whereas TPE is non-toxic and has a faint aroma when burnt. 
TPE vs. TPU: Cost Comparison
The relative costs of TPE vs. TPU per kg vary across the different brands. Popular brands of TPE filament, such as eSun TPE, Matterhackers, and 3dXFlex TPE range from $40/kg up to ~$140/kg. Some popular brands of TPU filament include Kodak Flex TPU (~$65/kg), Ultimaker TPU (~$90/kg), MatterHackers TPU (~$45–$55/kg), Polymaker PolyFlex (~$50–90/kg), and NinjaTek (~$110–$180/kg), among others. 
What Are the Mutual Alternatives to TPE and TPU?
The following material is considered a mutual alternative to TPE and TPU:
TPC (Thermoplastic Copolyester): TPC, just like TPE and TPU, is a rubber-like filament used in the 3D printing industry. It also boasts high-temperature resistance, good chemical resistance, high strength, and excellent UV resistance.
What Are the Similarities Between TPE and TPU?
TPE and TPU share the following similarities:
TPU and TPE are both thermoplastic elastomers that offer stretch and bend qualities in a print.
Both TPE and TPU offer excellent colorability and clarity.
TPE and TPU have similar printing speeds.
What Are the Other Comparisons for TPE Besides TPU?
Besides TPU, the following materials comparisons are made to TPE:
TPE vs. Silicone Elastomers: Silicone elastomers come in liquids (in various viscosities) and pastes. They are non-meltable and can withstand wide temperature variations. The strong covalent crosslinks of silicone elastomers can almost be regarded as irreversible. To learn more, see our article on TPE vs. Silicone.
TPE vs. TPS: Compared to other TPEs, TPS (styrene-based thermoplastic elastomer) doesn't absorb as much moisture and it offers better non-slip properties.
What Are the Other Comparisons for TPU Besides TPE?
Other printing material comparisons to TPU besides TPE include:
TPU vs. PEBA: PEBA (Polyether Block Amide) is a flexible polymer filament that offers a high degree of flexibility and elasticity. It is similar to TPU in that it holds its flexibility in cold temperatures. 
TPU vs. PLA: PLA is an inexpensive, easy-to-print alternative to TPU. Although TPU offers more flexibility, PLA is more beginner-friendly and easier to print compared to TPU. 
To learn more about TPE vs. TPU and help you decide which is the best for your application, contact a Xometry representative or check our quoting tool.
Summary
This article contrasted TPE and TPU, both of which are commonly used 3D printing materials. To learn more about which plastic is better and how Xometry can assist material selection, contact a Xometry representative.
Xometry provides a wide range of manufacturing capabilities including 3D printing and value-added services for all of your prototyping and production needs. Visit our website to learn more or to request a free, no-obligation quote.
Trademark and Copyright Notice
Windform® RL is a registered trademark of CRP Technology, Moderna, Italy.
Disclaimer
The content appearing on this webpage is for informational purposes only. Xometry makes no representation or warranty of any kind, be it expressed or implied, as to the accuracy, completeness, or validity of the information. Any performance parameters, geometric tolerances, specific design features, quality and types of materials, or processes should not be inferred to represent what will be delivered by third-party suppliers or manufacturers through Xometry's network. Buyers seeking quotes for parts are responsible for defining the specific requirements for those parts. Please refer to our terms and conditions for more information.

Team Xometry
This article was written by various Xometry contributors. Xometry is a leading resource on manufacturing with CNC machining, sheet metal fabrication, 3D printing, injection molding, urethane casting, and more.