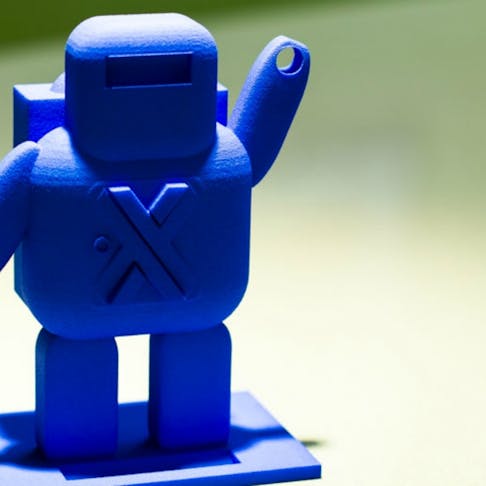 Congratulations to our 2019 Engineering Student of the Year
We're awarding UT Austin graduate and future Berkeley PhD candidate Daniel Teal for his astounding commitment to engineering excellence.

By Serena Ngoh
October 9, 2020
 5 min read
Gaithersburg, MD, June 2019 -- We'd like to congratulate recent graduate Daniel Teal for winning the 2019 Xometry Engineering Student of the Year Competition. We had dozens of qualified nominees, but Daniel stood out from our very strong pool of candidates by demonstrating incredible academic excellence, creativity, and a passion for engineering in his four years at the University of Texas at Austin.
Teal graduated this past May with dual degrees in Mechanical Engineering and Mathematics with a specialization in scientific computation. He was nominated by Dr. Scott Evans, Director of Texas Inventionworks, the engineering makerspace and manufacturing program, and a lecturer at the School of Integrated Design.
I sat down with Teal to discuss his past four years at UT Austin, as well his future plans as a professional engineer.
What was your first significant engineering project in college?
In high school, I was in my school's FIRST robotics club, so when I came to UT I wanted to keep building robots. I joined the UT Robotics and Automation Society in the fall of 2015 and won their annual Robotathon with an autonomous Roomba that moved ping pong balls and marbles around.
The autonomous Roomba that Teal built to compete in Robotathon 2015.
In the spring, I built a balancing robot that was supposed to climb stairs. It rolled and moved around just fine, but it couldn't climb stairs. [laughs] When I was assembling it [in the school's makerspace], Scott walked by at the very moment I plugged in a wire into the wrong spot and caused some electrical components to go up in smoke. That was the beginning of a close mentorship.
In your nomination, Professor Evans mentioned your various leadership and community roles at UT Austin. Can you speak to these roles more?
I worked at the makerspace, now called Texas Inventionworks, all my four years. I helped train students both in how to use the machines and how to design parts specifically for the makerspace machines, helped keep things organized and standardized, and made sure all the machines were running.
Last fall of 2018, I stepped up from my webmaster role in the Robotics and Automation Society to lead the organization of the Robotathon. The goal of the competition is to teach about 100 engineering freshman how to build a simple robot. Teams of freshmen are paired with upperclassmen, who conduct workshops on everything from programming a microcontroller to CAD design to producing the hardware in the makerspace. The final robots competed in a classic sumo robot fighting competition to push each other out of the arena.
Can you tell us about your organization of the UT Austin's first Create-a-thon?
As part of the Mechanical Engineering Undergraduate Advisory Board, which serves primarily to improve the mechanical engineering curriculum at UT Austin, I proposed and helped run our first (and later, second) annual Create-a-thon, a hardware hackathon, because I wanted people to experience an event like a software hackathon but with physical stuff. I wanted people to have the chance to build whatever they wanted. That's usually hard because it requires expensive materials and tools.
Once we secured funding for requested materials and room in the makerspace, we gave teams of students 24 hours to build and present their creations. The first year, the final projects included a robot that drew art based off of brainwaves and an automated discada maker. That's a kind of Mexican food. There was also a motion-activated turtle lamp—it was whimsical, but it worked well and even won an award from our entrepreneurial engineering program here on campus.
Pictured above: The attendees of the first Create-a-thon at UT Austin. Teal poses in the front row on the far right
What are some other hardware projects you're proud of?
I built a jumping robot once, and then a six-legged walking robot, which was cool because it had multiple motors and many moving pieces. This past year, some classmates and I motorized a couch. We put wheels, motors, and a Raspberry Pi computer on a couch from the robotics club office and controlled it with a gamepad. The couch runs Linux—that's something you don't hear very often.
A first prototype of the hexapod robot.
What are your future plans now that you've graduated?
In the fall I'm heading to a Ph.D. program at [The University of California,] Berkeley to research advanced manufacturing in nanotechnology. This will be building upon my research under various professors here at UT Austin and my summer research programs at Cornell and [the National Institute of Materials Science] in Tsubuka, Japan.
I'll be attempting to build tiny robots—smaller than a human hair—but will focus on improving or creating new manufacturing techniques to make them. Any advance in nanotechnology manufacturing is important because it can potentially be used to build better solar cells, water desalination filters, and batteries. My goal is to discover how to use these techniques to make things with more small-scale detail to make all machines better.
How will you apply your nanotechnology research?
I have ideas, but I don't know for sure. You could use this nanotechnology to create a chemical sensor for microfluidics, or you could use nanowires to push cells around for microbiology research. But you don't necessarily know what something will be useful for—you can't be absolutely certain until you've made it work. I've learned that's how half of all engineering works.
An arbitrary waveform generator created for Teal's nanotechnology research at UT Austin

Serena Ngoh
I write about Xometry and all things manufacturing. You might also see me hosting webinars, designing infographics, producing videos, and working directly with customers to tell their manufacturing success stories.