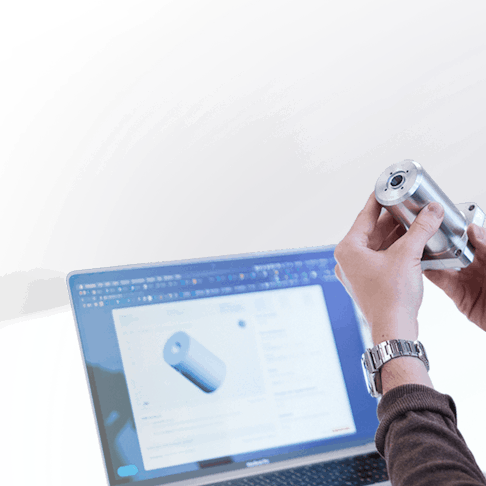 Answers to the Most Frequently Asked Questions About Xometry
Get quick answers to some of our customers' most commonly asked questions.

By Serena Ngoh
October 9, 2020
 5 min read
How Does Xometry Work? What Does It Mean to be the "Uber of Manufacturing"?
Xometry's intelligent quoting platform connects buyers of custom parts with manufacturers. The Xometry Instant Quoting Engine℠ prices parts and generates lead times based on the 3D geometry of the CAD files, market pricing and lead times, and the buyer's choice of the manufacturing process, material, finish, quantity, and other specifications
The parts you order are sent through Xometry's Manufacturing Partner Network. This is a vetted network of professional manufacturers from job shops to serialized production facilities. Xometry uses its AI-driven technology to pair projects with those manufacturers best suited to produce the parts on-time and to your requirements. Xometry consolidates supply chain by having a single storefront for multiple manufacturing options, while also mitigating any risk associated with sourcing through its 4,000+ manufacturer marketplace.
Xometry manages your project and assures quality and timeliness through its expert team and technology-driven infrastructure. Xometry has a team of manufacturing specialists in-house to help you with CNC machining, injection molding, compression molding, 3D printing, sheet metal fabrication, and urethane casting projects. Xometry also has in-house manufacturing specialists to help customers source suppliers for projects with special requirements and manage suppliers through the manufacturing and delivery process.
How Do You Ensure Quality Through Your Manufacturing Partners?
Xometry has a network-wide quality management system as designated by Xometry's AS9100D and ISO 9001:2015 certifications. These internationally acknowledged aerospace and defense certifications mean Xometry can create parts at the highest level of precision and traceability. If customers require additional documentation, we offer material certifications, Certificates of Conformance, and specific certifications for the medical industry. Simply request this upfront when you're getting an online quote.
Xometry carefully vets its Manufacturing Partners in a multi-step onboarding process. Once they are onboarded, Partners carefully adhere to Xometry's manufacturing standards, which generally require parts to have +/-0.005" local tolerances across most geometries in metals and +/- 0.010" for plastics. (Customers can request even higher precision in their part by choosing lower tolerances in their online quote.) Our expert machinist and quality teams also work directly with manufacturing partners to ensure success for even the most challenging jobs.
On top of these, Xometry offers a standard inspection with every order. This involves verifying that part quantity, material, features, finish, and critical dimensions are in accordance with the part requirements specified in the quote, CAD file, and/or print. In addition, Xometry offers 5 add-on inspection options:
Standard with dimensional report
CMM Inspection with dimensional report
First article inspection report (per AS9102)
Source inspection
Custom inspection
All add-on inspections come with a ballooned drawing correlated to the report. For more information on our inspection options, see our support article.
What is the Typical Lead Time for _______ Process?
Xometry's minimum lead times for custom parts are very competitive. Many custom parts have expedite, standard, and economy options available to hit your timeline and budget. Here's a breakdown of our current offerings based on each manufacturing process:
Process
Expedite Lead Time

Process

Expedite Lead Time

Process

Expedite Lead Time

Process

Selective Laser Sintering(SLS)

Expedite Lead Time

Process

HP Multi Jet Fusion (HP MJF)

Expedite Lead Time

Process

Fused Deposition Modeling (FDM)

Expedite Lead Time

Process

Expedite Lead Time

Process

Expedite Lead Time

Process

Expedite Lead Time

Process

Direct Metal Laser Sintering (DMLS)

Expedite Lead Time

Process

Carbon Digital Light Synthesis (DLS)

Expedite Lead Time

Process

Expedite Lead Time

Process

Expedite Lead Time
If you need parts sooner or have a quote from another manufacturer that beats these times, simply reach out to [email protected] or your dedicated sales rep. Our expert team can review your project and will work to meet or exceed your expectations.
Can You Machine ______? Do You Print in _____?
Xometry offers over 100 materials. You can see materials by category on our materials support pages. These pages include information on CNC machined metals, CNC plastics, CNC composites, sheet metals, 3D printed metals, 3D printed plastics, cast urethane, silicone molding, injection molded plastics, and injection molded elastomers.
If you do not see the material stock you are looking for, you can open up the part view within your quote and choose "Custom" under the material drop-down. When prompted to request a manual quote, submit your quote for an expert engineering review once you have finalized the details of your quote. Xometry can often source speciality materials through our expansive manufacturing network.
Can Xometry Handle Full-scale Production Jobs?
Yes, Xometry is a network of over 3,000 manufacturing partners in the US and over 4,000 worldwide. In addition to the standard injection molding production runs of 500-250,000 parts, Xometry can handle production orders of 10,000+ parts for 3D printing, CNC machining, and sheet metal fabrication. To receive a production quote, you can use Xometry's online quoting platform and change the quantity by choosing "other" in the dropdown menu and typing in the appropriate quantity. From there, you can request a manual quote and a Xometry representative will reach out to confirm quote details. You can also reach out directly to your dedicated account representative or email [email protected].
I've Already Quoted Something But Have an Up-rev Model, What Do I Do?
In the Xometry Instant Quoting Engine℠, you can toggle various manufacturing specifications and instantly receive a price and lead time update based on the changes. This includes the ability to upload a new model revision by clicking "Replace part file" in the part view. The new price that the up-rev model is quoted at is the most accurate quote. If the price of your part changed, this is likely because the part has different geometry or manufacturing requirements that will cause corresponding changes in cost requirements.
You can replace your 3D CAD model with a new revision using the "Replace part file" button at the part level
Why Does Xometry Keep Following Up with Me?
We'd love to chat because we think you'd benefit from buying custom parts from Xometry. Your colleagues have likely quoted or ordered from us and a dedicated account manager at Xometry wants to see if we can provide you with a quick and high-quality manufacturing solution too. If that's not the case, then we're probably calling you because we think Xometry can help you and your team based on successful cases in your industry. We work with thousands of mechanical engineers, supply chain managers, hobbyists, university students, manufacturing leads, and purchasing managers at Fortune 500 companies across all major industries. We think we can help you make your ideas a reality with the largest on-demand manufacturing platform in the world.

Serena Ngoh
I write about Xometry and all things manufacturing. You might also see me hosting webinars, designing infographics, producing videos, and working directly with customers to tell their manufacturing success stories.