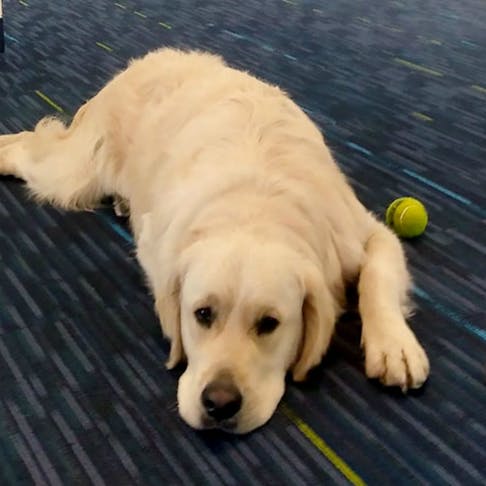 Case Study: The Most Realistic and Lovable Robot Dog is Here
This start-up is giving Corporate America a dog that is loyal, yet hassle-free. They came to Xometry to make it happen.

By Serena Ngoh
 5 min read
The Problem: No Dogs Allowed
"The happiness quotient is increasing at start-ups and decreasing at corporations," says Valerie Green, CEO of Office Pup. "We see this trend in every major industry because large corporations simply do not know how to adapt to the millennial culture." Green is a veteran of various corporations where employees were often subject to strictures like tight dress codes and timed meetings. Most detrimentally, corporate policies often prohibited furry companions.
Green made the move to start-ups 10 years ago, where she has been greeted by a face-licking, furry friend almost daily. "The biggest difference I see in the quality of life at start-ups and large companies is the presence of dogs." She tells me that when she was at General Electric, she suggested they allow office dogs, so they brought in the Sony Aibo. Management said the robot dog was a good middle ground: it would be a loyal, responsive companion, with the ability to "shake" and "go to your charger," but would not take up employee working time between walks and feeding time.
Although the Aibo was adorable with its responsive yaps, head tilting, and arthritic mechanical running, Green and many of her coworkers felt that the cold-to-the-touch robot simply couldn't replace the clumsy and cuddly nature of a real dog.
Design Challenge: Create a Robot Dog that Passes for a Real Dog
Green set out to achieve the unfathomable: bring office dogs to Corporate America. Green recruited a team of mechanical engineers and designers and launched her own company, Office Pup. The goal of the team was to essentially reverse-engineer a robot dog to look, feel, and act like a real dog.
Jessica Das, lead engineer of the project, "DogX," started by designing precise mechanical structures. "We essentially needed the dog to be able to complete a series of organic motions like run, jump, and gently collapse, as a puppy might into the lap of its owner," Das said.
After designing the mechanics of the dog and its sensory response features, the next big concern—and biggest differentiator from past robodogs—was the overall aesthetic. The robodog would need to feel soft to the touch and "give you that squishy feeling you get when you look at a real dog," said Das. The designers created imploring round eyes, skin and fur that bunches up for belly rubs, and a nose that feels wet to the touch. They also designed paws that could withstand wear and a tail with a full range of movement to express emotions.
Manufacturing Solution: A Full Range of Custom Dog Parts with Xometry
Das had worked with Xometry at her former company, so she knew Xometry could be Office Pup's all-in-one custom parts manufacturer and provide advice on engineering materials, manufacturing, and stress analysis. Using the engineering team'sknowledge from helping customers develop medical devices, crash test dummies, and prosthetics, Xometry recommended the DogX team CNC machine titanium for the skeletal structure, making it lightweight and very durable. To solve the need for lifelike movement, the team created ball joints and connecting bushings from PTFE impregnated acetyl. The end result was a nearly indestructible robodog that could fall ten feet with no damage and move with the endearing characteristics attributed to man's best friend.
DogX manufactured components
Xometry manufactured the nose using HP Multi Jet Fusion with custom build parameters so it would be permeable and able to absorb moisture, and used flexible cast urethane to make paw pads with improved wear resistance. DogX's eyes were created by using injection molded transparent polycarbonate. The clear eyes and tinted pupils allow DogX to cast its innocent gaze onto any office passerby.

The last essential components were the tail and the fur, which would both need a range of motion and flexibility. Xometry's 3D printing service printed the tail out of SLS durable white nylon 12, which would allow the tail to bend, yet withstand the stress of constant happy wagging. The fur was created by adding a custom texture to the 3D CAD model. Xometry then printed the fur out of 30 Shore A elastomeric with Polyjet, allowing it to move and bunch up as you pet it.
"It's truly unbelievable. DogX looks and acts just like a real dog, but without all the inconveniences."
Jesse Valias,
Sales Representative at GE
Conclusion
To many, a loyal companion like DogX is the most effective work destresser. In environments where meetings and incoming emails are nonstop, activities like meditation, talking a walk, or reading non-work-related material are effective but time-consuming remedies. DogX, on the other hand, gives workers a way to relax quickly.
The moment I see Freddy—that's what we've named our Office Pup—the relief is instantaneous. I have more time to focus on my work and I feel less burn out.
Paul Greisse,
Mechanical Engineer at BMW
Customer surveys have shown DogX to be an extremely effective workplace tool, with an average increase in daily focus of 20% and an overall workplace satisfaction increase of 30%. "Chief Barketing Officer" Valerie Green says her company will continue to work with Xometry to produce more office pups that customers love.
Although this project is not real, Xometry loves its real-life office dogs and, more importantly, manufacturing any crazy project our customers quote. This April Fool's, we'll continue to make high-quality parts, but for now, the cleanest, most hassle-free office dog we have is a dog with a roomba.
Xometry is a custom manufacturing platform with a network of over 5,000 manufacturers. To take advantage of the processes we "used" to create DogX, explore our 3D printing, CNC machining, urethane casting, and injection molding capabilities. View our materials and finishes we used for Teddy's most adorable features, and get a quote on the Xometry Instant Quoting Engine℠.

Serena Ngoh
I write about Xometry and all things manufacturing. You might also see me hosting webinars, designing infographics, producing videos, and working directly with customers to tell their manufacturing success stories.