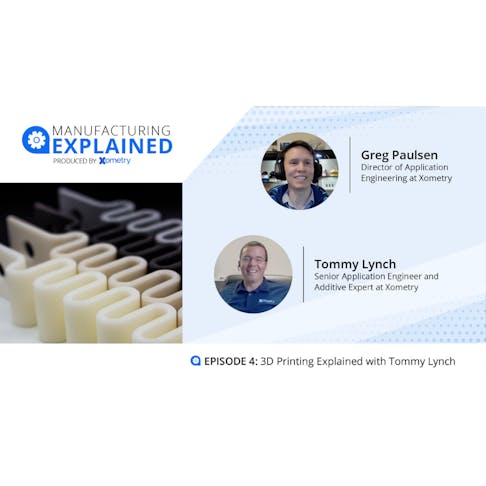 Manufacturing Explained Ep. 4 - The 3D Printing Process
In the newest episode of Manufacturing Explained, Host Greg Paulsen sits down with additive expert Tommy Lynch to explore the 3D printing process.

By Nathaniel Miller
April 27, 2022
Join host Greg Paulsen for an in-depth conversation about 3D printing with Tommy Lynch, Senior Application Engineer and additive expert at Xometry. Together, Greg and Tommy explore what 3D printing is; what differences in both equipment and mindset exist between 3D printing service providers and hobbyists; and what Tommy's favorite additive processes and approaches are. Tommy Lynch has over 15 years of experience in additive manufacturing, from operating additive industrial manufacturing equipment to consulting clients on how to optimize their designs for 3D printing.

Nathaniel Miller
Hi, I'm Nathan, and I'm the Marketing Content Writer for Xometry. I write and edit a lot of the content produced by Xometry. I'm also the lucky guy who gets to share the accomplishments of engineers working to change their industries and our lives.