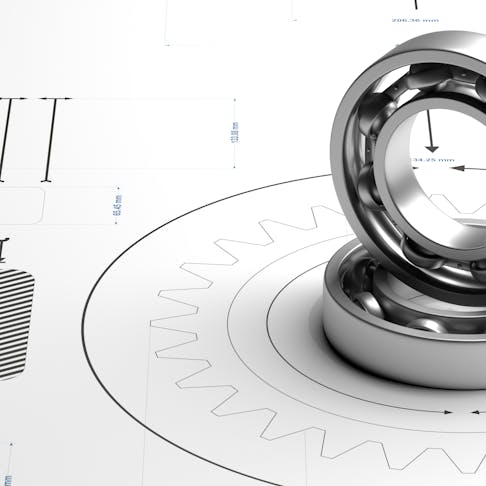 Product Update: New CNC Machining Materials and Metal Finishes Available for Instant Quoting
Xometry's on-demand manufacturing materials and finishes now include Nitronic, PVC, five new steel alloys, two new anodize finishes, tumbling, and zinc plating.

By Greg Paulsen
 2 min read
Introducing New Materials and Finishes for Machined Parts
Xometry offers engineers access to one of the largest selections of materials and finishes of any online manufacturing marketplace. With just a 3D CAD model, you can get pricing and lead times on over 200 materials, processes, and finishing combinations. This now includes the following CNC machining materials that are traditionally hard to source:
HDPE (high-density polyethylene)
Nitronic 60
PVC (polyvinyl chloride)
Stainless steel 440C
Stainless steel 410
Steel 1215
Steel 4140PH
Steel 4340
Additionally, Xometry has added new metal finishes for CNC machined and sheet metal fabricated parts. These are: 
PTFE impregnated hard anodize
Titanium anodize
Tumbled
Zinc plating
Below, you can read about the properties and applications of each of these CNC machining materials, many of which stand up to the harshest environments. You can also read about our new finishes, which can increase machined parts' performance and longevity, while tumbling can smooth out any part imperfections. These highly durable materials complement the CNC machining metals and plastics already available at Xometry, including aluminum, bronze, copper, brass, steel, stainless steel, titanium, zinc, acetal (Delrin), acrylic, and more.
CNC Machining Material Properties
Material
Description

Material

HDPE (high-density polyethylene)

Description

A moisture and chemical-resistant plastic with good impact strength. The material is outstanding for outdoor applications as well as for watertight containers or seals. HDPE for CNC machining is typically white.

Material

Nitronic 60 (Also UNS S21800 or 218 stainless)

Description

A stainless steel, also known as UNS S21800 or 218 stainless, is a high-performance metal with high temperature and wear resistance. Its corrosion resistance is superior to 300-series stainless steel. Nitronic 60 can maintain its strength to over 1800°F and is common in aerospace for flight parts.

Material

Description

A highly chemical-resistant synthetic plastic, PVC is common in environments that are exposed to liquids or that require electrical insulation. PVC is also self-extinguishing and is utilized in places where flame retardance is required. PVC for CNC machining (Type 1) is typically gray.

Material

Description

One of the hardest stainless steels with a Rockwell of 58-60 HRC after heat treatment. 440C is common in bearing applications where high wear resistance is required. 440C offers corrosion resistance similar to 304 stainless steel.

Material

Description

A wear and corrosion-resistant stainless steel used in fasteners, cutlery, nozzles, and tools. 410 stainless is one of the most commonly used 400-series alloys, and is often heat treated. 410 stainless steel is magnetic.

Material

Description

A carbon steel that is easily machinable compared to other steels like 1018. 1215 steel offers an excellent surface finish for precision-machined components.

Material

Description

A pre-hardened HRC 28-32 variant of 4140 steel, also known as chrome-moly steel. The hardened condition does not require post-thermal treatment and resists stress fractures. 4140PH applications include collars, couplings, gears, and tool holders.

Material

Description

A structural steel with a very high tensile strength compared to 4140 alloys. 4340 can withstand extreme heat, wear, and impact, which makes it useful for shafts, landing gear, collets, and molds. Typically 4340 is machined in an annealed condition (HRC 20) and can be hardened with heat treatment.
New Machining and Sheet Metal Post-Processing Options
Finish
Description

Finish

PTFE Impregnated Hard Anodize

Description

A hard coat anodize process that embeds PTFE to create a self-lubricating, dry contact surface with Type 3 hard coat's protective properties. This finish can be used on aluminum alloys or titanium and increases the service life of the product. This finish conforms to the AMS-2482 Type 1 Hard Coat Anodizing with Teflon (Non-Dyed) specification (also called MIL-A-63576 Type 1). This finish color is black.

Finish

Description

A surface finish for titanium per AMS-2488 Type 2 specification. Also called Tiodize, this finish increases fatigue strength and the wear resistance of a part. Titanium anodized parts are common in aerospace and medical device manufacturing. Non-pigmented titanium anodize finishes will dull shine.

Finish

Description

This is a batch-based process that tumbles vibrating media to remove sharp edges and burrs on machined parts. Tumbling can remove machine marks on exterior surfaces. Parts over 8" may require a manual review.

Finish

Description

A metal plating of conductive materials to provide corrosion resistance. Zinc plating is standard among carbon steels and other alloys that can rust. Zinc plating conforms to the ASTM B633-15 service class I (SC1) specification. The typical plating coating thickness is 0.0002." The finish results in a low silver shine.
Get a CNC Machining Quote in These New Materials
You can get instant online pricing on all Xometry materials. These can be further customized by adding finishes, tolerances, certifications, and inspection requirements. Simply upload your 3D model to the Xometry Instant Quoting Engine℠, click "Modify Part" and under the process drop-down menu, choose "CNC Machining." Then, select your material, add features and any notes, and head to checkout.

Greg Paulsen
They call me the Director of Application Engineering at Xometry. This means I not only get to produce great design-for-manufacturing content, but also consult on a variety of custom manufacturing projects using CNC machining, additive manufacturing, sheet metal, urethane casting, and injection molding. If you have a question, I'm your guy.