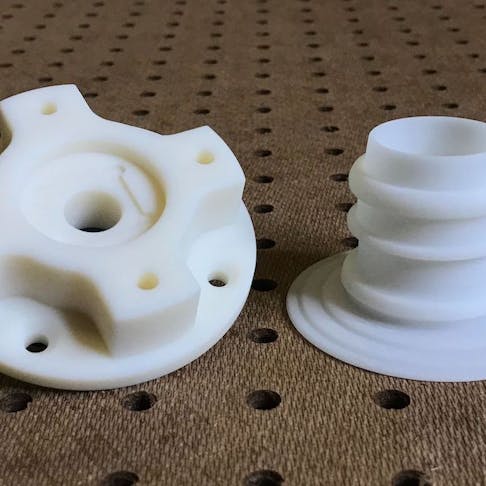 Product Update: New Stereolithography (SLA) Materials, Somos EvoLVe and Somos PerFORM, Available for Quoting
Xometry is always working to bring you the largest selection of industrial 3D printing materials. Now you can get an instant quote on 3D printed parts made with Somos EvoLVe 128 and Somos PerFORM.

By Greg Paulsen
October 9, 2020
 2 min read
Xometry has added two more engineered 3D printing materials to its stereolithography (SLA) line up. These materials—Somos EvoLVe and Somos PerFORM—each offer unique strengths and greater versatility to the high-detail, smooth surface 3D printing technology.
SLA Somos EvoLVe 128
SLA Somos EvoLVe 128 looks and feels like traditional thermoplastics. With an eggshell color, high strength and durability, and the detailed resolution inherent in SLA, this material can fit a variety of needs for prototyping or low-volume production.
Try this material for parts that need to behave like ABS plastic with a smooth surface finish such as electronics enclosures, medical device prototypes, and accurate part models.
View the Somos EvoLVE 128 spec sheet here.
A part made with Somos EvoLVE 128
SLA Somos PerFORM
SLA Somos PerFORM is a ceramic-filled material that creates extremely stiff and detailed parts. PerFORM has one of the highest heat deflection temperatures of all SLA resins, starting at 132°C and reaching up to 268°C with a thermal post-cure.
Try this material for fixtures, structural features, prototype mold inserts, and wind tunnel test models. This material is also available in high resolution.
View the Somos PerFORM spec sheet here.
A part made with Somos PerFORM
A chart comparing heat deflection, bend strength, and stiffness between SLA materials. Note the correlation between high thermal resistance and material stiffness

Greg Paulsen
They call me the Director of Application Engineering at Xometry. This means I not only get to produce great design-for-manufacturing content, but also consult on a variety of custom manufacturing projects using CNC machining, additive manufacturing, sheet metal, urethane casting, and injection molding. If you have a question, I'm your guy.