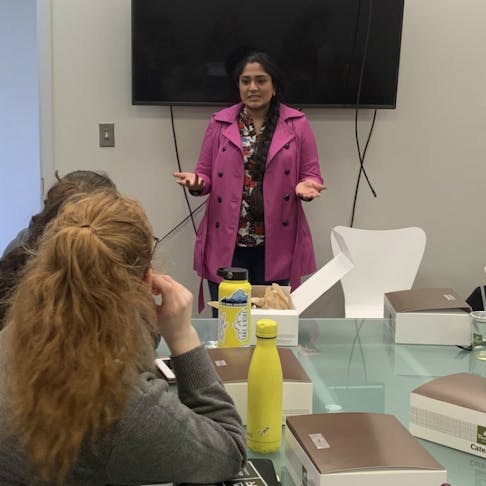 Xometry Empowers High School Women to Pursue STEM Disciplines
Xometry is proud to celebrate and support women in STEM fields, so we hosted a group of sophomore girls from St. Timothy's School for their STEM week.

By Serena Ngoh
October 9, 2020
 2 min read
Gaithersburg, Md. -- On March 4th, 2019, Xometry hosted a group of high schoolers from St. Timothy's School based in Baltimore, Maryland. The group visited for the school's STEM week, which aimed to show students how the skills they've been learning are applied in the real world. Xometry's trailblazing women shared their experiences about various roles throughout the company.
Kathy Mayerhofer, Senior Vice President of Sales, talked about often being the only woman on the sales floor, particularly with a career built at technology companies. Ranjani Ravikumar, Additive Manufacturing Case Manager, showed the students how her materials engineering degree has translated to providing project engineering solutions at Xometry.
Megan Tobin, Process Engineer with a degree in bioengineering, shared her passion for helping customers optimize their custom part designs, especially for medical applications. Tobin says, "I'm glad I could provide insight into a few of the many ways these girls can use their future STEM degrees in the real world, especially in an industry that is so predominantly male."
The high schoolers also had the opportunity to tour the Xometry additive facility, which allowed students to learn about 3D printing processes and see industrial-sized printers for the first time.
Jennie LaCourt, People Operations Manager and co-organizer of the event, said, "It was very rewarding to pass on our real-world experience to these young women. We hope we've inspired them to come into these fields and diversify the STEM workforce."
With college-educated women making up only 29% of the science and engineering workforce, Xometry is proud to celebrate and support women in STEM fields.

Serena Ngoh
I write about Xometry and all things manufacturing. You might also see me hosting webinars, designing infographics, producing videos, and working directly with customers to tell their manufacturing success stories.