Resources
Case Studies
Case Study: An Archer Aims, Shoots, and Lands His Shot with Xometry Injection Molding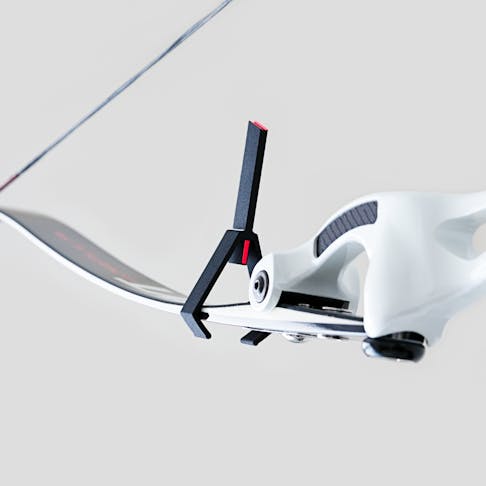 Case Study: An Archer Aims, Shoots, and Lands His Shot with Xometry Injection Molding
With the help of Xometry's injection molding capability, hobbyist archer Keith Shetler solved a complex problem by creating a bow alignment tool called Tuning Forks™.

By Serena Ngoh
October 8, 2020
 7 min read
Five years ago, Massachusetts-based hobbyist archer, Keith Shetler, set out to find a way to calibrate a bow's limb alignment more precisely. He had the idea of creating a tool that would verify a string was in the 3-dimensional center of the bow. Since the tool assists with bow tuning and looks like the musical tool of the same name, he called the pair of tools Tuning Forks™. This tool would solve a problem many archers face: if the string, riser, and limbs of a bow are not properly aligned, even the best archers will find themselves missing their mark with their tuning.
Basic archery bow anatomy
Although it may sound simple to line a string up with the center of a bow, there is more to alignment than what meets the eye. In fact, it is the eyes that estimate string placement based on the perception of two points. Many archers use masking tape to place pen dots on the center of the limbs to help them align their string, but this method is subject to skewing due to the parallax effect.

The parallax effect is the apparent movement of objects because of the observer's change in position. In the case of archery, simply closing one eye or changing one's grip on a bow may cause a 2D guiding point to jump to the right or left. Relying just on their eyes, archers can unintentionally introduce a minuscule limb twist of mere degrees, an error which is then magnified over the course of a 70-meter, Olympic standard shot. Additionally, with many adjustable parts on a bow, it may not arrive properly calibrated by the seller.
A demonstration of a bow twist. Media courtesy of Earlyhuman, LLC.
Eliminating bow alignment errors can help an archer speed up the tuning process. When they can tune quickly and intuitively, archers can shoot quickly and become confident in their equipment. As a result, a well-tuned bow leads to greater shot consistency.
Keith got to work creating his alignment tool. With the help of free CAD software for hobbyists, Fusion 360, he designed Tuning Forks to attach to the upper and lower bow limbs and protrude out towards the archer. By providing a 3D, instead of 2D, reference to the center of the limbs, the bow attachments would reveal the real center of the limbs—the limbplane. Seeing the limbplane would also help archers correct errors in visual perception caused by the parallax effect. Since the dots would now shift according to limb movement and not the archer's own positioning, any misalignment would be obvious and quickly correctable.
One of two Tuning Forks attached to a bow's upper limb. Image courtesy of Earlyhuman, LLC.
After Keith began iterating with 3D printing, he gradually reached a relatively static point in his design phase. He gathered interest in his invention in an archery forum and discovered a high demand, especially because there weren't (and still aren't) any archery tools of its kind on the market. Keith launched a Kickstarter campaign, successfully raised over $13,000 from 245 backers, and gave a name to his business venture: Earlyhuman, LLC.

Now Keith was ready to move to production. He knew he'd have to explore other manufacturing technologies since no 3D printing process—not fused deposition modeling, not selective laser sintering, not binder jetting—could meet his product requirements.
He had set the market value of his Tuning Forks at $29 per pair and had marketed his Kickstarter campaign accordingly. However, with 3D printing, the minimum production costs would be about $30 a pair, which wouldn't allow Keith to produce the carrying case or decorate the forks, much less turn any profit. Additionally, Keith needed a surface finish that was much finer and nonporous so he could apply color finishing.
Weighing considerations of cost and quality in mind, Keith shopped around for a manufacturer who could execute short production runs and finally settled on Xometry. Keith had successfully 3D printed SLS prototypes with Xometry before and was drawn to their Instant Quoting Engine℠'s ease of use.
"Xometry's modern design and updated web integration is an indication that the company is thinking about the customer. Xometry is investing in technology to make customers' lives easier and to make the process faster."
Keith Shetler,
Founder and Owner of Earlyhuman, LLC
He had also enjoyed watching Xometry applications engineers conduct experiments and discuss design-for-manufacturability methods in Xometry's engineering videos, so he reached out.
When he began talking to the sales and applications engineering team, Keith leaned on Xometry for help, since, of course, he was a video game software developer and marketer by training. "I work digitally—that's my domain—so this was my first project trying to make something physical and I had a lot to learn."
Once he explained his project goals, the Xometry team and Keith settled on injection molding as the best manufacturing option. With injection molding, his parts were quoted at a much lower unit cost, even with the cost of tooling. This left money for accessories and to turn a potential profit for his hard work. "Given the estimated market value of Tuning Forks, it made the most sense to do injection molding over any other method." Additionally, the ability to scale up production in the future and produce a repeatable design with uniform and tight tolerances reinforced injection molding as the best option.
Various manufacturing considerations arose as they began optimizing Keith's designs: Tuning Forks needed to withstand temperatures as low as 40 degrees to allow for tuning outside in cooler temperatures, and up to 300 degrees so Keith could cure surface decorations onto the parts (and withstand the heat of a summer car interior). He also needed Tuning Forks to withstand pulling, bending, and tumbling during use and transportation.
For the first sample run, often called T1's, the team added coring and, since there was a chance of warpage on the legs of the tool, they decided to run the samples to determine the amount of warpage. The Xometry team soon found out the amount of compensation needed for warpage, so for T2's they fine-tuned the part measurements. They also made sure the parts could flex along a large range of bow widths from 40 to 50 mm and added radii to the arms to give the part added stability.
Final mold tool for Tuning Forks. Image courtesy of Earlyhuman, LLC.
The final Tuning Forks, at 115 mm tall and 40 mm wide and manufactured from dark blue, 13% glass-filled nylon, arrived at Keith's doorstep in late January 2019. He found that Tuning Forks were durable enough to withstand rough use, ductile enough to snap onto a range of bow sizes, and would withstand a range of temperature from 32 to 400 degrees. The final cost was a fraction of what 3D printing the parts would have cost, especially over the full tool lifetime.
Most importantly for Kickstarter backers, the tool works. Tuning Forks provide the ease of use they were designed for. World class archers including Crystal Gauvin tested early prototypes: "I got the opportunity to put them on my bow at indoor nationals this year and I was blown away by the ease of use, but more importantly the ability to get a truly three-dimensional view of my limb alignment."
Correct limbplane alignment enabled by Tuning Forks. Media courtesy of Earlyhuman, LLC.
Earlyhuman's Tuning Forks also help reduce limb oscillation—and, therefore, vibration and noise—by 18%. For beginner archers, this might also help reduce the effect of string slaps from bad form and the subsequent forearm bruising known as the "archer's tattoo."
Tuning Forks™, although a simple tool, solve a complex problem. Archers and coaches can now set the alignment of their bows clearly and easily, reducing perception errors and helping them gain confidence in their equipment. This can lead to greater shot predictability and accuracy. At the culmination of five years of work and nearly 30 iterations, Keith achieved the goal he once only dreamed of.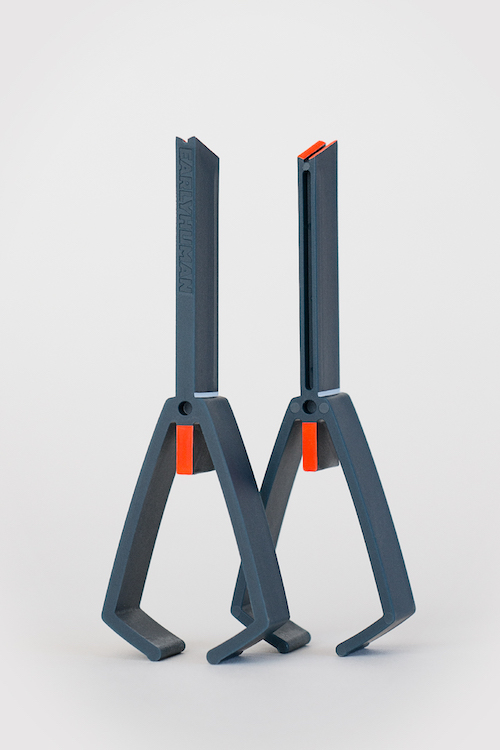 Keith is happy he chose Xometry for injection molding. Knowing the mold is his to keep for its lifetime and that he can scale up production in the future gives him peace of mind. Keith plans to use the mold for its full lifetime of 5,000 parts and is on track to do so, with Tuning Fork requests from more customers and interest from major archery suppliers and stores.
"Xometry is helpful, patient, and awesome. The whole team was more than welcoming and willing to help me out throughout the process."
Keith Shetler,
Founder and Owner of Earlyhuman, LLC
Five major prototypes spanning 2013 to 2018. Image courtesy of Earlyhuman, LLC.

Serena Ngoh
I write about Xometry and all things manufacturing. You might also see me hosting webinars, designing infographics, producing videos, and working directly with customers to tell their manufacturing success stories.