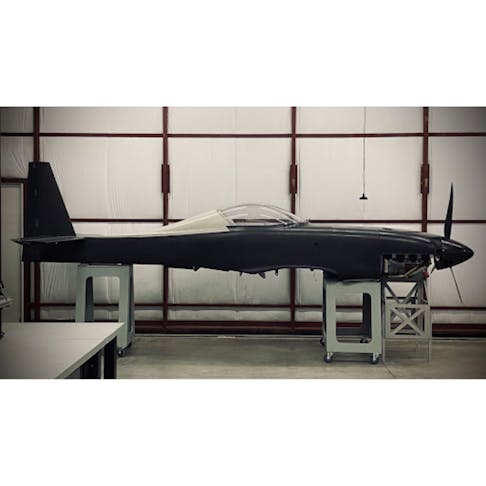 Case Study: DarkAero Soars to New Heights With Machined Parts From Xometry
The DarkAero team is working to bring consumer plane kits into the modern era, with the help of machined parts from Xometry. Their prototype aircraft, a sleek, efficient, and long-range 2-seater plane christened "DarkAero 1", is set to launch later this year.
By Nathan Miller
February 18, 2022
 8 min read
Industries
Manufacturing Services Utilized
Project Brief
Solution

Industries

Manufacturing Services Utilized

Project Brief

Keegan, Ryley, and River Karl are engineering brothers that are working together to build an efficient, long-range, and stylish prototype aircraft for the modern era. They needed a service that could source affordable CNC parts quickly to help meet their project deadlines.

Solution

Thanks to Xometry's CNC machining, milling, and turning services, DarkAero was able to source affordable, complex composite parts quickly to stay on top of their product timeline.
Every year a picturesque little city named Oshkosh, Wisconsin, goes through a dramatic transformation. The town's local airport begins to fill with thousands of aircraft that come from all around the world for a special event: a celebration called EAA AirVenture Oshkosh. For the uninitiated, this annual event is an aircraft enthusiast's paradise and is the largest yearly aircraft show in the world. The AirVenture show is a mesmerizing spectacle that encourages those who attend to dream big and let their imagination take flight. Keegan, Ryley, and River Karl from Madison, WI, were three frequent onlookers who grew up loving planes and the EAA airshow. They would reunite at the airshow every year to geek out and bond over their love for airplanes. What started as a brotherly bond admiring aircraft would eventually serve as a foundation for a business that would take YouTube by storm.  
In 2010 one of the brothers, Ryley had a negative experience trying to construct his own aircraft from a set of plans. Unfortunately, he found the process highly cumbersome despite his initial enthusiasm. It required plenty of time, skill, attention-to-detail, and lots of filling and sanding to get the aircraft's curvature just right. After buying the aircraft plans, Ryley quickly realized that his plans for the composite aircraft, along with other aircraft plans and kits on the market, were outdated. These aircraft kits were missing many technological advancements and materials that had become standard in the modern era. 
Ryley hoped to find someone to make the aircraft for him but struggled to find someone up to the task. It wasn't the first time he and his brothers had run into this kind of disappointment. Every year the Karl brothers would attend the EAA airshow, hoping to see a company that would come along with an aircraft that caught their eye. They wanted to see an airplane that utilized the latest tools and technology to push the limits of aviation. They were hoping to see something that embodied the spirit of aviation in their eyes; an aircraft that could do more with less.
After discussing the failed aircraft construction project and reminiscing over their memories at the EAA airshow, they made a life-changing decision. They would develop their own plane kit and bring a much-needed upgrade to the industry. They would work together to build a high-speed, long-range, highly-efficient plane made from modern composite materials. All they needed was a catchy name.
"DarkAero 1" will be a sleek, black 2-seater plane. It will contain a 200 HP UL520iS engine, which allows it to run on either aviation fuel or regular unleaded gasoline. The prototype aircraft will also be built using lightweight carbon fiber. This lightweight construction will translate to 50-70 pounds fewer pounds when compared to traditional aircraft engines at the same horsepower, delivering an excellent power-to-weight ratio. This greater fuel efficiency will enable the aircraft to soar, reaching a flight range of 1,700 miles.
Initially, the DarkAero team began sharing videos on YouTube to showcase the aircraft's construction and communicate their progress with their existing customer base. The first videos began with simple walkthroughs, showing customers how to use tools, so they would be better equipped to build their own DarkAero 1's later on. As the fanbase grew, the videos evolved in scope and began showcasing regular progress updates and educational pieces. This online following helped them secure 144 orders and gave them confidence. After all, it was clear there was a high amount of interest in their plane kit. With this newfound confidence and audience, they set a goal to complete their first prototype by the end of 2022. 
You can't build a plane without plenty of material, and pretty soon, the Karl brothers began looking for necessary composite materials. While many customers find Xometry because they are looking to get an instant quote for custom parts, that's not the only kind of service we offer. DarkAero's search for raw materials led them to our Supplier Marketplace. Xometry's Supplier Marketplace lets you contact world-class design and engineering firms so that you can get competitively priced quotes for raw materials. You can even order directly through the site! After ordering, it didn't take long for the DarkAero team to realize that Xometry could do even more to help them bring their prototype to market.
Xometry Helps Businesses Save Time and Money
In general aviation, most aircraft can be constructed in two ways; While old school aircraft may sometimes use wood as their primary construction material, most planes are built from riveted sheet aluminum or composite materials. "Composite material" is an umbrella term, but specifically in the aerospace industry, a composite constructed aircraft would typically be built from fiberglass or carbon fiber. The DarkAero team decided to use carbon fiber because of its higher strength-to-weight properties compared to fiberglass. Composite materials like carbon fiber enable the DarkAero team to create a slippery aircraft that can glide through the air easily. 
Although DarkAero has some in-house CNC milling capacity to build custom composite parts, they still chose to use Xometry's CNC milling service for many projects. Xometry empowers businesses like DarkAero by helping source the custom parts they need without committing to prohibitively expensive equipment for custom parts. And even if in-house capacity exists, it is often faster and more affordable to order with Xometry. While this cost-saving can benefit everyone, even Fortune 500 companies, it is especially true for start-ups like DarkAero looking to take off on a smaller budget.
"If you are new to this, you don't know where to go and don't have the time to go back and forth, they solve the issue for you by letting you upload a CAD file quickly and easily. It definitely helps if you don't have the time or capabilities to make the parts you need in time."
Keegan Karl,
Cofounder of DarkAero
The DarkAero team loves saving time, which is also why they use Xometry's Fusion 360 Add-in. You can download n Xometry's add-in for Autodesk Fusion 360 from the Autodesk Fusion 360 app store. It allows engineers and designers to quote and purchase custom manufactured parts from within their CAD workspace quickly and easily. After the Xometry add-in analyzes the geometry of the CAD design, the user can select the material, process, and quantity they need to get real-time pricing and lead times. This seamless integration of custom manufacturing quotes allows engineers and designs to see the impact of any design choice on their budget and product development timeline.
The DarkAero team has ordered several CNC machined parts from Xometry that strengthen the integrity of the aircraft, including four custom parts they purchased last summer, as shown above. They serve a few useful functions: First, they structurally act as a mount for the aircraft's nose gear. In addition, the left two parts act as a gearbox for the plane. This gearing is used to help retract the nose gear so that it can be tucked up into the belly of the aircraft during flight. The DarkAero team had the internal capacity to build the housing but decided to outsource it to Xometry's CNC milling service to help save time.
Unfortunately, DarkAero can't produce everything in-house. They needed some CNC lathed parts to get their prototype off the ground. Thankfully our CNC turning service was available to help them make a simple but crucial part of the plane called the "pivot pin." The pivot pin performs a few different functions within the aircraft, such as mounting the main gear to the fuselage and holding it in place, allowing the main gear to rotate, and helping it track with retaining ring grooves. After having great experiences from their past Xometry orders, the DarkAero team knew Xometry would deliver on the lathe components they needed.
The DarkAero team is not slowing down, as they have many projects they are currently working on this year. First and foremost, they hope to begin flight testing DarkAero 1 in the summertime. In the coming months, they will continue working on their prototype by installing the aircraft's canopy, finalizing the installation of its flap mechanism, completing the wiring install, and manufacturing and installing the main gear retract mechanisms. In addition, the Karl brothers have another passion project they have diligently been working towards.
The Karl brothers aren't just passionate about building aircraft; they also want to inspire and equip others to grow more knowledgeable about all things aerospace. The aerospace industry isn't incredibly accessible for those seeking to expand their knowledge. For example, there isn't a lot of existing materials that educate aspiring aeronauts who want to learn how to use composite materials effectively. Thankfully, Dark Aero offers courses online that help customers learn how to work with composites and other materials like carbon fiber, fiberglass, and kevlar.  
Xometry shares a similar sentiment with DarkAero; our industry thrives when engineers, designers, and entrepreneurs have access to useful information. To learn more about Xometry's work with the aerospace industry, we encourage you to check out our manufacturing for the aerospace industry ebook or our webinar titled "custom manufacturing for Aerospace and Defense. If you are interested in designing complex, custom CNC parts like the Dark Aero team, consider downloading our design guide for CNC machining.
Nathan Miller
Hi, I'm Nathan, a Marketing Content Writer at Xometry; I help tell the stories of our customers and how Xometry helps them build their big ideas.