Resources
Case Studies
Case Study: Mapping the Erie Canal System With Xometry CNC Machined Parts, Sonar, and a Jon Boat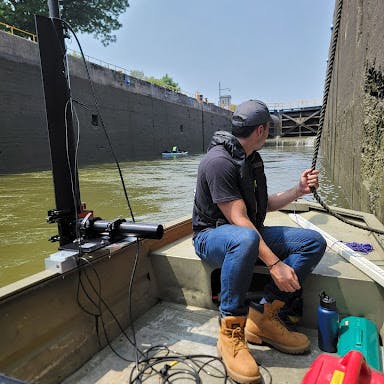 Case Study: Mapping the Erie Canal System With Xometry CNC Machined Parts, Sonar, and a Jon Boat
Discover how McLaren Engineering Group used Xometry's CNC machining service to create adjustable brackets for a multi-beam sonar system surveying New York's waterways.
By Nathan Miller
October 30, 2023
 8 min read
Industries:
Manufacturing Services Utilized:
Project Brief:
Solution:

Industries:

Design Services
Marine and Coastal Engineering

Manufacturing Services Utilized:

Project Brief:

McLaren Engineering Group, a U.S.-based multidisciplinary engineering and survey firm with a dedicated marine division that specializes in waterfront construction consulting, was tasked with mapping the underwater topography of New York City's canal system. To do this, they would need to use a multi-beam sonar system to gather accurate bathymetric data. There was just one problem: the brackets the device came with were not designed to be mounted onto small Jon boats, ideal vessels that were better able to navigate shallow, narrow areas in the canal system.

Solution:

The team at McLaren turned to Xometry to produce precisely machined metal brackets that allowed them to not only mount the multi-beam system onto Jon boats but also onto a variety of other boats in their fleet, helping them gather valuable data that is being used to inform future waterfront construction projects.
New York may be most well-known for its feats of engineering that reach high into the sky, but there is also another side to the careful construction around the state. New York's Canal System  stretches across 524 miles, linking the Hudson River to the Great Lakes.
McLaren Engineering Group is a U.S.-based multidisciplinary engineering and survey firm with a dedicated marine division that provides consulting services to help cities and states contend with their most pressing marine and coastal engineering needs. New York is one of many states that has leaned on McLaren to provide valuable data to inform its city planning decisions — from bridge construction to boardwalk repair efforts taken in the wake of Hurricane Sandy.
Recently, the marine engineering team was tasked with inspecting and surveying infrastructure systems along the Erie Canal.  
"We have been inspecting and monitoring the sediment changes and infrastructure conditions throughout the canal. We perform detailed inspections of the locks in the Erie Canal; there's a lot of critical key infrastructure points on it that we are trying to get a clearer picture of," Jedediah Tango, an ocean engineer on McLaren's marine engineering team, explained. 
To inspect structures like locks, Tango and his team use sonar systems. "To begin, we attach the sonar system to a boat and deploy it underwater with long carbon fiber poles, with a GPS on one end and a sonar sensor on the other," Taylor Zimmerman, a staff engineer at McLaren, said, describing how these systems work. "As the vessel moves, the sensor collects depth data by sending out sound pings underwater. The sound pings reflect off the mudline, which is then received by the system. The system calculates a depth value based on the time it takes between the sonar ping being emitted and received and the speed of sound in water. "

While the McLaren marine engineering team typically uses a small, single-beam sonar system to gather basic water depth data, they needed something that could produce more detailed bathymetric data for this project. So, they turned to another tool in their arsenal: the multi-beam system.  
"The multi-beam sonar system emits and receives hundreds of pings per second in a wide swath," Zimmerman continued. "This produces an incredible amount of data, which we use to create high-resolution underwater models of whatever area or structure we're mapping."

The data produced by this multi-beam system allows the McLaren team to pull elevation data and visualize underwater infrastructure, helping them identify potential infrastructure rehabilitation needs and identify objects on the mudline that may impact the vessel's navigation.
To map New York's canal system, the McLaren team would need to mount the multi-beam system onto a Jon boat. While the canal system is fairly deep in most areas, the team would need the small vessel to navigate through narrow, shallow areas in the canal more easily.

Unfortunately, Tango and his team made an unexpected discovery as they began to discuss the project: they realized the heavy-duty sonar mount hardware they usually used was not designed for such a tiny vessel. They would need to find a solution quickly, or their project would soon be dead in the water. 
Xometry Provides a Precise Solution
The multi-beam system originally came with CNC machined aluminum brackets and latches to a large base plate. This base plate was meant to be placed in the boat, with the smaller brackets placed underneath to attach it to the side of a vessel as it moves through a body of water.
These original parts didn't work as intended, though. 
"We couldn't figure out how to bolt this plate to the side of the boat because the top part of the boat wall was an inch and a half thick, and the plate was four inches," Tango said. "We had to narrow it down while making sure it wouldn't jiggle free from the stresses of the boat maneuvering through the canal."

The multi-beam system continuously emits hundreds of signals and must remain perfectly still and level to measure water depth accurately. To gather this data, Tango knew that he would need to use CNC machining to create his own metal brackets to keep the multi-beam system securely attached to the boat.  
Tango developed bracket designs and submitted his CAD files to the Xometry Instant Quoting Engine® to receive an instant quote and lead time. 
"The ability to instantly quote was the most helpful part of the experience," Tango recounted. "Our original part was designed in a way that made it too expensive because it was much thicker than we needed it to be. We had to change the part design twice to stay under budget." 
By taking advantage of Xometry's AI-driven quoting technology, Tango's team could see within seconds how design changes would affect their part's pricing, allowing them to stay within budget and plan appropriately.

"Once we made those changes, we ordered the parts, and they came out perfectly," Tango continued. "It was so spot on. They looked exactly like the CAD files." 
Tango and his team ordered four CNC-machined brackets to work with the original ones provided to them for the multi-beam sonar system that would attach to the Jon boat. The main bracket was a 10mm thick aluminum plate.
"The plate had a straight linear line through it with three bolt holes. We also added circular mounting so the bracket could go in and it could be bolted on the side of the boat, which compensated for the curved bow of the boat. These tracks were in the dead center of the boat, which aligned with the multi-beam sensors," said Tango, explaining what made the main bracket unique.
After Tango and his team received the plate, they began bolting it to the boat, along with the other three CNC-machined aluminum blocks they ordered. 
"These spacer blocks helped give clearance for the bolts so that we could set the system up on both sides of the boat," said Tango. McLaren's marine engineering team designed these spacer blocks with a three-degree angle at the top of them, which allowed the system to remain perfectly level with the water's surface. The equipment needed to stay level with the water to ensure accurate measurements.

Tango was pleased to see that these precise metal parts fit onto the boat and how Xometry could help him quickly find a solution. 
"We always start with accurate tools. That's why we use Xometry. Xometry was the most affordable, fastest option, and it worked better than we were expecting."
Jedediah Tango,
Ocean Engineer at McLaren Engineering Group
After solving the bracket issue, he discovered that these parts came with additional benefits for his team. "The plate we made was much cheaper." Tango laughed, " It was comically cheaper, actually. The original bracket was $1,000, whereas the flat plate part we made with Xometry was only $150"
Tango also realized that these parts could also be used for other vessels in McLaren's fleet. He is currently sharing the design with others in the organization, helping the firm continue to address complicated challenges while saving money.
Tango knew he could quickly turn to our digital manufacturing marketplace because it wasn't his first time using our services. Tango originally discovered Xometry through his work at a design company he founded called Blue Heart Hero. This non-profit organization uses open-source 3D printing to create assistive devices for individuals with limb differences. Tango and his co-founder Amin Hasani had partnered with Xometry to sponsor their first two design contests and procure simple, affordable 3D printed parts.
Tango is just one of the thousands of engineers and designers who have used multiple manufacturing services from Xometry to build their big ideas.
When you are ready to build your next big idea, don't be limited in your creativity; Xometry can help you unlock new possibilities by giving you easy access to many manufacturing options all in one easy-to-use platform.
With Xometry, you have a full menu of 19+ manufacturing services to fabricate your next plastic or metal part. Our engineering team is always ready to help you solve engineering challenges. We can help guide you to the optimal design for your next project, combining parts from multiple processes into fully realized products. 
To take full advantage of Xometry's offerings, explore our Solution pages. And, to learn more about a particular manufacturing process, check out our resource library. It's packed with design guides, webinars, and a variety of helpful resources to help you build optimized parts.
You can also sign up for Xometry emails to receive curated content that will educate you on new manufacturing materials and processes, helping you discover how you can provide solutions to your customers, optimize designs, and save time and money.
Sign up for curated content from Xometry's emails
Nathan Miller
Hi, I'm Nathan, a Marketing Content Writer at Xometry; I help tell the stories of our customers and how Xometry helps them build their big ideas.