Resources
Case Studies
Mezli is Ready to Turn Tables in Restaurant Robotics, Thanks to Xometry's Full Menu of Manufacturing Options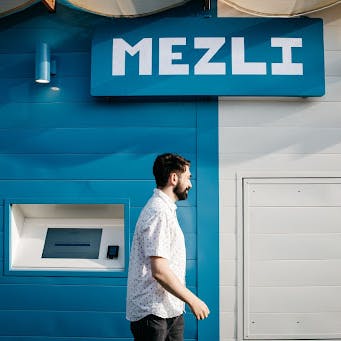 Mezli is Ready to Turn Tables in Restaurant Robotics, Thanks to Xometry's Full Menu of Manufacturing Options
Mezli, a start-up based in California, is launching its first automated Mediterranean restaurant in San Francisco with help from parts made by Xometry's global supplier network.
By Nathan Miller
August 24, 2022
 9 min read
At a Glance
Industries
Manufacturing Services Utilized
Project Brief
Solution

Industries

Manufacturing Services Utilized

Project Brief

Mezli, a start-up based out of California, wanted to launch their first automated Mediterranean restaurant that could create restaurant-quality food at an affordable price. They needed to find a manufacturing network that could help them build their first restaurant kiosks with complex inner workings capable of reliably producing high-quality, delicious meals.

Solution

Mezli used a variety of Xometry's manufacturing services, from CNC Machining and Sheet Metal Cutting to 3D printing, to fabricate the internal robotics and the external aesthetics of their first Mezli restaurant kiosk.
The Modern Restaurant Dilemma
Imagine you are playing a game at the local park with some friends, and after some time in the great outdoors, you realize you have worked up a bit of an appetite. You and your friends are about to be presented with an age-old conundrum: where should you grab some grub?
You have many options, but they generally fall into a few categories. You could go home and make some food. Unfortunately, that could take a long time (assuming you even have enough food in your fridge). You could get something relatively fast and cheap from a local fast food joint; The problem with that idea is that fast food isn't always healthy, and often can leave you with a not-so-great feeling afterwards. You could find a fancy sit-down restaurant, but you might not have time for that, and you know that it will likely cost more than you want to spend. 
In grad school at Stanford, Alex Kolchinski, Alex Gruebele, and Max Perham were accustomed to this struggle. No matter what option they chose, they had to compromise on either price, time, or quality for their meals. Fast food was cheap, but unhealthy, and dining hall costs added up quickly. Sit-down restaurants were also expensive, and cooking at home when they were darting from class to class was never really a realistic option. After going to Chipotle for the umpteenth time, they were getting fed up. Shouldn't there be a way to get fast, high-quality food at a more affordable price point?
Eventually, they saw an opportunity to capitalize on an amazing opportunity never seen before in the restaurant industry.
To better understand the issue, the 3 friends began by reaching out to and speaking with many different restaurateurs. From there, they were able to glean the reason for such high costs; Put simply, it's expensive to build and run a restaurant. Generally speaking, the cost of the restaurant is split into 3 categories: 
The cost of the property (building and maintaining the physical space, purchasing or leasing land or property)
The constant employee compensation needed to staff the restaurant properly 
The cost of food and materials.
The breakthrough moment came when the friends saw an opportunity to substantially cut costs in property by building and maintaining a space with a small, simple form factor that would house only robotics rather than serve as a space for people. This would remove a significant portion of costs associated with wages by introducing robotics to do simple, but labor-intensive finishing steps in the cooking process. By decreasing spending in those areas, they realized that they could pass on their savings to customers by decreasing prices without compromising quality.  
"In our conversations with restaurateurs, we learned that most chains, even higher-quality ones like Chipotle, do most of their cooking en masse in central kitchens, and only carry out a small set of final steps (heating, plating, etc.) to make customers' meals on-location. The central kitchens are so efficient that they don't contribute much in terms of cost per meal – it's the restaurant locations themselves that incur the lion's share of the costs of the whole operation despite only performing a small part of the prep process. That helped us realize that a robotic restaurant that could automate those final prep steps could unlock great-quality meals at truly affordable prices. So, we started talking to people with experience in robotics and specifically food automation to figure out whether the problem was a solvable one. We ultimately concluded that it was and that a successful solution was going to come down to two things: reliable autonomy and great food."
Alex Kolchinski,
CEO of Mezli
Photo by Allison Busch, courtesy of Mezli.
After being accepted to start-up incubator Y Combinator, the three founders got to work. Over the next 20 months, they built the world's first autonomous restaurant capable of serving high-quality Mediterranean dishes at an affordable price point. With the aid of robotics, the Mezli team was able to reduce the overhead costs of running a conventional restaurant and increase the leverage of the humans involved in the food preparation process, bringing higher quality food to customers at a more affordable price point. Building a restaurant kiosk, even in prototype, was less than the cost of building an average restaurant; while they still have to perform routine maintenance on the machinery, savings were made up by a complete lack of on-site labor. Moreover, they worked alongside Michelin star-rated chef Eric Minnich through the whole project, developing the menu so that it would be able to be made at a high level of freshness and quality by the robotic restaurant. This fusion of culinary and robotic creativity ensured that the dishes they'd make would not only be affordable, but tasty as well.
Photo by Allison Busch, courtesy of Mezli.
While Mezli has, until recently, been in testing the concept by using a 10 x 20-foot prototype restaurant supported by a fully staffed ghost kitchen, this newer kiosk restaurant will be bigger and will allow customers to order food from a kiosk and pick it up from an  Amazon-style locker without any humans in the loop. This restaurant like ghost kitchen will serve healthy Mediterranean grain bowls and drinks from a simple order queue, but they hope that in the future, the same technology can be used to expand to many more menus so that Mezli boxes can serve all kinds of food at affordable prices.
After a little research, they found that Xometry could fabricate their parts and help them through the injection molding process. By partnering with Xometry, Mezli quickly discovered another benefit: they were able to reduce their costs by approximately 20% and take advantage of faster lead times by using our overseas supplier options. Mezli is one of many companies supported by Xometry's Manufacturing Supplier Network, which forms the backbone of our on-demand manufacturing platform. Our network contains over 10,000 manufacturing shops across the globe. Our US facilities include ITAR qualified; AS9100D, ISO 9001:2015, and ISO 13485 certified; ISO 2768 compliant; and NADCAP facilities. The Xometry Manufacturing Supplier Network is the largest network of its kind, with an estimated 30 million available machine hours.
This initial mold was part of a larger journey to develop food-grade parts that could withstand regular food contact and cleaning. Thankfully, by utilizing the full suite of manufacturing processes at Xometry, Mezli was able to easily walk through every stage of the product development process. They began by ordering rubber durometer and geometry prototype molds using our 3D printing service. We worked with them to use a home-mixed RTV rubber material to produce their first few rounds of prototypes. Eventually, Mezli was ready to order matching geometry food-grade elastomers for a full line of injection molded parts. For rigid injection molded parts, Mezli went through a similar iteration process to their 3D printed components by ordering a urethane resin cast batch for small-run high fidelity parts. Finally, they were ready to move to injection molding for their full run of food-grade plastic parts.
If you are interested in learning more about how Xometry can help you develop new products, or if you would like to iterate on existing products, we encourage you to download Xometry's Complete Production Guide or listen to Xometry's Path to Production with Injection Molding Strategies Webinar. And, if you would like to speak to someone on the Xometry engineering team, feel free to contact them here.
Technology Dissection: The FDA Approved, Automated Locker System
Their designs required a high level of accuracy, with precisely located holes and tight tolerances. Thankfully by working collaboratively with our Account Executive Nicole Zaluski, they were able to make their designs smaller and leaner while maintaining the required level of precision.
"Nicole was absolutely fantastic to work with. She was always on top of any issues we ran into, and made sure that we got all our parts on time. Also a big shout out to Scott Benson for managing a project that had multiple fabrication aspects, from concept generation all the way to packaging and shipping internationally"
Alex Gruebele,
Co-Founder and CTO of Mezli
We are happy that Mezli successfully built their project with our sheet cutting service. We are constantly improving our offerings, and we are excited to share the recent improvements to our sheet cutting service that will help you save money and help you get the job done faster and more affordably. Our algorithm's pricing models have been updated, and as a result, over 80% of flat cut parts will see reduced pricing when compared to our previous pricing. In addition, the Xometry Instant Quoting Engine now accepts pre-nested DXF files. These files will be eligible for bundle pricing enabling further cost savings compared to when you individually quote parts. And, as always, we have free shipping on all US orders with expedited shipping options available. To learn more about how the best practice for pre-nesting DXF files, click here.
Last but certainly not least, Mezli also worked with Xometry to CNC machined custom 6061 aluminum brackets for mounting much of their hardware to a modular rail system. By mounting systems up high, the floors of the auto-kitchen are far easier to mop and sanitize.
The Mezli team is ready to deploy their fully-automated kiosk-style restaurant in the bay area of California at the end of August 2022. If you are looking to join a growing team, they are also hiring! Their Grand Opening will be held in San Francisco at Spark Social Food Park on August 28th, and to celebrate they'll be offering free bowls to customers from 11 am to 5 pm (as supplies last, of course!) After their grand opening, they'll be open from 11-9 pm Fridays and Saturdays and 11-5 pm on Sundays, with the hopes of expanding their hours in the future. 
Xometry works with leading robotics, autonomous driving firms, drone manufacturers, agricultural automation companies, as well as 9 of the top 10 Fortune 500 technology companies, helping them dynamically scale manufacturing theior capacity and simplify their supply chain. If you want to learn more about our work with the robotics industry, we encourage you to check out our case study with Asylon. In it, we show how we helped create tactical battery transfer and payload management stations for their autonomous drone systems.
Nathan Miller
Hi, I'm Nathan, a Marketing Content Writer at Xometry; I help tell the stories of our customers and how Xometry helps them build their big ideas.