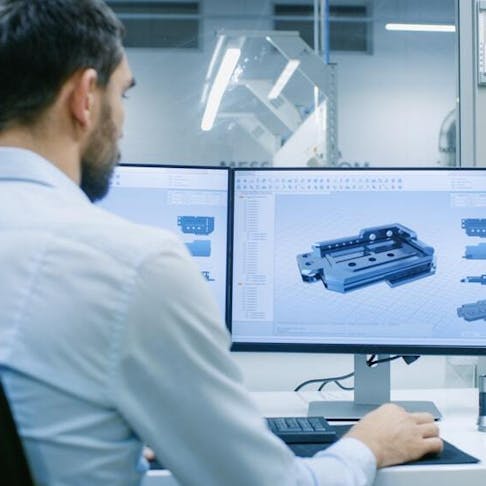 Fusion 360® vs. SolidWorks® – Software Comparison
Learn more about these two software, including their features and when to use them.

By Team Xometry
November 11, 2022
 10 min read
Fusion® 360 is a relative newcomer in CAD modeling (2013 launch), whereas SolidWorks® is in its 28th generation as a market leader. Both Fusion 360 and SolidWorks integrate parametric and surfacing methods as well as CAM (computer-aided manufacturing), animation, image rendering, simulation tools, 2D part drawing, and 3D printing. Fusion 360 provides a simplified user experience and faster learning of basic design tools. It hits its limits with professionals using large assemblies, version control rigor, high-power surfacing, simulation, and design validation tools, whereas SolidWorks aims to extend even the most experienced user.
These packages are, in many ways, points on the same capability curve. Fusion 360 feels stripped down and limited to an experienced SolidWorks user, which clearly makes starting out easier. SolidWorks can be overwhelming for new users, while Fusion 360 has all the basic 3D design tools on hand—enough to meet the needs of moderate-capability and new users. This article will further compare Fusion 360 vs. SolidWorks in terms of applications, system requirements, file formats, user experience, and price.
What is Fusion 360?
Fusion 360 provides a simplified version of the majority of the tools of more complex CAD packages. The top-tier CAD packages used by the more advanced design processes are very expensive to buy and support. Fusion 360 looks to provide basic-level functionality at a moderate cost. It is faster and more adaptable than top-tier packages like Inventor® and SolidWorks for new and occasional users. Fusion 360 is best for applications in which relatively simple individual parts and assemblies are modeled.
Users who are not making complex surface, curvature-based designs or large assemblies simply have less to learn to get started. Fusion 360 can act as an introduction to the world of CAD, meeting all of the new user's requirements. Also. for those whose skills develop to surpass its free capabilities, the license is not overwhelmingly expensive. For more information, see our Full Guide to 3D Printing and our Full Guide to 3D Printing Software.
What is SolidWorks?
SolidWorks serves engineering teams across all disciplines to develop mechanical, electronic, mechatronic, and aesthetic products of all varieties. SolidWorks aims to be a one-stop environment for vertical and horizontal integration of engineering teams of (and across) all disciplines. It includes: modules for ideation and schematics, through detailed design and project management, and onwards to version control and CAM. The software has widely used tools for time management, ops management, simulation and manufacturing analytics, and even big data functions.
These features result in a suite of interacting tools that allow design teams to work in a common environment with version control. Version control is applied on all aspects and methodologies for design-change roll-through to update all stakeholders and design aspects with low error risk.
Fusion 360 vs. SolidWorks – Use Cases and Applications
SolidWorks is a powerful tool suite, but its origins as a machine design package (rather than an aesthetic one) are still evident. Though SolidWorks is very powerful and allows designers to build any shape they can imagine, the use of parametric modeling results in the organic form being more laborious to build than artistic tools like Blender. After the "art" stage of product shaping, it is among the leaders in functional component and assembly design, PCB engineering, large-assembly management, version control, and transfers to manufacturing. SolidWorks has recently launched a big data module, to more closely compete with Autodesk® in these areas.
Fusion 360, on the other hand, is a much simplified but still precision-oriented engineering design package. It has a good reputation in applications such as mechanical design and engineering of products for aesthetics, form, fit, and function. It facilitates easy PCB design and printer/CAM integration. Though it is limited in assembly complexity and simulation tools, for appropriate products it is a powerful tool set. Fusion 360's close integration with 3D printing processes is widely employed in professional and hobby product design and manufacture, across all consumer, industrial, and medical product sectors. 
Fusion 360 vs. SolidWorks – System Requirements
In terms of system requirements, Fusion 360 requirements are considerably lighter compared to SolidWorks. For Fusion 360, users are required to have the following:
Windows; x86-based 64-bit processor, quad-core, 1.7 GHz or greater.
macOS; Apple silicon processors require Rosetta 2. 
4 GB of RAM, 6 GB minimum graphics memory.
DirectX 11, including a dedicated GPU with min. 1 GB VRAM.
Display resolution of 1920 x 1080 or greater recommended.
3 GB of disk space minimum.
SolidWorks requirements are more leading edge, as it is a considerably more high-powered package:
Windows 64-bit processor, Intel core i5, 3.3 GHz minimum with 8GB cache minimum.
16GB of RAM.
Graphics NVIDIA® Quadro®  RTX A5000 or RTX A6000 for best performance.
Display resolution 4k or above; higher resolution enhances use considerably.
HDU 250G SSD with minimum 10% free space.
What is the Operating System of Fusion 360 and SolidWorks?
The operating systems required for Fusion 360 are: Windows 8.1 (until early 2023), 10, or 11, and macOS 12 Monterey, macOS11+ Big Sur, or macOS 10.15.7 (or newer) Catalina until early 2023. SolidWorks system requirements are more advanced and are listed below:
Windows 11, 64-bit for '22 service pack 2 and beyond.
Windows 10, 64-bit.  
Windows Server 2022 for PDM, SNL Manager for '22 service pack 2 and beyond.
Windows Server 2019.  
Windows Server 2016 end of life at release '23.
eDrawings for Mac macOS Monterey 12.0, macOS Big Sur 11.0 end of life at eDrawings release '23.
MS SQL '16—'19. 
MS Excel and Word '16, '19, and '21—up to release '22 service pack 2.
What Are the Minimum Memory Requirements for Fusion 360 and SolidWorks?
The minimum memory requirements for Fusion 360 are 4 GB of RAM, (though some recommend 6 GB for more stable operation) and 3 GB of free disk space. SolidWorks, on the other hand, needs a minimum of 8 GB; for advanced users, 16 GB is considered sufficient.
What Are the Supporting File Formats of Fusion 360 and SolidWorks?
Table 1 below lists the supporting file format of Fusion 360 and SolidWorks:
For more information, see our Full Guide to 3D Printing Files.
Table 1: Supporting File Format of Fusion 360 and SolidWorks
Fusion 360
SolidWorks

Fusion 360

SolidWorks

Adobe Illustrator

Adobe PDF

Adobe Photoshop

Autodesk Inventor®

ACIS

CATIA Graphics

CADKEY

IFC

CATIA V5

IDF 2.0, 3.0

DXF/DWG files

DXF 3D

3D XML

Solid Edge

eDrawings

HCG

HOOPS

IGES

Mechanical Desktop

JPEG

Parasolid

PADS

ProStep EDMD

Pro/ENGINEER

ScanTo3D

Rhino

STL

STEP

TIFF

Unigraphics

VDAFS

Viewpoint

VRML
Fusion 360 vs. SolidWorks – User Experience
Fusion 360 offers a simplified user experience and faster learning opportunity of basic design tools, making it more user friendly especially for beginners. Fusion 360's workspaces are separated depending on functionalities, which makes the entire screen change according to the user's task. This feature makes it less overwhelming for users who are just starting to understand CAD modeling tools. SolidWorks, on the other hand, has customized mouse buttons and keyboard shortcuts to allow easier workflow. While SolidWorks' UI may be overwhelming for beginners, its advanced functionality makes it the perfect tool for professionals and advanced users.
Learning Curve of Fusion 360 and SolidWorks
Fusion 360 provides basic surface, parametric and direct tools, 2D drawing capability plus printer/CAM, basic rendering, and some simulation tools. Once the user is proficient, the package can fulfill most roles. But proficiency requires steep learning curves, particularly at the start.
SolidWorks has a steeper and longer learning curve, as its functionality is deeper and wider than Fusion 360. However, for basic functionality, SolidWorks is among the easier to learn of the major CAD packages, and users should not be scared off by reputation. Building initial skills require slightly more narrowing of vision, to cut out the high-level skills. SolidWorks' shallow menu structure helps with this.
Is Fusion 360 Easier To Learn and Use Than SolidWorks?
Yes, Fusion 360 is easier to learn and use than SolidWorks. SolidWorks can be an overwhelming environment, whereas Fusion 360 is clearer and simpler to navigate, as there is less functionality.
Fusion 360 vs. SolidWorks – Application Stability
Fusion 360 is a simpler package that puts considerably less stress on hardware and operating system than SolidWorks, making it relatively stable. Crashes do happen, but there aren't wide market complaints about these, so overall Fusion 360 is considered stable.
SolidWorks is a deeply multi-layered package. Some of the advanced functionality can put considerable loading on hardware and memory processes. Users' approaches can also put additional stress on graphics hardware. However, these are mainly issues suffered in more complex operations and more-advanced functions. Early-stage users should take care in setting up auto backups and memory allocations. It is recommended to avoid running ahead of the software as they become more confident to prevent most stability issues.
Fusion 360 vs. SolidWorks – Customer Support
Fusion 360 customer support is generally viewed positively due to the long history of previous Autodesk® software. Like all subscription services, there are reported issues relating to payments going wrong, but this does not appear to be a large-scale problem. Overall, the service is viewed as average, or above. SolidWorks support is widely viewed as responsive and of high quality—but that's meeting the minimum requirements of clients who have paid a lot to license a high-capability tool.
Fusion 360 vs. SolidWorks – Community
There are official and unofficial Fusion 360 user forums that can be very useful in learning and problem-solving. The Reddit community is active and supported, with current discussions on a wide range of topics. SolidWorks has such a long history and a wide user base that the official and unofficial discussion groups, message boards, and forums are extremely numerous. This can make access difficult, as not all are heavily used. However, Reddit groups are active, as are sites like vexform.com.
Fusion 360 vs. SolidWorks – Price
Fusion 360 has a range of pricing, depending on the user's needs. These are: personal, educational, start-up, and full licenses. The personal license is free but with reduced functionality. Both the educational and start-up licenses, on the other hand, are free for up to three years with certain limitations including a revenue limit for the start-up license. For the full license, users are required to pay a monthly fee of $60 for full access to tools.
SolidWorks has a price structure similar to that of Fusion 360. A SolidWorks Standard license costs $3,995, with an annual "maintenance" cost of $1,295. SolidWorks Professional is $5,490, with an annual maintenance fee of $1,495. This includes more advanced functionality. SolidWorks Premium is $7,995, with an annual maintenance fee of $1,995, and this option includes all functionality. Finally, there is a student/academic license that costs $150 per year and has all of the functionality but imprints non-removable watermarks on all output files to prevent commercial use.
Other Alternatives to Fusion 360 and SolidWorks
Many CAD systems overlap in capability, so there's a spectrum of alternatives from freeware to high-end CAD. Some alternatives include:
Catia
Creo Parametric
SolidEdge
Free CAD
Altium (PCB specific)
Summary
This article presented Fusion 360 and SolidWorks, explained what they are, and discussed how each software is used. To learn more about 3D printing software, contact a Xometry representative.
Xometry provides a wide range of manufacturing capabilities, including 3D printing and other value-added services for all of your prototyping and production needs. Visit our website to learn more or to request a free, no-obligation quote.
Copyright and Trademark Notices
SolidWorks® is a registered trademark of Dassault Systèmes SolidWorks Corp.
Fusion 360®, Inventor®, and Autodesk® are registered trademarks of Autodesk, Inc., and/or its subsidiaries and/or affiliates, in the United States.
Disclaimer
The content appearing on this webpage is for informational purposes only. Xometry makes no representation or warranty of any kind, be it expressed or implied, as to the accuracy, completeness, or validity of the information. Any performance parameters, geometric tolerances, specific design features, quality and types of materials, or processes should not be inferred to represent what will be delivered by third-party suppliers or manufacturers through Xometry's network. Buyers seeking quotes for parts are responsible for defining the specific requirements for those parts. Please refer to our terms and conditions for more information.

Team Xometry
This article was written by various Xometry contributors. Xometry is a leading resource on manufacturing with CNC machining, sheet metal fabrication, 3D printing, injection molding, urethane casting, and more.