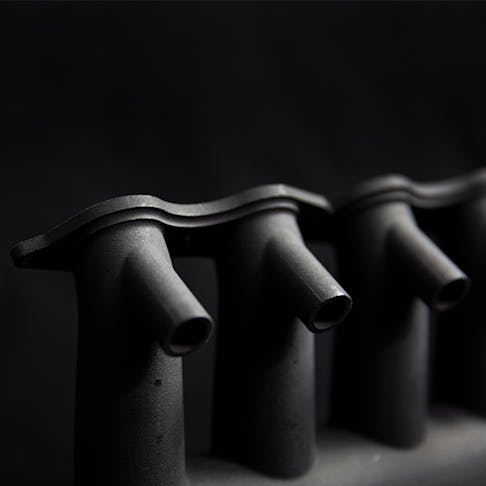 Product Update: New High-Performance Nylon Materials for SLS 3D Printing
Xometry has added four more materials to its lineup of selective laser sintering materials. These are carbon-filled nylon, mineral-filled nylon, aluminum-filled nylon, and nylon 11 EX.

By Serena Ngoh
March 5, 2021
 3 min read
Xometry has added four high-performance 3D printed plastics to its on-demand manufacturing services: Nylon 11 EX (Rilsan® Invent Natural), Nylon 12 CF (PA 602-CF), Nylon 12 AF (PA 605-A), and Nylon 12 HST (PA 620-MF). These materials increase the applications where SLS 3D printing can be used because of their exceptional properties produced by their material blends.
These highly durable plastics complement the already-available Nylon 12 and Nylon 12 Glass-filled (GB) materials at Xometry. All 3D printed nylons boast great feature resolution and a detailed surface finish, with the natural white powders available for color dyeing.
Xometry Partners with Stratasys to Offer New 3D Printed Materials
These new high-performance materials are through a partnership between Xometry and Stratasys.
Benefits of Nylon 11 and Nylon 12 Filled Plastics
Nylon 12 Aluminum-filled (AF) produces beautiful parts due to its high metallic shine, giving it the appearance of cast aluminum. As a result of its aluminum fill, it has good stiffness and thermal conductivity. AF materials are great for showcasing models, automotive underhood mechanisms, rapid tooling, and fixtures. The material is not electrically conductive.
Nylon 11 (EX) is a unique option because it is sustainably sourced from 100% renewable castor oil. This natural white material is very flexible with a high elongation at break, and boasts a higher impact resistance and ductility compared to nylon 12 unfilled variants. Nylon 11 meets USP Class VI biocompatibility requirements and is great for final production components found in cars, trucks, planes, and medical devices.
Nylon 12 carbon-filled (CF) is a carbon fiber-filled variant of SLS nylon 12. The carbon filler increases the stiffness of the material while decreasing the weight and gives the final parts a charcoal color. CF materials are ideal for elevated temperatures and high-performance applications, especially where high stiffness and heat resistance is required. Example applications include sports equipment, wind model testing, rapid tooling, drones, and racing.
Nylon 12 HST is a mineral-filled nylon 12 variant that provides exceptional stiffness, which makes these parts ideal for load-bearing applications. Nylon 12 HST has dimensional stability even at high heat, with a heat deflection temperature of 363° F (184° C) as well as anisotropic mechanical properties. This material is best suited for housings and enclosures, fixturing, aerospace and motorsports, and low- to mid-production parts.
SLS 3D Printing Nylon 12 Carbon Filled (CF) Manifold
Technical Specifications for Xometry SLS Materials
Materials
Common Names
Shore Hardness
Elongation at Break (%)
Impact Strength, Notched (kJ/m²)

Materials

Common Names

Ductile plastic, PA11, Rilsan® Invent Natural

Shore Hardness

Elongation at Break (%)

Impact Strength, Notched (kJ/m²)

Materials

Common Names

High-performance plastic, carbon-filled PA12, PA 602-CF, carbonmide

Shore Hardness

Elongation at Break (%)

Impact Strength, Notched (kJ/m²)

Materials

Common Names

Metallic gray plastic, aluminum-filled PA12, alumide

Shore Hardness

Elongation at Break (%)

Impact Strength, Notched (kJ/m²)

Materials

Common Names

Heat-resistant plastic, mineral fiber-reinforced PA12, PA 620-MF

Shore Hardness

Elongation at Break (%)

Impact Strength, Notched (kJ/m²)
SLS Nylons Mechanical Properties Comparison Chart
How to Get a 3D Printing Quote in SLS Nylon
Step 1: Upload your 3D model to the Xometry Instant Quoting Engine℠
Step 2: Click "Modify part" and under process, choose "SLS" from the drop-down menu.
Step 3: Select your material and add any features or notes.
Step 4: Review your price, lead time, and specifications before heading to checkout.
SLS Nylon New Materials in the Xometry Instant Quoting Engine℠

Serena Ngoh
I write about Xometry and all things manufacturing. You might also see me hosting webinars, designing infographics, producing videos, and working directly with customers to tell their manufacturing success stories.