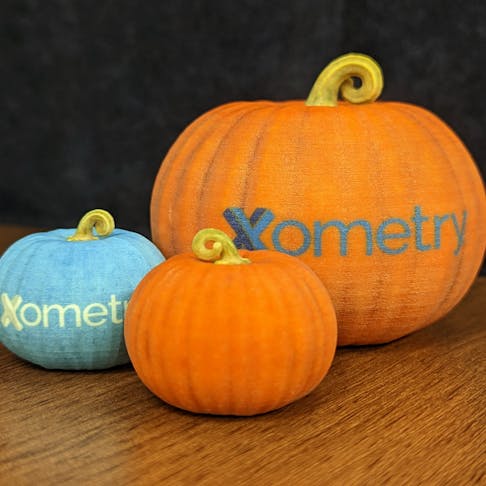 We 3D Printed a Perfect PolyJet Pumpkin Patch
To celebrate the spookiest time of the year and recent improvements to our 3D printing service, we made an adorable pack of PolyJet Xompkins.
By Nathan Miller
October 27, 2022
 3 min read
Xometry: Where Pumpkins are 3D Printed
At Xometry, we have a soft spot in our hearts for additive manufacturing. Thanks to the design freedoms inherent in the 3D printing process, you can build almost anything, from functional prototypes to flame-resistant end-use parts used in the aerospace and automotive industry. Thanks to recent improvements to our PolyJet 3D printing service, you can now print parts in full, gorgeous color.
PolyJet technology is known for its customizable material properties and excellent surface finish, helping you create detailed and smooth prototypes. Unlike traditional manufacturing processes, PolyJet allows manufacturers to customize material properties and supports various photopolymer options that can simulate a variety of different end-use materials. Combined with PolyJet's high accuracy to CAD files and its overmold capabilities, this manufacturing process is a favorite for rapid prototyping, rapid tooling, and creating concept models. 
Thanks to the latest generation of Stratasys PolyJet equipment, we offer a full-color, high-quality 3D printing service in addition to our existing black, white, translucent, and grayscale offerings. With over 600,000 available colors, Xometry can print full colors using 3MF and other 3D CAD formats.
To test our new equipment and celebrate the spookiest time of the year, we decided to print 14 colorful PolyJet pumpkins that we affectionately refer to as "Xompkins". We started by modifying a textured 3D model to print the colorful creations. The texture files were edited to produce variations so we print traditional orange pumpkins and blue ones! In addition to modifying the colors, we also added the Xometry logo to the texture. Finally, the models were loaded into our build preparation software, where we chose two sizes to print, roughly 3"x3"2" and 1.5"x1.5"x1" respectively.  The Tompkins took a total of 12 hours to print and used 1,291g of build material and 459 g of support material. This full spectrum print primarily used Vero CMYK, white, and clear materials.
In this video, you can see our PolyJet technology in action. PolyJet 3D printed parts are built using photopolymer liquid resin. The printer uses specialized printheads to jet extremely fine layers of photocurable resin onto a build tray, somewhat similar to an inkjet printing process. . As the layers are placed, they are simultaneously cured via exposure to an ultraviolet (UV) light, solidifying them into solid material matching the programmed CAD file. This process repeats itself layer by layer until the entire part has been constructed.
If you want to order your own full-color 3D printed parts, Xometry makes it easy. Simply follow these 4 easy steps:
Head to the Xometry Instant Quoting Engine®, upload your colored or textured 3D part file (3MF file formats are preferred), click "Modify," and select the "PolyJet" process.
In the "Materials" module, select "Custom." When prompted for your desired material, please write in your needs for full color.
Use the "Notes" section for any additional comments. You can also upload a technical drawing.
Once you finish configuring your parts, click the "Request A Manual Quote" button on the quoting page to submit your request.
After you submit your quote, our quoting team will send you an email with pricing and lead times by the next business day. And, if you'd like to see more of our Halloween highlights, check out this video where we CNC machined a pumpkin. And, if you want to learn more about the PolyJeyt 3D printing process, explore our article "All About PolyJet 3D Printing: Advantages, Materials, and Different Types."
Nathan Miller
Hi, I'm Nathan, a Marketing Content Writer at Xometry; I help tell the stories of our customers and how Xometry helps them build their big ideas.