Resources
Case Studies
Case Study: Awake Window and Door Co. Uses Xometry Molding to Build Plastic Components for Its Flagship Multi-Door System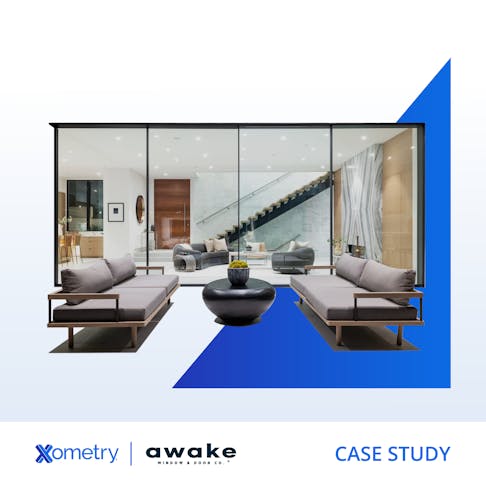 Case Study: Awake Window and Door Co. Uses Xometry Molding to Build Plastic Components for Its Flagship Multi-Door System
Learn why this American window and door manufacturer is using Xometry's injection molding service to bring innovative designs to its luxury products, advancing its industry and their social mission to lower prison recidivism through fair-chance employment.
By Nathan Miller
July 25, 2023
 9 min read
At a Glance
Industries
Manufacturing Services Utilized
Project Brief
Solution

Industries

Window and door architecture

Manufacturing Services Utilized

Project Brief

American manufacturer Awake Window and Door Co. needed to design high-quality, durable window and door products for luxury buyers and architects to stand out in the fenestration industry and promote their social mission of reducing prison recidivism.

Solution

By working with injection molding design experts from Xometry, Awake was able to integrate innovative, cost-effective plastic components into their designs, producing elevated products that are earning adoring fans in the luxury home space.
Providing industry-leading window and door products, Awake Windows and Door Co. set a new standard for price and quality in the luxury home space. The U.S.-based manufacturer makes window walls, multi-slide doors, casement and awning windows, patio doors, hinged doors, pivot doors, and gas strut awnings, helping customers enjoy the outdoors from the comfort of their homes. 
In fact, Awake wants to expand everyone's view, so we can all see a little more clearly. Awake provides products that enhance gorgeous views with unobstructed window sightlines for architects, buyers, and luxury homeowners. And for the broader business community, they hope to demonstrate how fair-chance employment is a practical, compassionate way to reduce prison recidivism while still building an industry-leading company.
Let's explore Awake's innovative approach to product design, missional hiring practices, and how Xometry's injection molding services are helping the company build its big idea.
"It is our sincere hope that Awake serves as a shining example to the business community to consider fair-chance employment as a strategic solution for their hiring needs," said Scott Gates, CEO and Co-founder of Awake Window and Door Company.
"Awake is a thriving company manufacturing exceptional luxury products, and we are doing it with a team that simply needed an employer to see them for their future potential instead of judging them for a past mistake," Gates explained, speaking of the company's mission to hire formerly incarcerated individuals. "We hope that other companies will follow our lead and be a part of the solution for the recidivism and incarceration challenges facing our country."
Today, many American manufacturers report that it is challenging to find workers that possess the manual, technical, and operations skills they need. In fact, 82% of manufacturers are experiencing a labor shortage, according to the 2023 Career Advancement for Manufacturing Report, a benchmark study that Xometry created in partnership with the Women in Manufacturing Association (WiM).
At the same time, many of our nation's working-age adults are imprisoned. While the US has 4% of the world's population, it holds 25% of its prison population. This is partly because 50% of those formerly incarcerated are sentenced back to prison within just 5 years. 
It is estimated that mass incarceration costs taxpayers $182 billion a year. And it's projected that vacant manufacturing jobs may cost the U.S. economy $1 trillion in 2030.
To combat this issue, Awake co-founders Scott and Maria Gates, John Engelstad, and Andrew Darr built a business that would not only provide fair-chance employment to a struggling population but also provide the skills, pay, and upward mobility needed to break the prison poverty cycle.
"We believe these men and women are capable of so much more, including building the best window and door products in the market. Together, with you, we'll create careers, break cycles of poverty, and help give a meaningful fair chance to those who need it most," said Andrew Woods, a marketing specialist at Awake Window and Doors.
Guided by a love for its products, mission, and a willingness to challenge the status quo, Awake began designing new window and door products that would set it apart. With help from Xometry's injection molding design experts, Awake was able to set a new standard for their industry with the integration of cost-effective, durable, and high-end plastic components in their flagship product.
The window and door industry is one of the oldest in the world. As long as people have had homes, they have needed a way to keep the elements outside. Today, architects of luxury homes and buildings face a new challenge: creating structures that are inspiringly beautiful while remaining reliable and affordable.
So, how does Awake address this modern dilemma?  
"Awake is fully committed to rejecting the complacency that is often found in our industry," said Woods. "Just because a problem is hard to solve doesn't mean it shouldn't be done. Whether we are engineering door panels that can be built 16 feet wide x 16 feet tall, reducing sightlines to only ¾ inches wide, or simplifying installation and manufacturing processes to improve quality, we are committed to providing state-of-the-art products that will be loved by architects, buyers, and homeowners."
To get a peak behind the curtain, Dustin Wright, VP of Engineering and Design at Awake, explained how the integration of Xometry-produced plastic components are revolutionizing Awake's flagship product; its glass multi-slide door system, which offers five different sills, four different interlocks, and two innovative lead stiles that give design flexibility. 
To support these large glass windows with impressive skylines, the Awake engineering team needed to design a multi-slide door roller carriage that could carry up to 300 pounds. Typically, the design of these rollers creates an expensive, complex system that is difficult to put together. Awake needed to find a way to improve the product by making it affordable, more durable, and easier to assemble. 
Wright and his engineering team decided that introducing injection-molded components into their design would help them satisfy each requirement. He explained how they came to this realization by drawing from an unlikely source of inspiration — the aerospace industry.
"When you look at the history of planes, you'll notice that they were getting bigger and bigger over time. Naturally, as planes got bigger, their landing gears needed to get bigger as well. The industry realized that, instead of having one big tire for the landing gear system, they could more easily and cost-effectively distribute the load by using multiple smaller tires," explained Wright.
"We found a similar solution that could be used in our own industry by innovating on the typical roller design with this multiple small wheel design philosophy; rather than producing one or two large and expensive components, we were able to use injection molding to create a significantly better product by adding a little bit of design complexity."
A component used in Awake's roller carriage design which was injection molded by Xometry.
By working with Xometry injection molding design experts, including their technical case manager Ben Limon, the Awake team received prototypes for these components quickly. The final design of their flagship product allowed them to integrate smaller, affordable plastic components instead of integrating one or two large and expensive sheet metal stamped components commonly used in the fenestration industry. And by using 30% glass-filled nylon material, they were able to build durable parts cost-effectively.
"We wanted something that was going to be able to respond well to those high shock loads that can occur if the part is dropped or encounters some kind of impact," said Wright. 
He further explained why these components needed to be able to endure a variety of high-stress environments: "Some of these systems get installed in high altitudes as well in very cold climates. This winter, we had some systems that were being installed and are being used at sub-zero temperatures. We need something that is UV resistant and has the ability to handle those wide temperature ranges while at the same time avoiding any creep or deformation challenges that can occur when injection molded parts aren't optimally designed." 
"We asked ourselves, 'How do build something innovative like this?' You select an industry-proven material, and you work with an industry-proven vendor that will help you solve problems."
Dustin Wright,
VP or Engineering and Design at Awake Window and Door Co.
Xometry engineers helped provide design for manufacturability feedback that improved Awake's product design by removing slides and complicated gating features. We also helped them meet challenges to achieve tight injection molding tolerances that are uncommon in the fenestration industry. 
"For our industry, a lot of suppliers are commonly making parts at plus or minus a 1/64th of an inch or a 1/6th millimeters. We're asking for three-thousandths of an inch [0.003"] on some of the tolerances for these components, which meant we had to pivot towards suppliers that are more comfortable working with automotive and aerospace-based suppliers—engineers that speak a language that's a bit different than what the fenestration industry is really used to," said Wright. "That's where Xometry engineers were able to lend a lot of our key advice, specifically around achieving our desired feature."," said Wright. "That's where Xometry engineers were able to lend a lot of our key advice, specifically around achieving our desired feature."
Xometry is one of the world's largest digital manufacturing marketplaces, helping companies from around the world bring their big ideas to life. We are trusted by NASA and 85% of Fortune 500 aerospace companies as well as BMW and 55% of Fortune 500 motor vehicle and parts companies. We meet stringent quality standards; we are ISO 9001:2015 and AS9100D certified, and we comply with International Traffic in Arms Regulations (ITAR).
Xometry provides expertise, guidance, and options to satisfy the plastic production needs of any customer from any industry, from automotive to fenestration. No matter where you are in the injection molding process, from prototyping to mass production, Xometry can help you get the parts and feedback you need to succeed.
While you can bring us your project at any stage, we always encourage our customers to contact Xometry in the early stages of ideation and prototyping. When you partner with us from the beginning, we can help you plan for success by providing relevant design for manufacturability feedback. 
Scaling up your injection molding order is an iterative process. When you go from pilot to mass production, our injection molding team helps simplify your experience and guides you through the process. Our sales and industry professionals know your needs, empowering you to confidently hit your scope and budget.
In addition to the components produced for the multi-slide door carriage, Awake also makes components for other parts of their multi-door system, like their interlocking seals and carriers, which hold seals within the moving panel in their multi-door system, as well as plastic pieces used in their single roller system. 
The mold tools that Awake designed with Xometry's guidance profoundly impacted their business model, according to Neal Rabuse, a senior supply chain analyst at Awake.
"I did a supply chain comparison of all of our injection molded components: time and time again, Xometry beat other injection molding suppliers. After I realized this, I sent out a company-wide mandate that if it is injection molded, we need to order it with Xometry."
Neal Rabuse,
Senior Supply Chain Analyst, Awake Window and Door Co.
Explore How Other Companies Are Building Their Big Ideas With Xometry
Other companies have used Xometry's injection molding service to build their big ideas. Check out these additional case studies that showcase customer success, including:
Nathan Miller
Hi, I'm Nathan, a Marketing Content Writer at Xometry; I help tell the stories of our customers and how Xometry helps them build their big ideas.