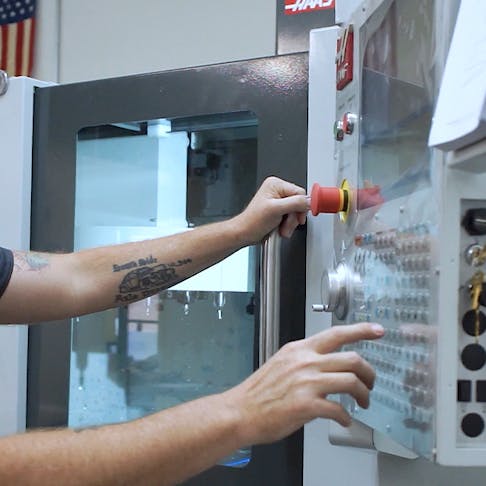 Case Study: Machine Shop Owner Finds a Livelihood Through Xometry
Arizona-based machine shop Todd White Metal Works started with just one machine in a garage and a couple of jobs a month. Now owner Todd White has a full-fledged machine shop, a passion for his work, and financial security for his family of five.

By Serena Ngoh
September 18, 2020
 5 min read
The Challenge
Todd White was struggling.
He had experienced career highs at an engineering firm as a machine operator, machine programmer, and then engineer before joining a startup. When the startup went belly-up, White relocated his family from Temecula, California to Surprise, Arizona in hopes of building a career again in the engineering job market.
The very moment my guy told me about Xometry, it gave me hope.
Todd White,
Owner and Machinist at Todd White Metal Works
But, suffice it to say, Surprise, Arizona, offered nothing but rude awakenings for White as an on-the-job trained engineer and sole provider to a family of five. As stable job leads grew colder, White was faced with one odd job after another and struggled to support his family. At the time, White felt hopeless and "ready to run away from everything."
White asked his contacts for help and, eventually, one suggested Xometry. That's when his luck began to change.
The Xometry Solution
White had purchased a Tormach PCNC Mill while working at the startup and realized the capital he invested in the machine could translate to work through Xometry's Partner Network.
He applied to be a Partner by filling out his machine shop profile and soon begin the onboarding process. One week later, Todd White Metal Works was officially approved to begin taking CNC jobs.
It was overwhelming. I wanted to try it all. I took jobs and continued to learn and grow as I worked.
Todd White,
Owner and Machinist at Todd White Metal Works
White vividly remembers getting his first check: "I remember I made $135 off my first job. That would have taken me one full day doing some odd job, like setting pigeon spikes on a roof. Now I can make that in an hour with very little effort." The influx of jobs remained steady as he continued to take machining jobs from customers across a wide variety of industries.
A Perfect Partnership with Xometry
With a log-in, White has access to a job board that allows him to see all the jobs that are matched with his shop's capabilities and can simply click a button to accept the ones that are the best fit for him. Each day, White automatically gets a notification with all the open jobs that match his preferences and shop capabilities.
White cites flexible hours, on-time and high pay, and ease of platform use as upsides to working with Xometry. "I can work as little or as much as I want, which means I can spend more time with my family or take on more jobs if I need the work," he says. "Xometry gives you the flexibility and opportunity to do whatever you want."
The frequency and types of jobs that appear depend on a Partner's PSS, or Partner Success Score. This score, calculated out of 100, uses multiple quality and timeliness metrics for each completed job. White appreciates having a score because it provides him a way to gauge the quality of his work.
Once, when White took a job working with an unfamiliar material and was at risk of late delivery, he reached out to the Xometry Partner team and admitted, "I bit off more than I could chew."
The job was promptly redirected to another Partner and White's PSS fell to 68. White recalls his conversation with the Partner team as "professional and nurturing," driving him to improve his machining abilities and eventually achieve a PSS of 98.
The humble beginnings of Todd White Metal Works machine shop
As White takes Xometry jobs, he continues to develop his skills and passion for machining. He learns from NYC CNC, a Xometry customer, Partner, and Youtube star, and has joined a CNC machinist weekly meet-up to collaborate with local machining professionals. He attends all local tradeshows and reads Xometry case studies to learn about new projects and hardware applications.
As a result of Xometry's high Partner standards, White now wields powerful expertise and confidence for parts ranging in application from flow testing to simulation design. He continues to push himself toward a higher bar by machining ever lower tolerances and higher precision parts, with the goal of taking complex aerospace and defense jobs.
White keeps failed parts—those that would not meet Xometry's machining standards—as a daily reminder of the ways he can do better and improve. "I hold Xometry in a place where I'm always grateful for what you guys have done for me. I want to do the best to represent you guys well."
A Future with Xometry
After just one year of working with Xometry, White has saved enough to invest in a more powerful CNC machine—The Haas Super Mini Mill 2—as well as 1200 sq. feet of shop space. The new, more efficient machine is a small step towards what White sees as a huge business opportunity for Todd White Metal Works.
A spacious new workspace for Todd White Metal Works, enabled by the business growth of the machine shop through the Xometry Partner Network.
White models his business projections after data from the Small Manufacturing Index (SMI). This report shows steady quarter-over-quarter growth for over 190,000+ small- to medium-sized manufacturers, which White sees reflected directly his steadily increasing paychecks. He notes that his machinist friends who work under traditional, manufacturer-to-customer manufacturing models have started to see business slow down. To this, White says, "They aren't keeping up with the times. The Xometry platform is amazing, and it's going to be the industry standard."
At present, White couldn't be more thankful for the opportunity to advance his career, support his family, and find passion in his work.
You guys are more than just a manufacturing platform. You're family.
Todd White,
Owner and Machinist at Todd White Metal Works

Serena Ngoh
I write about Xometry and all things manufacturing. You might also see me hosting webinars, designing infographics, producing videos, and working directly with customers to tell their manufacturing success stories.