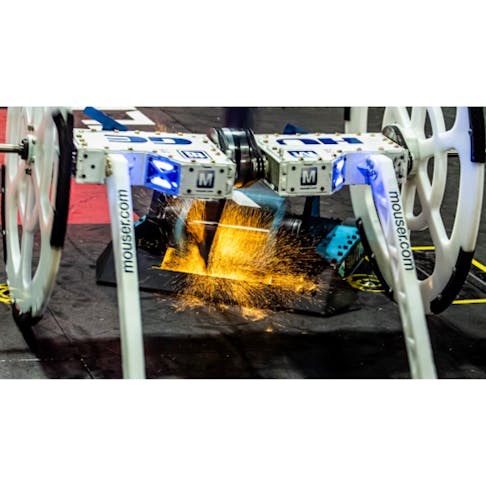 Case Study: BattleBot "Riptide" Lives to Fight Another Day, Thanks to Xometry
Rookie Ethan Kurtz and his team make their debut in the 2022 season of BattleBots, thanks to formidable CNC machined parts and a well-earned sponsorship from Xometry.
By Nathan Miller
January 4, 2022
 8 min read
At a Glance
Industries
Manufacturing Services Utilized
Project Brief
Solution

Industries

Manufacturing Services Utilized

Project Brief

Ethan Kurtz wanted to create a killer BattleBot but lacked the network, the funding, and the necessary materials to make it a reality.

Solution

With the help of Xometry, Ethan  gained access to a broad network and gained CNC machined parts that could withstand the brutal competition of the 2022 season of BattleBots
Riptide is Ready to Make a Splash in the Next Season of BattleBots
If you are like most people, you probably participated in a couple of extracurricular activities in high school. Perhaps you played for the school marching band or ran for the track team. We would assume that you probably didn't participate in many fighting robot competitions. Most young people don't. Ethan Kurtz is not like most young people.
Ethan Kurtz is the captain of the Riptide BattleBot team. Their "Riptide" BattleBot will make its premiere appearance in the upcoming season of BattleBots. Xometry is proud to sponsor Riptide, and we hope the power of our network and the strength of our CNC machined parts will help them bring home the gold in the 2022 season of BattleBots.
Born to Build. Born to Fight.
Ethan is a 20-year-old young man studying mechanical engineering at the University of California Riverside. His love for fighting robotics began in high school, where he took home the gold multiple times in the "VEX robotics" competition. This competition gave Ethan his first experience creating a robot. There was no CAD File to help simplify the process for him. He made his first robot by hand out of aluminum. It didn't have a name, but Ethan would have named it Ripple in retrospect. This tiny ripple would later grow to a crashing wave in Riptide.
His most thrilling victory came after winning the California state championship with a bit of grit and ingenuity. It was a triumphant and exhilarating end to his high school robotics career. Unfortunately, this excitement would be short-lived. The day of the competition took place on March 28, 2020. Like the rest of the world, Ethan began to encounter some unexpected disruptions. As the Covid-19 pandemic started to rise in the United States, Ethan found himself switched to remote learning to finish his Senior year. This switch to online education would continue as he started his first year as a freshman in college.
Ethan tried to focus in online classes but found it hard to concentrate. His mind kept drifting. He wanted to continue that high school winning streak, and he wanted to ride that wave of momentum to compete in the quintessential show for fighting robots; BattleBots. It wouldn't be easy, but he knew he would need to get back in the ring. Ethan began participating in local competitions with 3-lb bots. He would need all the mechanical and fighting experience he could get if he hoped to qualify for the show. As his skill and confidence grew, his pursuit would lead him to create Riptide. It would also lead him on a collision course with Xometry. 
Xometry and Riptide Collide
When Ethan first tried sourcing parts for his BattleBot, he had no network of machinists to source his parts. This was a big problem. Successful teams need networks to survive the fierce competition. Ethan tried ordering a couple of tiny parts from a local shop but knew this wouldn't be sustainable. Thankfully, he had heard of Xometry through word of mouth, and after seeing how much money he could save with our Fusion 360 discount, he decided to give us a try.
"When you are operating on a low budget, as many of these BattleBot teams are, every penny is needed."
Ethan Kurtz,
Riptide Team Captain
Ethan decided to order from one of our international suppliers in China to get affordable, high-quality steel parts. Soon after that, Ethan began reaching out to us, pitching a potential sponsorship agreement. We couldn't be more thrilled to sponsor him. Xometry is always looking for opportunities to support young engineers.
Xometry's Network Empowers Young Engineers
Ethan's story is extraordinary, but his struggles were far from unique. Before the digital manufacturing revolution, you had to know many machine shops with various capabilities to get needed custom parts. This process was exhausting, expensive, and time-consuming for all engineers, but it was especially challenging for young engineers. Without decades to build up the right network, young engineers had to fight an uphill battle to get every part they needed. This aging process costs more than just money. Without a network, young engineers have less capacity to get the parts they need, which gets in the way of their learning, growth, and creativity. When a generation of innovators and change-makers are stifled, we all suffer.
Ethan built Riptide by ordering 80% of custom parts through Xometry. For example, Riptide's aluminum frame was made exclusively by Xometry. The whole frame is made of 6061 aluminum. Its high strength-to-weight ratio and affordable pricing make it an ideal material for the frame. Ethan loved how he could build the entire frame by just uploading a CAD file using the Fusion 360 add-in. He also ordered a variety of 6061 aluminum v-belt pulleys from us because his parts needed to be complex, accurate, and sourced from various machining operations. This complexity was something his local machinists simply couldn't provide. After placing his order, everything he needed came around the same time, and all the pieces fit together well.
Custom geared sprockets produced through Xometry
Riptide also required several custom 7075 aluminum sprockets for its drive train. He needed aluminum sprockets to save weight on the robot and ensure that they would withstand a combat environment. Ethan chose 7075 aluminum because it has a higher tensile strength than 6061 aluminum. This part needs to be highly accurate so that the chain can move around the sprocket smoothly. Xometry didn't disappoint, as the chain fit perfectly on the first try!
A vital part of Riptide's design is the shaft that secures the weapon bar. This part required a special touch, as it had a number of design requirements. The shaft diameter needed to be within +-0.0005" of variance, it required thread on either side of the shaft, and it needed to be made of titanium. Ethan would have never been able to get this part from a local machinist. Thankfully, with Xometry's network of machinists, he ordered it with ease. Ultimately the shaft held up extremely well in its initial BattleBot brawl. We also provided spares for future fights, just in case.
The drum spinner is a fast rotating bar of steel that spins within Riptide. While it may not appear as intimidating as other larger weapon systems this season, don't let that fool you. Despite its small size, it packs a mean punch. Riptide's Drum spinner is one of the most strategically sound and hardest-hitting weapons in the BattleBot arena. The 13" by 13" bar rotates at 188mph, forming a drum shape. Because the weapon system covers such a vast area, it can approach robots from any angle allowing the weapon to excel in various combat scenarios. This impressive weapon allows Riptide to stand up to many opponents, including the BattleBot appropriately named "HUGE". The drum spinner's width allowed it to attack HUGE's blade from the side instead of taking it head-on.
The drum spinner owes much of its strength to its steel construction. In the history of combat robotics, steel has been finicky and unpredictable. It can be challenging for anyone to get high-quality steel that can withstand punishment in the BattleBots arena. This challenge can be even more daunting for a college student on a budget. Ethan didn't have money to spare, and he knew he needed access to high-quality steel 4140. He ordered from one of Xometry's more affordable suppliers in China. Ethan was concerned that the steel wouldn't be tough enough for the trauma it would endure in combat. After Ethan received his steel, he took it to a local machine shop to get it hardened. Once he began to test the steel, it kept its tolerances and performed beautifully! We hope it will carry him to victory this season.
Riptide's weapon bar helps it best teams with faster weapons by controlling the flow of the match. The width and strength of the bar allow it to fight aggressively and gives Ethan a comfortable margin of error during combat. The strength of the hardened 4140 alloy steel allows Riptide to aggressively pursue the opponent and endure hits that would snap the weapon bar if it were made from a lower-quality metal.
The Future for Riptide
Ethan is looking to optimize the Battlebot by making it easier to repair. Ethan also hopes to increase the drive and weapon systems' power and make Riptide more compact. Thankfully, he is getting assistance from fellow Xometry sponsored Battlebot team HyperShock. Together, they hope to push the power limit of their motors to perform better in future matches. 
We can't wait to see how Riptide performs this year! If you want to keep up with the Riptide team, we encourage you to follow them on Instagram. And while you are here, feel free to explore xometry.com! We do a lot of great work with the robotics industry. Check out some of our related resources; we recommend reading our case study for HyperShock or listening to our Webinar "Tackling Tolerances and Drawings for Machined Parts."  
*Xometry is not a sponsor of nor affiliated with the BattleBots, Whalerock, or Discovery Network brands.
Nathan Miller
Hi, I'm Nathan, a Marketing Content Writer at Xometry; I help tell the stories of our customers and how Xometry helps them build their big ideas.