Resources
Case Studies
Case Study: iClick Avoids a $13,000 Repair With a $20 SLS 3D-Printed Part From Xometry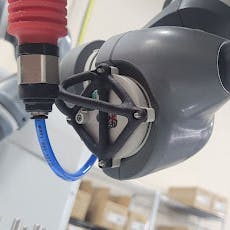 Case Study: iClick Avoids a $13,000 Repair With a $20 SLS 3D-Printed Part From Xometry
Learn how iClick used Xometry's SLS 3D printing service to make affordable, long-lasting parts that both enhance and safeguard its robotics-enabled assembly line.
By Nathan Miller
July 24, 2023
 9 min read
Industry:
Manufacturing Services Utilized:
Project Brief
Solution:

Industry:

Commercial Products

Robotics

Manufacturing Services Utilized:

Project Brief

Promotional product company iClick needed to find multiple ways to keep costs low in an industry where margins strongly affect the bottom line. This task became even more difficult when a robotic arm manning their PopGrip assembly line broke, and production came to a screeching halt.

Solution:

Xometry — which had already produced multiple 3D-printed parts integral to the company's robotic arm assembly line — helped iClick quickly source a custom mount for its robotic arm, reducing production downtime. This $20 SLS 3D printed part from Xometry kept the company from having to pay for a $13,000 replacement arm.
iClick Helps Companies Advertise on the World's Most Valuable Real Estate
"The back of a smartphone is some of the most valuable real estate you can get for brand impressions. The average person checks their phone an average of 350 times per day. Our goal is to get your brand front and center on products that the recipient will want to use every day," says iClick's principal engineer Dan Kaufman.
In order to stay ahead in a competitive global economy, many companies are willing to pay a pretty penny to keep the attention of their customers. Earlier this year, J. G. Navarro from Statista calculated that "the total advertising expenditure in North America in 2021 amounted to about 297.5 billion US dollars," a figure that dwarfs the GDP of most countries in the world. 
Promotional product supplier iClick bridges the gap between advertising and the digital age. By specializing in mobile tech products, iClick helps customers capitalize on marketing efforts by placing company brands on products end-users want and need to use every day. This simultaneously increases brand recognition and brand longevity as these mobile tech products are some of the most valuable pieces of real estate in modern life.
While iClick sells a variety of mobile tech products, from USB flash drives to wireless chargers, the PopSockets PopGrip is their most popular product. A PopGrip sticks flat to the back of your phone, tablet, or case, encouraging a more comfortable and secure way to hold your device when texting and taking pictures. Dually functioning as a media stand, you can set your phone down to binge your favorite show or video-chat with a good friend.
The back of anyone's phone is prime real estate for any promotion. Every time a PopGrip user reaches for their device, they're reminded of the company associated with their branded PopGrip — either with a name, logo, or slogan. This helps the user build a stronger association with the brand over time while also heightening brand visibility. Over a branded PopGrip's lifetime, it can earn invaluable brand impressions.
"iClick's goal is to make our distributor customers look like heroes. By providing products that solve everyday problems, we create a positive association for brands with products customers will love," says Kaufman.
In pursuit of its goal, iClick has to contend with many of the challenges common in the promotional product industry. For example, potential customers often will spend thousands of dollars for a targeted digital ad without hesitation but may pause and reconsider if the price of their company swag goes from $10.00 to $13.50 per unit. Since these items are purchased in bulk, companies like iClick must make a profit by keeping the production process as fast and affordable as possible.
To keep costs low, iClick utilizes a dual-arm collaborative robot assembly that picks, places, and bags the PopGrips automatically. This 28-axis assembly is able to accomplish as much work as four people working continuously without breaks.
The engineering team at iClick, led by Kaufman, is always looking for ways to optimize this automated assembly system. One of its favorite methods is to use Xometry's 3D printing service to create custom parts and jigs that enhance their workflow across multiple stages of production. 
Kaufman has been using Xometry since 2016, when Xometry was still small.
"We have a long history with Xometry. I really like their instant quoting interface and the automated DFM feedback it provides. I always use it to check for things like thin wall areas. I appreciate the good user experience," says Kaufman. "Xometry has always provided reliable parts that have never needed to be replaced."
The PSPP handle with its button holder
When asked which of his Xometry-produced parts was his favorite, Kaufman points to a tool with 3D-printed pieces lovingly called the "PopSocket picker placer" or PSPP for short. The PSPP is used to pick anywhere from 2 to 20 PopGrips at a time out of their printing jigs. The selective laser service (SLS) prints on this part included creating custom SLS handles with mounting points for a button and SLS-printed end caps to create a vacuum-tight seal. Utilizing Xometry's SLS service, this tool enabled iClick to cut the time to remove PopGrips from a fully loaded jig from 40 minutes to 5 minutes.     
In addition, Kaufman and the iClick team use Xometry's selective laser sintering (SLS) 3D-printing service for a variety of assembly line enhancing functions, including two unique parts (for a total of four) located on the robotic arm systems. The first is what iClick calls a "carding jig" where the robots slide the backer card onto the PopGrip. Second is the "chute" that both robots drop the product through into an outfeed that sorts up to 8 unique orders. Xometry also CNC machined silver trays, which present the PopGrip to the robots to then be processed through the system. Each tray holds 200 PopGrips, and each system can hold a total of 8 trays. 
SLS is a powder bed 3D-printing technology that produces highly accurate and durable end-use parts. This additive process offers many different benefits, including design flexibility, material diversity, rapid turnaround, overall durability, and affordable pricing for low-volume production.
Kaufman discovered that he could not only use SLS to produce parts used to enhance the daily functioning of the assembly line but also to create quick solutions when unexpected challenges arise. He realized this firsthand when the airline in the robotic arm assembly broke, causing a dramatic slowdown in PopGrip production.
Demo of Xometrys SLS printing instant quoting
The robotic arms iClick uses in its PopGrip assembly line have an internal airline that provides air to the robotic arm's SmartGrippers. These SmartGrippers provide a vacuum to pick up both the PopGrips and Cards. When this internal airline broke, production came to a standstill due to a loss of vacuum in the SmartGrippers. The iClick team immediately tried to repair it themselves. Unfortunately, they were unable to do so and determined they would have to replace it entirely. The original manufacturer quoted them $13,000 to fix it.
Kaufman and his team determined that they could use SLS 3D printing to circumvent this costly replacement by creating their own vacuum system and mount. This mount would secure the airline with vacuum-sealed grippers. This mount needed to exactly match the original distancing of the robotic arm to keep the assembly arm functioning under its standard configuration. 
The SLS 3D printed mounts for the dual-arm collaborative robot assembly line
By taking advantage of the design accuracy and complexity possible with SLS printing, Kaufman and his team were able to source mounts that met their exact specifications. By comparison, these designs would not have been possible with other 3D-printing processes like FDM printing or subtractive processes like CNC machining.
Having already purchased a variety of SLS 3D-printed parts from Xometry, iClick knew it could receive affordable, reliable parts very quickly. By equipping the robotic arms with these $20 Xometry-produced mounts, the iClick team saved $13,000. 
In fact, in a follow-up interview, Kaufman reported, "Actually, since we last spoke, we had another arm airline break. The only reason we didn't have to buy brand new arms is that we were able to quickly reorder the mounts SLS from you." 
At Xometry, we love seeing how our customers use additive technologies to build their big ideas, from plasma-resistant satellite thrusters to prototype parts for robotic restaurants. Not only is 3D printing fast, affordable, and flexible, but it is also vital to the success of US manufacturing. The Financial Times spotlights how Xometry's 3D-printing service, as well as additive technology more broadly, is providing future stability for the US manufacturing industry.
Go Green With Your Own Free Xometry Pop-Grip
Historically, the promotional product industry hasn't placed a large emphasis on environmental sustainability. Company-branded products do not have a long shelf life, and while many of these products are donated, others will, unfortunately, end up in landfills. These sustainability concerns are partly why iClick chooses to produce mobile tech products exclusively. 
"Users tend to use and hang on to mobile tech products much longer than your average promo item, which translates to longer lifecycles and fewer products going into landfills. iClick has recently become the first and only mobile tech supplier to bring verified-recycled content products to the promo market in the mobile tech category," says Kaufman.
At Xometry, we are committed to doing business sustainably. That's why we are excited to partner with iClick to offer you your very own free Xometry PopGrip. By filling out this short form. you'll receive a Xometry Pop PlantCore, an environmentally friendly PopGrip made with 35% plant-based material.
What's Next for iClick
Launched in 2001, the Seattle-based company is continuing to innovate. Today, the award-winning tech supplier has a full range of new products, including wireless chargers, power banks, digital business cards, and audio and desktop products. Dedicated to serving its clients, iClick's recently launched Eco-friendly Series is making sustainability more accessible. 
To learn more about how you can unlock the full potential of additive manufacturing, take our free, interactive course called "Principles of 3D Printing Design for Industrial Engineers." You'll learn from the experts at Xometry about how to select the right 3D-printing process for your next big idea, as well as design tips that you can implement when creating your own 3D models.
To source your own custom parts, Xometry can always help with your specific SLS needs. Our wide network of vetted machine shops offers a range of dedicated quick-turn SLS partners with a variety of high-quality finishing and material capabilities and many types of sintering systems. Finishing options available include color dyeing, sanding, painting, and plating to meet your needs. From low-volume prototyping to high-volume production, Xometry can help you source the parts you need on time and at a competitive price.
Learn more about SLS 3D printing by downloading our free SLS 3D Printing Design Guide. And, when you are ready to build your next big idea, head to the Xometry Instant Quoting Engine® to order high-quality 3D-printed parts.
Nathan Miller
Hi, I'm Nathan, a Marketing Content Writer at Xometry; I help tell the stories of our customers and how Xometry helps them build their big ideas.