Resources
Case Studies
Volunteer at Historic Lighthouse Reveals the Magic of Optics with Xometry Custom Parts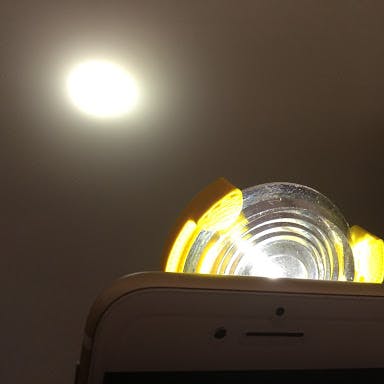 Volunteer at Historic Lighthouse Reveals the Magic of Optics with Xometry Custom Parts
A volunteer at the 131-year-old Point Sur Lighthouse in Big Sur, California, used his expertise in optics engineering to build Fresnel lens demonstrations for curious visitors. Xometry's cost-effective 3D printed and CNC machined parts now help Richard Ruh educate and awe park visitors.

By Serena Ngoh
January 25, 2021
 5 min read
At a Glance
Industry
Manufacturing Services Utilized
Project Brief
Solution

Industry

Manufacturing Services Utilized

☑ CNC Machining
☑ 3D Printing

Project Brief

Richard Ruh, a retired optics engineer, gives tours of Point Sur Lighthouse. He wanted to demonstrate the magic of its historic Fresnel lens with hands-on demonstrations.

Solution

Xometry manufactured various CNC machined and 3D printed parts at cost-efficient prices for Ruh's lighthouse demonstrations. Ruh used Xometry's flexible production and delivery speeds to cut costs and was able to choose from a wide range of manufacturing options. Each design iteration resulted in precise parts, which now enable Ruh to teach lighthouse optics to every curious visitor.
Keeping the History of Point Sur Lighthouse Alive
On the rocky shores of Big Sur, California, Point Sur Lighthouse guides ships along the coast. The lighthouse was built in 1889 and today remains critical to the safe passage of ships as an aid to navigation. Until the 1970s, a first order Fresnel lens measuring 18 feet tall (with an optical portion measuring 8 feet tall and 6 feet in diameter) was used to shine light 24 nautical miles out to sea. Fresnel lenses use multi-faceted prisms on multiple concentric rings to capture and send light far more efficiently than traditional lenses or reflectors. Some studies show that a Fresnel lens shines  80% of its light compared to a reflector which shines only 20-40%  of its light.
Today, Point Sur Lighthouse's Fresnel lens has been replaced by an LED beacon, but docents like Richard Ruh keep the history of the Fresnel lens alive through tours. When Ruh, a former Apple and HP optics engineer, joined the lighthouse volunteer staff, he saw an opportunity to educate visitors about lighthouse optics with portable demonstration setups. To showcase what Ruh refers to as "the magic of Fresnel lens" as well as alternative methods for lighthouse optics, Ruh created multiple handheld setups for park visitors to try themselves.
Richard Ruh, retired engineer and docent at Point Sur Lighthouse giving tours and lighthouse lens demonstrations.
Using Xometry to Integrate Fresnel Lens Demonstrations Into Lighthouse Tours
Richard first sourced multiple types and sizes of Fresnel lenses—45mm and 90mm diameter round lenses and compressed plastic sheets. To arrive at the cell phone demonstration setup, he iterated through several clamping designs which did not mount securely to the range of cell phone thicknesses and flash locations. Using magnets from an off-the shelf cell phone mount, he decided he would build a custom magnetic mount for the handheld demonstration.
Ruh recently moved to a 1-bedroom apartment in a retirement community with no room for his own 3D printer or CNC machine, so he outsourced the work to Xometry's 3D printing service. Ruh used Xometry's next available material option and fused deposition modeling to 3D print an enclosure with a hinge. With this material option, Ruh noted that "the exciting yellow color serendipitously matches the volunteer jacket colors!"
The images below show how the custom hardware securely holds the Fresnel lens against the cell phone to collimate the normally dispersed light into a focused beam.
Magnetically mount Fresnel lens to collimate cell phone flash into a spotlight
"Xometry's wide breadth of options from 3D printing to CNC machining helped me create the perfect hardware. It's amazing that they could match my pace and delivery needs so I could save money."
Richard Ruh,
Point Sur Lighthouse docent and former optics engineer
Before landing on the cell phone demonstration setup, Ruh wanted to test collimating another light source. He purchased off-the-shelf flashlights and took the lenses and reflectors off of them. He then needed a way to mount various lenses to the flashlights, so he designed assemblies comprising 1-2 CNC machined mounting plates, 3D printed supports (via selective laser sintering), and inserts.
Xometry's CNC machining suppliers manufactured the various iterations of CNC plates with no problem, including threads to match the flashlight's 35mm diameter thread and thru holes ranging from 46 - 87 mm diameter. In later designs, an SLS ring replaced the second, parallel-mounted CNC plate to hold the lens at an appropriate focal distance. The successful flashlight demonstrations showcase the Fresnel lenses' ability to capture light particles from within a 120° cone angle and send it forward, while a traditional plano-convex lens only collects light within a 30° cone angle.
Various demonstration setups using multiple Fresnel lenses, a traditional plano-convex lens, and custom CNC machined and 3D printed parts manufactured by Xometry.
In the latest and final iteration of the assembly, Ruh features a CNC machined adapter ring and a conical SLS lens holder for the 45 mm Fresnel lens.
Ruh's demonstrations leave visitors in awe. They help visitors understand the optical engineering within lighthouses and how, for centuries, lighthouses were able to guide ships and save many from fatal wrecks. "Visitors really start to understand how lighthouses work once they see the demonstration. The museum has information you can read, but hands-on demonstrations let you experience the science," said Ruh.
Two sets of the final assembly featuring a Xometry-manufactured CNC ring that attaches to a flashlight and an SLS dyed-black Nylon 12 cone to hold the Fresnel lens.
Xometry's Cost-Effective Custom Manufacturing for Educators
Xometry enabled Ruh, a retired optical engineer, to source a wide variety of custom manufactured parts from cost-effective and quality ensured online manufacturing platform. Since Ruh's project was entirely self-funded and voluntary, he appreciated Xometry's various production and delivery options that allowed him to secure reasonable delivery time at a good price. "Xometry's wide breadth of options from 3D printing to CNC machining helped me create the perfect hardware. It's amazing that they could match my pace and delivery needs so I could save money."
"I have several demonstrations that I'm pleased to show park visitors. Xometry made it easy and cost-effective to make them."
Richard Ruh,
Point Sur Lighthouse docent and former optics engineer
As a retired engineer turned educator, Ruh is pleased that he has a reliable and flexible manufacturer to turn around designs on a low budget. "I have several demonstrations that I'm pleased to show park visitors. Xometry made it easy and cost-effective to make them," said Ruh. He adds that he will be back for more custom parts and is considering scaling up the demonstration hardware with Xometry in the future. "Who knows? This could be a product that lighthouses sell in their gift shops," said Ruh.
At the time of writing, Ruh sent me another project he recently completed with Xometry's help: a CNC machined motor mount to revive a light fixture. Watch it rotate for the first time in 10 years. You can also learn more about Point Sur Lighthouse and other historic lighthouses designated by the National Park Service.
Xometry makes it easy for educators to create custom parts for their educational projects. With 200+ variety of material and finishes, 12+ manufacturing processes, and cost-saving delivery and production options, Xometry is ready to partner with institutions and individuals alike on their educational projects.

Serena Ngoh
I write about Xometry and all things manufacturing. You might also see me hosting webinars, designing infographics, producing videos, and working directly with customers to tell their manufacturing success stories.