Sheet Metal Fabrication
Low- to high-volume Sheet Metal parts in as fast as 1 day
Certifications: AS9100D | ISO9001:2015 | ITAR Registered
Xometry's custom sheet metal fabrication services are a cost-effective, on-demand solution to your manufacturing needs. Our fabrication services range from low-volume prototype to high-volume production runs. You can get a quote in seconds through our Instant Quoting Engine, or submit your 2D or 3D drawings to get quotes directly from highly qualified shops in our new Digital RFQ Marketplace. We know speed counts; that's why we offer instant quoting and fast lead times on your sheet metal parts.

Sheet metal fabrication is the process of forming parts from a metal sheet. Your 3D CAD files are converted into machine code, which controls a machine that precisely cuts and forms the sheets into the final part.
Typical forming tools are brakes, punches, and dies which can form angular bends and features. Installing inserts, such as PEM inserts, is standard practice along with welding and finishing services. Sheet metal parts are known for their durability, which makes them great for end-use applications (e.g. chassis). Parts used for low volume prototypes and high volume production runs are most cost-effective due to large initial setup and material costs.

Advantages of Sheet Metal
Durability
Similar to CNC machining, sheet metal processes produce highly durable parts well-suited for both functional prototypes and end-use production.
Scalability
All sheet metal parts are built on-demand and with lower setup costs compared to CNC Machining. Depending on your needs, order as little as a single prototype up to 10,000 production parts.
Material Selection
Choose from a variety of sheet metals across a wide range of strength, conductivity, weight, and corrosion-resistance.
Custom Finishes
Select from a variety of finishes, including anodizing, plating, powder coating, and painting.
Rapid Turnaround
Combining the latest cutting, bending and punching with automated technologies, Xometry provides instant sheet quotes and completed parts in as little 12 business days.
Laser Cutting
Fiber and CO2 lasers
Mild steel, stainless steel, aluminum, copper, brass, & exotic alloys
Up to 53″ x 121″ (+pass thru)
Water Jet Cutting
Tilting waterjet head with 4 or 5-axis CNC control
High accuracy, up to 0.1mm
Cut more than 4″ sheet/plate metal
Sheet Metal Brake
Hydraulic Brakes
14 gauge mild steel capacity
10′ length
Fingers from 3″ – 6″
Magnetic Brakes
6 tons of magnetic pull across entire beam
5/8″ minimum reverse bend
48″ 16 gauge mild steel capacity
Sheet Metal Punch
2″ diameter hole capacity
Welding
Available steel varieties:
Stainless Steel 301
Stainless Steel 304
Stainless Steel 316/316L
Steel, Low Carbon
Get an instant quote or check out more information about our steel materials.
Standard
Minimal post-processing or treatment on parts is done.
Bead Blast
The part surface is left with a smooth, matte appearance.
Anodize (Type II or Type III)
Type II creates a corrosion-resistant finish. Parts can be anodized in different colors—clear, black, red, and gold are most common—and is usually associated with aluminum. Type III is thicker and creates a wear-resistant layer in addition to the corrosion resistance seen with Type II.
Powder Coat
This is a process where powdered paint is sprayed onto a part which is then baked in an oven. This creates a strong, wear- and corrosion-resistant layer that is more durable than standard painting methods. A wide variety of colors are available to create the desired aesthetic.
Chem Film (Chromate Conversion Coating)
Provides corrosion resistance and good conductivity properties. Can be used as a base for paint. Can leave surface yellow/gold.
Custom
Don't see the finish you need? Submit an RFQ and we'll look into a finishing process for you.
Applications for Sheet Metal
Enclosures
Sheet metal offers a cost-effective way to fabricate product device panels, boxes and cases for a variety of applications. We build enclosures of all styles, including rackmounts, "U" and "L" shapes, as well as consoles and consolets.
Chassis
The chassis we fabricate are typically used to house electromechanical controls, from small handheld devices to large industrial testing equipment. All chassis are built to critical dimensions to ensure hole pattern alignment between different parts.
Brackets
Xometry builds custom brackets and miscellaneous sheet metal components, well-suited for either lightweight applications or when a high degree of corrosion-resistance is needed. All hardware and fasteners that are needed can be fully built in.
Overview: What is Sheet Metal?
The Basics of Sheet Metal Fabrication
Sheet metal is a common form of raw metal stock, usually 0.006 and 0.25 inches thick. Fabrication is a collection of processes used to shape raw metal stock into a usable product. Sheet metal fabrication includes many machining processes meant to assemble, cut, or form a sheet metal workpiece. After fabrication, a product often needs to undergo finishing processes before it's suitable for commercial use.
How Sheet Metal Fabrication Works
There are 3 common stages in the sheet metal fabrication process, all of which can be completed with various types of fabrication tools.
Material Removal: During this stage, the raw workpiece is cut to the desired shape. There are many types of tools and machining processes which can remove metal from the workpiece.
Material Deformation (forming): The raw metal piece is bent or formed into a 3D shape without removing any material. There are many types of processes which can shape the workpiece.
Assembling: The completed product may be assembled from several processed workpieces.
Many facilities offer finishing services as well. Finishing processes are usually necessary before a sheet metal-derived product is ready for market.
Benefits of Sheet Metal Fabrication
Xometry's custom sheet metal fabrication services offer a cost-effective and on-demand solution for your manufacturing needs. Fabrication services range from low-volume prototype to high-volume production runs in a variety of sheet metal fabrication processes including waterjet, laser and plasma cutting, hydraulic and magnetic brakes, punching, and welding. Xometry's extensive partner network provides access to the latest sheet metal fabrication services, while our instant quoting tool ensures that you'll receive fast and accurate quoting feedback.
Xometry's Sheet Metal Tolerance Offerings
Xometry can provide 3 tiers of tolerance offerings based on the design of the desired part.
Flat Parts
Sheet metal parts that utilize stock material gauge thicknesses and require no bending or milled features. All flat sheet metal parts can meet a +/-0.005" (+/- 0.127mm).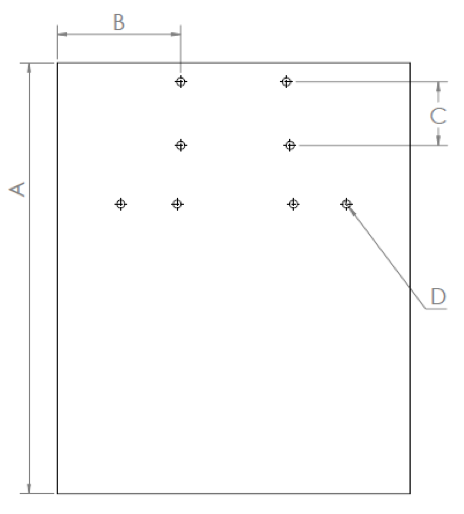 Simple Bend / One Surface
When designing parts with some type of bend with a standard bend radius, sheet metal tolerances are required to open. For simple bent parts, Xometry can offer a +/- 0.010" (+/- 0.254mm) tolerance for dimensions across a single bend. The bend radius itself is constrained to a +/- 1.0°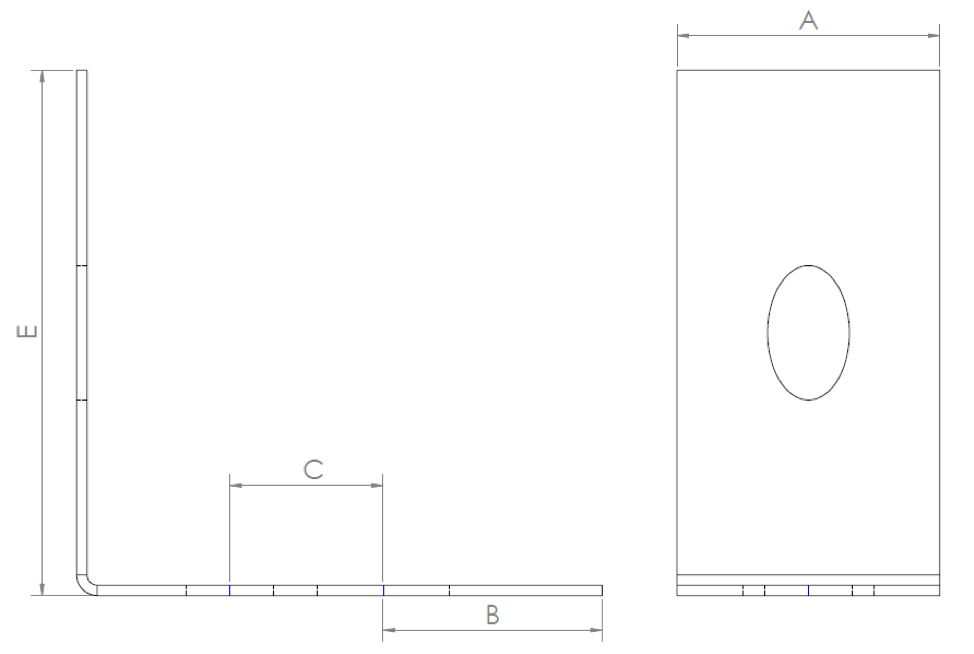 Multiple Surface Bends
For dimensions measured over multiple bends, Xometry can offer a +/- 0.030 (0.762mm).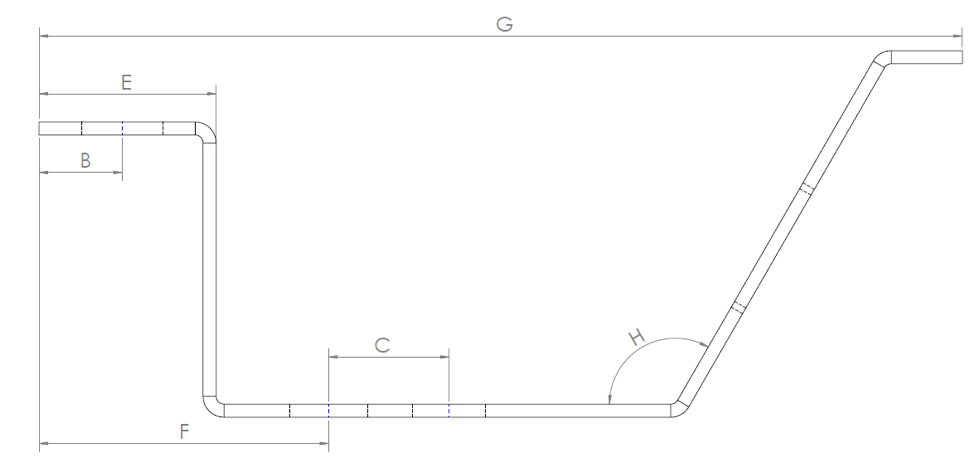 Features that Require Manual Quotes
Certain sheet metal designs require custom tooling and will be flagged for a manual quote: hems, curled flanges and rolled sheets, stamped parts, and welded assemblies. If your part includes these features, please allow our manual quote team to review and provide you with an accurate cost and lead time.
Hems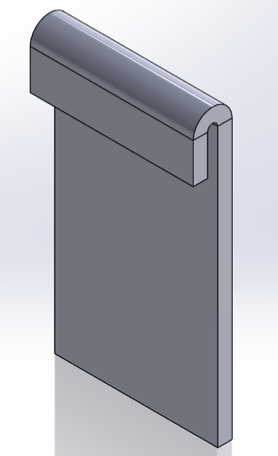 Curls / Rolls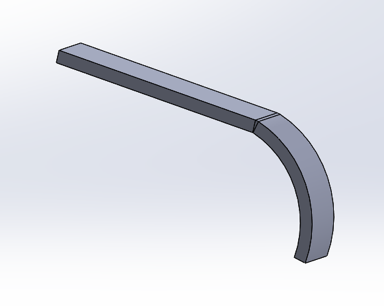 Stamped Features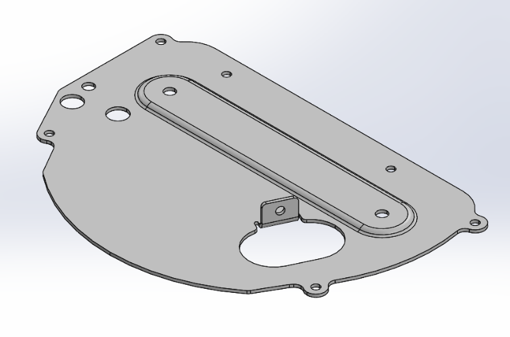 Welded Assemblies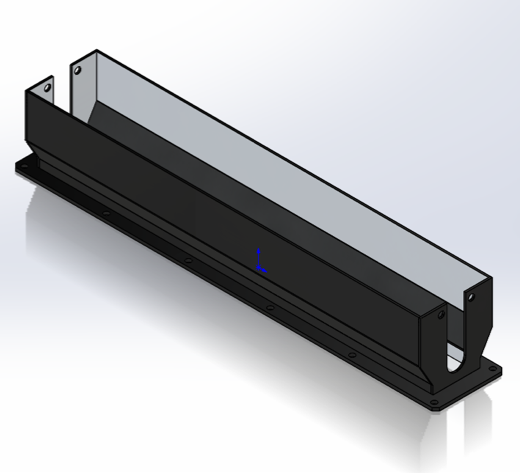 Industries that use Sheet Metal
Parts created through the Sheet Metal Fabrication process can be found in industries like aviation/aerospace, automotive, construction, railroad, shipbuilding, HVAC, industrial automation, machinery, oil, and gas.
Featured Sheet Metal Resources
Sheet metal fabrication is a process by which parts are cut and bent from a roll of stock metal material. It can be a very cost-effective way to make straightforward metal parts. Check out our design for tips on how to optimize your files for sheet metal!
Download your free guide today.
Get the Guide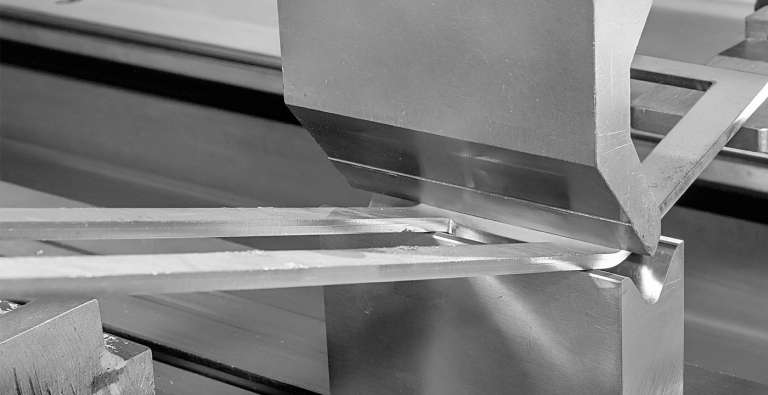 The Basics of Bending Sheet Metal
An overview of minimum bend radii and bend orientation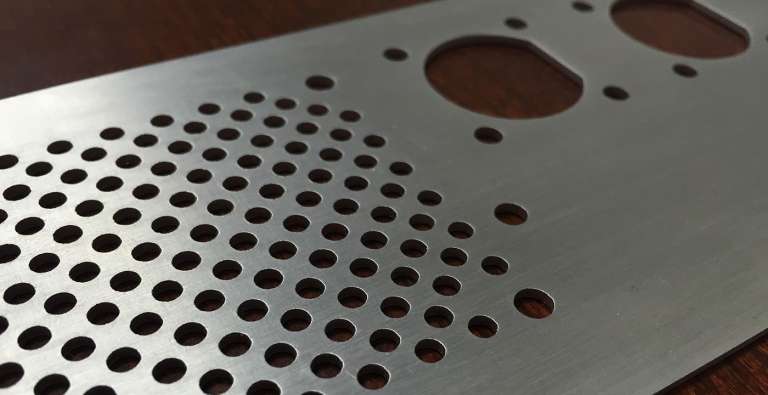 Sheet Metal Mini-Guide
Sheet metal fabrication is a process by which metal parts are cut and bent from a roll of stock material that is typically less than 0.25" thick.
5 Ways to Reduce Costs on Sheet Metal Fabrication
These 5 tips will help you optimize your next Sheet Metal project to reduce costs and maximize your efficiency.
Learn more about our other capabilities