California Proposition 65
Xometry Supplies
---
California Proposition 65 Compliance
Xometry Supplies is committed to providing quality, competitively priced raw materials to our customers.
While none of our product is produced by Xometry we continually work to comply with all safety and environmental requirements that apply to our products.

California Proposition 65 is a 1986 law designed to protect California residents from exposure to chemicals that might cause cancer or reproductive harm. The list of chemicals and other information on Prop 65 can be found at http://oehha.ca.gov/prop65/prop65_list/Newlist.html. This year, the requirements for warning of the presence of chemicals have changed.
Some of our products contain chemicals on the list such as titanium, nickel, and chromium. This statement serves as notification of the presence of these chemicals.
The warning statement below applies to products supplied by Xometry.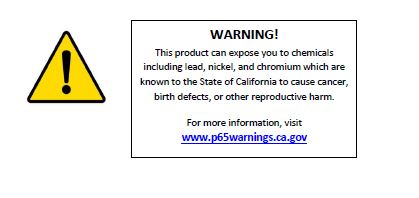 ---