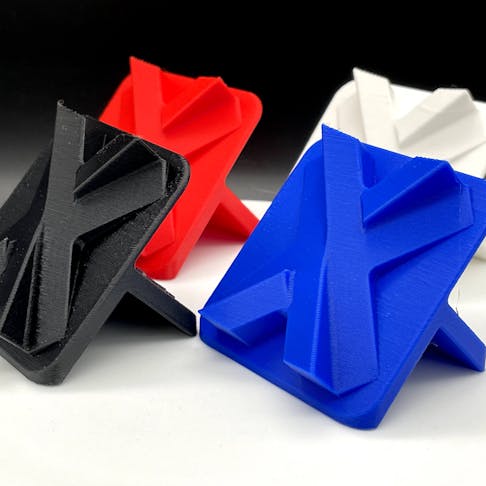 PLA vs. ABS: What is the difference?
When it comes to fused deposition modeling (FDM) 3D printing, two of the most common materials are PLA and ABS. Both are considered thermoplastics due to their ability to be melted and reformed without losing their mechanical properties via chemical degradation. When engineers and designers evaluate PLA vs. ABS, which turns out to be better? Why choose one over the other? This article will describe the differences between these materials and outline some of their best use cases.

By Team Xometry
October 3, 2021
 4 min read
What is ABS?
Acrylonitrile Butadiene Styrene or ABS is an amorphous thermoplastic which means that it does not have an ordered chemical structure. When an amorphous plastic is heated, it slowly softens until it reaches its melting point. It does not have a sharp transition between completely solid and liquid. This property makes ABS ideal for thermoforming applications like blow molding or vacuum forming. The amorphous nature of ABS also makes it a more resilient material than PLA due to the intertwined polymer chains. ABS is resistant to aqueous acids, hydrocarbons, and aromatic hydrocarbons but does not fare well against sulphuric acid, nitric acid, and ketones like acetone. 
Advantages and Disadvantages of Using ABS
Advantages of ABS
Listed below are some more common benefits of 3D printing in ABS.
Increased Strength: If done correctly, 3D-printed ABS parts will have better overall toughness than PLA, making them ideal for functional prototypes.

Vapor-Smoothing: ABS can be vapor-smoothed with solvents like acetone to achieve very smooth surface finishes. This is not possible with PLA.

Increased Temperature Resistance: ABS has a high softening temperature and can maintain its structural integrity well over 100°C. 
Disadvantages of ABS
Listed below are some disadvantages of 3D printing in ABS.
Toxic Fumes: ABS will produce toxic styrene fumes if heated. Since styrene is a suspected carcinogen, long-term exposure may cause cancer. 
Warping: When 3D printing in ABS, the bottom layer tends to warp and pull away from the build plate. Proper deposition requires a very hot build plate.

Interlayer Adhesion: Successive 3D-printed layers often have trouble sticking to one another because of ABS's high melting temperature. This means that the tensile strength perpendicular to the layer lines will be significantly weaker than if the same material was injection-molded. 

Poor Fatigue Resistance: ABS in its normal state already has poor fatigue resistance. This is exacerbated by the stress concentrations between printed layer lines.
What is PLA?
Polylactic Acid or PLA is one of the most common 3D-painting plastics due to its low cost, environmental friendliness, and ease of use. Unlike ABS, PLA is a semi-crystalline plastic which means its molecular structure is more ordered and has very sharp melting points. PLA is resistant to a wide range of chemicals such as ketones like acetone but can be dissolved in ethyl acetate. 
Advantages and Disadvantages of PLA
Advantages of PLA
PLA is a popular FDM material for its many benefits, some of which are listed below.
Increased Detail: PLA parts can generally maintain higher levels of detail than ABS. It is best used in visual prototypes and similar products for which finer details are important.
Easier to Print: There is a reason why PLA is the most popular material for FDM. It requires minimal tinkering to get a print going and once the settings are tuned very little monitoring is needed.
Cheaper: 3D-printer filament materials are inexpensive as a general rule, and PLA is the cheapest amongst them. It's thus the best option for quickly printing out items to check their form, fit, and function.
Biodegradable: PLA is more biodegradable when compared to other plastics (though it still needs the right conditions and time to decompose).
Disadvantages of PLA
Despite its many benefits PLA also has some weak points as listed below.
Poor Temperature Resistance: The ease with which PLA can be printed also means that it has a low melting temperature, making it useless in relatively high-temperature applications.
Brittle: PLA is stronger than ABS but not as tough. PLA parts will crack when exposed to sharp contact loads.

Cannot be Vapor-Smoothed: Some products claim to be able to smooth PLA surfaces. Unfortunately, they are not as simple as the vapor-smoothing process of ABS and tend to involve very toxic chemicals.
FREE SLA 3D Printing Design Guide
Mechanical Properties of PLA vs ABS
There are many different grades of both PLA and ABS. Each involves unique processing methods and additives. To keep the comparison simple, the most common versions of each of these thermoplastics will be compared in the table below. Note that ABS does not have a defined melting or heat deflection temperature.
Metric
ABS M30 / XZ (MPa)
ABS M30 / ZX (MPa)
PLA / XZ (MPa)
PLA / ZX (MPa)

Metric

Tensile Strength, Yield (MPa)

ABS M30 / XZ (MPa)

ABS M30 / ZX (MPa)

PLA / XZ (MPa)

PLA / ZX (MPa)

Metric

Tensile Strength, Ultimate (MPa)

ABS M30 / XZ (MPa)

ABS M30 / ZX (MPa)

PLA / XZ (MPa)

PLA / ZX (MPa)

Metric

Tensile Elongation at break (%)

ABS M30 / XZ (MPa)

ABS M30 / ZX (MPa)

PLA / XZ (MPa)

PLA / ZX (MPa)

Metric

ABS M30 / XZ (MPa)

ABS M30 / ZX (MPa)

PLA / XZ (MPa)

PLA / ZX (MPa)

Metric

Izod Impact (Notched) (J/m)

ABS M30 / XZ (MPa)

ABS M30 / ZX (MPa)

PLA / XZ (MPa)

PLA / ZX (MPa)

Metric

Heat Deflection Temperature

ABS M30 / XZ (MPa)

ABS M30 / ZX (MPa)

PLA / XZ (MPa)

53 @ 66 PSI, 51 @ 264 PSI

PLA / ZX (MPa)

53 @ 66 PSI, 51 @ 264 PSI
Table 1: Mechanical Properties of PLA and ABS
Which is Best for My Application, PLA or ABS?
When it comes to choosing between PLA vs. ABS, consider whether the part is just for a visual prototype or if it's meant to be functional. PLA is a lot harder than ABS but is brittle and cannot absorb impacts very well. However, ABS is more difficult to print and if you just need to quickly create a prototype to get an idea of the look and feel, PLA is usually the best bet. To learn more, refer to the Xometry 3D printing guide or contact a Xometry expert.

Team Xometry
This article was written by various Xometry contributors. Xometry is a leading resource on manufacturing with CNC machining, sheet metal fabrication, 3D printing, injection molding, urethane casting, and more.