Resources
Case Studies
Delta Development Team is Helping Deliver Critical Medical Supplies With the World's Most Compact and Affordable Blood Refrigeration Unit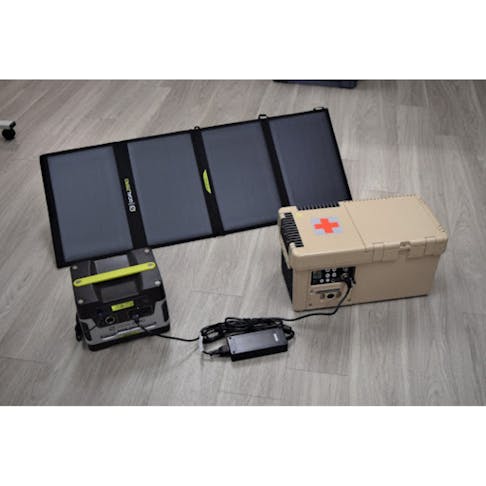 Delta Development Team is Helping Deliver Critical Medical Supplies With the World's Most Compact and Affordable Blood Refrigeration Unit
Find out how Delta Development Team is using multiple Xometry services to fabricate refrigeration units that are improving the odds for injured soldiers and civilians on the field of battle and beyond.
By Nathan Miller
May 16, 2022
 11 min read
At a Glance
Industry
Manufacturing Services Utilized
Project Brief
Solution

Industry

Manufacturing Services Utilized

Project Brief

Delta Development Team, a fast-growing company based in Tucson AZ, created an incredibly compact blood refrigeration unit called the APRU, which can endure a variety of environmental hazards. They needed to ramp up production, save money, and iterate on a product with specifications that are difficult to manufacture.

Solution

With sourcing support from Xometry, Delta Development Team streamlined their supply chain, and discovered a network that could fabricate challenging parts, help them to scale up their business model, and create new product prototypes.
Every Moment Counts
When a person becomes injured, every moment counts. In an ideal scenario, the injured person would be taken to a secure location to receive a life-saving blood transfusion. But what happens if there isn't the time or the ability to get the injured person to a secure location in time?
The logistics of providing blood to an injured person in remote areas can be complex and fraught with challenges:
A sufficient volume of blood must be available to support the transfusion needs of patients. Simply having some blood isn't good enough if the patient has lost too much of it or if multiple people are injured.
The blood supply must be kept refrigerated. Blood bags, and in particular red blood cell preparation, must be kept at a temperature between 2° C and 6°C1. If the blood temperature isn't maintained within that window, it can spoil and become unusable.  Thankfully, blood refrigeration units can transport life-saving supplies to an injured person and keep them stable.
Unfortunately, having sufficient refrigeration capacity for the blood supply is only part of the solution. There is a litany of environmental hurdles that could breach the refrigeration unit and ruin the blood supply. 
Consider these challenges:
What if there is a need to transport the blood to a scorching and arid environment? If that heat seeps through, the blood could spoil.
What if the environment is too cold? The blood could also become frozen and unusable as a result. 
Suppose the refrigeration unit is exposed to a sudden impact, such as from a car accident, or experiences a sudden change in pressure? Such conditions could result in a breach of the blood bags - spilling the contents and rendering the blood unusable.
Or, imagine that the refrigerated blood needed to be stored for a long period of time in an environment in which there were no reliable sources of energy? 
In 2018, Engineers Bill Barg and Robert Futch were approached by the military to help solve some of these issues. Blood refrigeration units did exist, but the units' inability to endure a variety of environmental hazards resulted in them being unreliable for the conditions in which soldiers must often operate. Having access to reliable blood storage technology makes all the difference to someone needing medical assistance.
Calling on their combined expertise in thermoregulation, mechanical engineering, and software engineering, Bill Barg and Robert Futch were well equipped to start designing a potential prototype solution. However, they lacked the direct experience to understand all of the potential issues that soldiers could face in the field of battle. Thankfully, they found Monti Leija, a veteran with combat service. His hands-on experience as a special forces medic in the field gave Barg and Futch the insight they needed to design and develop the optimal solution for blood storage and transport in combat environments. Together, they partnered to form Delta Development Team with the goal to manufacture their first product —the APRU (Autonomous Portable Refrigeration Unit)— which would be the world's most portable, FDA-listed, blood and vaccine refrigerator.
The unique cooling system of the APRU allows it to keep blood cool for 4 days (in moderate weather). The design is very durable, rugged, heat resistant, cold-resistant, chemical-resistant, UV-resistant, and can withstand the G-forces that would occur from it being airdropped out of a plane—a critical requirement given its intended use by the military.
The APRU can be solar-powered, which means that it can keep blood cool even when the operator is far away from other reliable sources of energy. This unit, which has been used by multiple branches of the military, is currently deployed and is helping field medics administer critical blood transfusions to those in need.
"I want everyone to know it's possible to conduct blood transfusions on the field reliably. Admittedly, even a "couple of years ago, this was not possible. Back then, soldiers and civilians had to be rushed to the hospital and hope that they arrived in time. Now, we can bring the blood right to the injured person. This technology is going to save a lot of lives. "
Robert Futch,
CTO of Delta Development Team
Delta Development Team saw an opportunity to improve on the refrigeration units that were currently being used in the field. They realized that many of these devices were jerry-rigged from standard products rather than being custom-built. A custom design would create a stronger, more robust product that could endure the rugged terrain soldiers often face. After winning an SBIR development grant,  Delta Development Team received the funding they needed to begin prototyping their product and paved the way toward mass production.
Once a functional prototype was developed, the team turned their attention to the problem of manufacturing the unit in quantity. They very quickly decided that the most efficient way to mass-produce the APRU was to use injection molding. Injection molding is the most cost-effective manufacturing method to produce plastic parts at scale. Delta Development Team did not originally use Xometry's injection molding service to fulfill their needs. However, after working with another digital manufacturing company that couldn't accommodate the large size of their mold, they turned to the team at  Xometry, who was able to accommodate. In addition, the Xometry team helped Delta Development Team navigate the mold and tooling processes and provided critical design for manufacturability (DFM) feedback that helped optimize the design to reduce costs and lower risks.
"After our original mold was giving us trouble, we needed someone's help to make up for it. Thankfully we got the help we needed with Xometry. Their experts turned around our molds very quickly."
Robert Futch,
CTO of Delta Development Team
The Xometry Approach
As a start-up, Delta Development Team couldn't afford to waste any time as they went through the molding process. Xometry was able to support them and help them quickly move their project into production. They appreciated Xometry's capacity to do smaller runs, given their business model and limited funding, which required them to produce a relatively small quantity of high-value products. 
Xometry's manufacturing network offers some of the fastest lead times in the industry and our broad reach and extensive capabilities allow us to optimize your production path to hit milestones in a matter of weeks, not months. Xometry and its manufacturing partners incorporate scientific molding techniques and advanced processes with its high-volume tooling.
Once your project is kicked off, the Xometry team will build a high-quality injection mold and send out part samples, called T1s, for approval. After the samples are approved, production can easily move forward allowing parts to be delivered straight to you. Another key advantage is that you own your tool and can easily reorder parts as often as needed to meet the growing demands of your business.
Xometry is a Universal Supply Chain Solution
Xometry makes it easy for rising companies like Delta Development Team to scale up their production. Xometry's digital manufacturing platform allows you to access multiple manufacturing processes all in one place. With Xometry, you can simplify your planning and accounting, eliminating the need to spread your supply chain across dozens of different vendors. Best of all, we have already vetted the shops for you, as all parts are protected by our quality assurance guarantee. 
Customers like Delta Development Team, who operate in the medical industry, will be happy to hear about Xometry's recent acquisition of ISO 13485 certification. By becoming ISO 13485 certified, the Xometry team has demonstrated that its Quality Management System is appropriate and effective for the safety and efficacy of manufacturing medical devices. This latest certification joins the growing list of certifications awarded to the team, including ISO 9001:2015 and AS9100D.
 Xometry prides itself on the strength of its network, the accuracy of its Instant Quoting Engine, and the expertise of their engineering team. Our goal as a company is to make it easy for engineers, designers, and product procurement personnel to source their custom parts so they can get back to planning and building their big ideas. 
We were especially pleased to hear that Delta Development Team has been using another service that is designed to make your job easier—the Onshape CAD Add-in. Onshape is a cloud-based CAD software system delivered over the Internet via a software-as-a-service (SaaS) model. This means that it does not require complex IT infrastructure or hardware to run and is accessible on various devices through your web browser or mobile apps. Onshape's powerful collaboration tools allow for multiple designers and engineers to simultaneously work together on the identical product design and avoid common pitfalls around revision control with its built-in data management system.
Xometry's app for Onshape can be enabled from the Onshape app store and allows engineers and designers to quote and purchase custom manufactured parts from within their CAD workspace with ease. The Xometry app analyzes the geometry of the CAD design and then allows the user to select the material, process, and quantity to get real-time pricing and lead times, all while providing useful design-for-manufacturing (DFM) feedback along the way. This seamless integration of custom manufacturing quotes allows engineers and designers to see the impact of any design choice on their budget and product development timeline. Users can finalize their custom parts order from Xometry online. We encourage you to watch the webinar "5 Things Engineers Must Try with the Xometry Onshape Add-in" to learn more about the Xometry' Onshape CAD Add-in.
The APRU uses patent pending refrigeration technology, allowing it to be more rugged, more compact, and able to maintain a battery life 15x longer than competing blood refrigerators. Unlike its competitors, the APRU uses standard batteries and utilizes more efficient electronic expansion valves which are managed by a microchip and a miniaturized compressor. The APRU can be solar-powered as well, allowing it to maintain a charge out in the field when away from other sources of power. Once the unit is returned to an area where it can be recharged, it can be plugged into multiple power source options, including ambulances, planes, and power sources located at a base camp.
The APRU uses a polycarbonate blend for its exterior casing, which makes it both extremely lightweight and rugged enough to endure heat, cold, chemicals, UV rays, and intense vibrations. These capabilities, especially its shock readiness, were essential requirements, since one of the early sponsors, the U.S. Air Force, required that the APRU be capable of being airdropped behind enemy lines. The rugged design is compact but spacious enough to hold six bags of blood, but can also be used to transport vaccines, human organ tissues, and plasma.
Although Delta Development Team predominantly uses Xometry for its injection molding service, the start-up has also leveraged additional Xometry services to complement its designs, including our 3D printing and sheet metal cutting services.The heat sink of the APRU is fabricated from die-cast aluminum and utilizes aluminum sheet metal to provide a passageway for heat from the electronics to escape the device without any dust or water getting inside.
Inside the APRU, a variety of tiny HP Multi Jet Fusion printed parts are utilized that help facilitate airflow through minuscule air vents. This design choice comes in handy when the APRU is airdropped—as the air pressure changes, the air vents maintain the stability of the internal pressure, which keeps the blood bags and container from exploding. These parts were 3D printed because of the complex shapes required to connect the internal volumes of air and the exterior.
Future Plans
Delta Development Team has experienced an astounding level of success with the APRU and has recently been awarded a Phase 3 contract. Another Phase 2 contract allows them to build a larger version of the APRU called the TBS(Total Blood System). The TBS will be used on trucks and airplanes to transport blood bags from state-to-state and even country-to-country, helping support military and civilian organizations in their role to save lives during dire emergencies. This larger version, which is currently being designed with prototyping services from Xometry, will have an expanded capacity to allow it to hold 40-50 bags of blood. 
Xometry is proud to partner with Delta Development Team, along with all of our partners who are making a difference in the medical industry. We encourage you to learn more about Xometry's injection molding services for the medical industry to see how it can fill the gaps in your medical device supply chain. And, if you are ready to order, simply upload your files to the Xometry Instant Quoting Engine. The Xometry team will consult with you to ensure that your specifications, lead time, and pricing fit your project needs. They will also furnish a DFM report for your approval prior to the start of tooling creation, to assure that you are well on your way to mass production. 
Sources:
https://www.homerton.nhs.uk/storage-of-blood-and-blood-products/
Nathan Miller
Hi, I'm Nathan, a Marketing Content Writer at Xometry; I help tell the stories of our customers and how Xometry helps them build their big ideas.