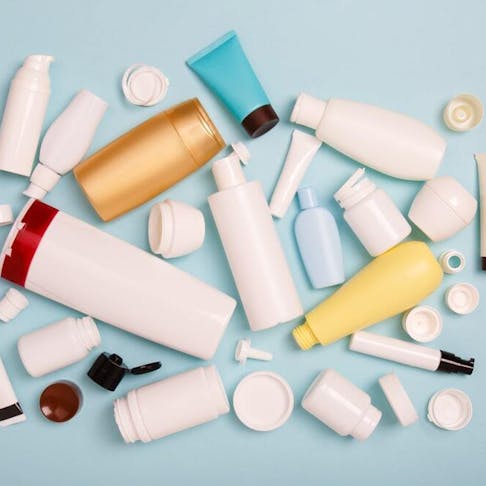 What is High Density Polyethylene (HDPE)?
Learn about this material, its properties, uses, advantages, and toxicity.

By Team Xometry
April 29, 2022
 9 min read
This article will explore what HDPE is, how it is made, its material and chemical properties, applications, and supplier sources of HDPE.
What is High Density Polyethylene (HDPE)?
High Density Polyethylene (HDPE for short) is a thermoplastic polymer derived from petroleum with a generalized chemical formula (C2H4)n. The HDPE formula represents the repeating monomer unit of ethylene and forms a poly-ethylene molecular chain. HDPE is distinct from other forms of polyethylene in that its side chain branching frequency is lower than other polyethylene types, where HDPE is commonly referred to as a "linear" chain.
The HDPE linear chain is represented in the image below:
This linear structure allows HDPE to pack together more tightly and is the reason for its impressive material characteristics. Other basic information about HDPE is contained in the table below:
Chemical Formula
(C2H4)n

Chemical Formula

(C2H4)n

HDPE, Polyethylene High-Density (PEHD), alkathene, polythene, #2 plastic

Chemical Formula

(C2H4)n

Chemical Formula

(C2H4)n

Chemical Formula

(C2H4)n

High strength-to-density ratio, impact and chemical resistances, recyclable, high melting point, easily molded and worked
How is High Density Polyethylene (HDPE) Made?
HDPE is made in a 4-step process:
HDPE is derived from petroleum and is a linear polymeric chain containing few branches. The process of HDPE manufacturing is different depending upon the manufacturer, but the first step usually involves taking petroleum-based hydrocarbons and applying high heat, causing the hydrocarbon chains to break down into more useful monomers such as ethylene molecules (in HDPE production, this ethylene is collected as a gas).
After collecting the necessary monomers, metallic catalysts (titanium tetrachloride, diethylaluminum chloride, chromium oxide on silica, etc.) mix with ethylene gas and other compounds which catalyze into a slurry of polyethylene.
This slurry is cleaned of remaining catalyst and the HDPE is recovered by extraction, filtration, and drying.
At this point, the HDPE is processed and manufactured into stock or specific products.
This is a HIGHLY simplistic overview of the process, as polymerization organic chemistry is much more detailed (and organic chemists still do not fully understand the reaction mechanism!). Regardless, note that HDPE is made from petroleum and is processed using catalysts to form long, linear, and dense polyethylene now known as high-density polyethylene.
The diagram shown below illustrates the process flow for the production of HDPE:
Property
English
Metric

Property

English

Metric

Property

Yield Strength (Tensile, @ -30.0 - 70.0 °C/ -22.0 - 158 °F   )

English

Metric

Property

English

Metric

Property

English

Metric

Property

English

Metric

Property

English

Metric

Property

Maximum Service Temperature (Air)

English

Metric

Property

English

Metric

Property

English

Metric

Property

English

Metric
The important values for HDPE are its heat resistance and its density-to-strength profile. HDPE is known for its heat resistance, as it remains serviceable and rigid up until its max serviceable temperatures, where it is efficiently molded and worked. Its melting point can also be quite high, being generally higher than most other plastics in its weight class.
HDPE's strength compared to its density allows small amounts of the material to be used to carry multiple pounds of weight with little trouble. This strength combined with its excellent tensile strength is why HDPE is commonly used in milk jugs, bleach bottles, and other liquid storage containers. A familiar example is the pump bottle shown in the image below:
What Are the Uses of High Density Polyethylene (HDPE)?
HDPE plastic is used in a laundry list of applications, as it is currently one of the most versatile plastic materials worldwide. Its strength, impact and corrosion resistance, chemical profile, and other valuable characteristics make it an ideal product material for various industries. Below is a brief list of some of the many uses of HDPE plastic:
Corrosion-resistant piping, HDPE sheet, and stock material
Fuel tanks
Food and beverage containers, plastic bottles, milk jugs, cups, etc.
Shampoo/conditioner bottles, ointment tubes, personal care product containers, etc.
Trash cans, recycle bins, plastic containers, etc.
Bread bags, cereal box liners, food storage containers, etc.
Laundry detergent bottles
Recycled plastic lumber and composites
Medical equipment
3D printing filament
Boating components
Coax cable insulators
Sewage mains
Pyrotechnic components
and many, many more applications.
HDPE is found in nearly every business in some capacity but can be found in high concentrations (along with its other PE brethren) in hospital settings thanks to its low moisture absorption, chemical resistance, recyclability, and low bacterial retention rate. HDPE and similar plastics are ideal materials in medical tubing, films, connectors, labware, catheters, IV bags, face masks, device housings, membranes, drug-delivery components, packaging, and much more. Some specialty forms of HDPE, such as ultrahigh molecular weight polyethylene (UHMWPE), are even used in orthopedic implants such as knee or hip replacements for their low friction coefficient, high wear resistance, impact strength, chemical and corrosive resistance, and biocompatibility.
What Are the Advantages of Using High Density Polyethylene (HDPE)?
HDPE plastic has primary benefits over other materials that give it the celebrity status it deserves. Below is a brief list of the advantages of HDPE:
High strength-to-weight ratio
Low friction coefficient and low moisture absorption
High impact strength, resistant to dents and scratches
Mold, mildew, rotting, mineral acids/bases, soil, and weather-resistant
Resistant to chemicals, water, solvents, acids, detergents, and cleaning fluids
Very malleable when heated and experiences medium to low shrinkage
Easily recycled
Can be sterilized via boiling, does not harbor bacteria well, and is dishwasher safe
Replaces heavier materials in some applications
Cost-effective
What Are the Disadvantages of Using High Density Polyethylene (HDPE)?
HDPE, just like every other material, comes with its own set of tradeoffs. Below is a brief list of the disadvantages of HDPE plastic:
In certain forms, it can be flammable as it is a petroleum-based product
Exhibits high thermal expansion
Weak to oxidizers and chlorinated hydrocarbons
Difficult to bond
Sensitive to stress-cracking in suboptimal environments
How Does High Density Polyethylene (HDPE) Affect Human Health?
HDPE is used throughout food and beverage applications and is generally considered safe in its solid form (when denoted as food safe as per FDA regulations). However, HDPE has some degree of adverse health consequences if exposed in a specific way. For example, HDPE plastic dust can cause short-term irritation of the eyes and throat. HDPE is purported to burn clean without toxic fumes, but many types of HDPE contain additives that produce toxic fumes if burned that can adversely affect health. Also, there is an ongoing debate about whether plastics like HDPE leach chemicals with estrogenic activity to a significant degree. This leaching would occur if, say HDPE bottles were left inside a sunny car, where the heat and UV radiation would degrade the plastic and leach chemicals into the water itself. Chemicals that have estrogenic activity currently have not been proven to cause consequences to health in humans, but endocrine disruption could have a variety of adverse effects that may or may not be easy to detect.
Is High Density Polyethylene (HDPE) Toxic?
In its solid, pure form, HDPE is considered non-toxic. The sheer volume of milk (not to mention other beverages) delivered in HDPE containers is proof enough that HDPE poses no acute toxicity and is, in fact, safe when in contact with food. However, It can become toxic if burned with additives or colorants or if ingested after exposure to a solvent that leaches out harmful byproduct chemicals.
What Are the Types of High Density Polyethylene (HDPE)?
HDPE comes in many formulations based on brand and specific application, but generally, the types of HDPE are broken into two grades based on density: 300 grade and 500 grade (where the number denotes the material density). Both types come in either white or black colors, but 500 grades can typically be colored into any desired hue.
HDPE can be manufactured specially-formulated for different applications. Below is a list of some types of HDPE blended for specific environments or situations in mind:
Cutting board HDPE
Enhanced Stiffness HDPE
UV stabilized HDPE
Engravable HDPE
Antimicrobial HDPE
Woodgrain HDPE
and more.
What is the Difference Between Polyethylene and High Density Polyethylene?
Polyethylene is the general name to denote all plastics formed from the (C2H4)n monomer, while High Density Polyethylene is a specific form of polyethylene that has been formulated to be denser, more linear in chain structure, and stronger than other forms. Polyethylene encompasses all the possible types such as low-density polyethylene (LDPE), linear low-density polyethylene (LLDPE), and ultrahigh molecular weight polyethylene (UHMWPE), as well as others. In industry, polyethylene is the class of materials, while HDPE is a specific instance of that class of polymers.
To learn more, see our guide on What is Polyethylene.
What is the Difference Between High Density Polyethylene (HDPE) and Low Density Polyethylene (LDPE)?
HDPE and LDPE are built from the same monomer units, but are functionally two different polyethylene materials. HDPE has a more linear chain structure, making it stronger, denser, and stiffer than low-density polyethylene (LDPE). LDPE is more flexible for this reason and has a lower crystallinity. Both materials are recyclable, however, they cannot be recycled together as LDPE tends to soften quickly and gum up recycling machinery.  LDPE Is weak to heat, succumbing to decreases in density after temperatures beyond 20 °C, while HDPE can remain functional through high temperatures like 100 °C. HDPE has overall better mechanical and chemical resistances, but both are generally weak to oxidizing agents and select hydrocarbons. LDPE is more transparent than HDPE, and both are easily worked and are considered a waterproof material.
Deciding on which polyethylene polymer works best for a given application depends on budget, intended material properties, and special considerations. It is impossible to say if HDPE or LDPE is best (as both are highly popular), but both have cases for their use beyond strength and resistance comparisons. If price is the determining factor, then LDPE wins out; if looking to create a structural part, HDPE will probably be the better choice.
Does Xometry Provide Low-cost High Density Polyethylene (HDPE) Materials?
Xometry supplies a variety of different types of HDPE plastic to customers for nearly any application. If interested in finding a reliable supplier of low-cost HDPE and other plastics, look through Xometry's marketplace where a range of grades and stock types can be found.
Summary
This article presented what high density polyethylene plastic (HDPE) is and how it is used throughout industry as a versatile engineering material.
About Xometry
Xometry provides 3D printing services and plastic injection molding services for all of your production needs. Visit our website to explore the full range of our capabilities or to request a free, no-obligation quote.
Disclaimer
The content appearing on this webpage is for informational purposes only. Xometry makes no representation or warranty of any kind, be it expressed or implied, as to the accuracy, completeness, or validity of the information. Any performance parameters, geometric tolerances, specific design features, quality and types of materials, or processes should not be inferred to represent what will be delivered by third-party suppliers or manufacturers through Xometry's network. Buyers seeking quotes for parts are responsible for defining the specific requirements for those parts. Please refer to our terms and conditions for more information.

Team Xometry
This article was written by various Xometry contributors. Xometry is a leading resource on manufacturing with CNC machining, sheet metal fabrication, 3D printing, injection molding, urethane casting, and more.